Voters Want Sentencing Reform in Maryland
Most registered Maryland voters across political parties and regions strongly support shortening prison sentences for nonviolent offenders and investing the savings in evidence-based alternatives that can break the cycle of recidivism, according to a statewide poll conducted in February by a bipartisan team of pollsters.
Key findings
86 percent support policies that would safely reduce prison terms for nonviolent offenders and invest the savings into programs that evidence shows reduce recidivism.
86 percent support "allowing nonviolent offenders to earn additional time off of their prison terms for completing substance abuse and mental health treatment programs while in prison."
83 percent support flexible sentencing in drug cases instead of mandatory minimums.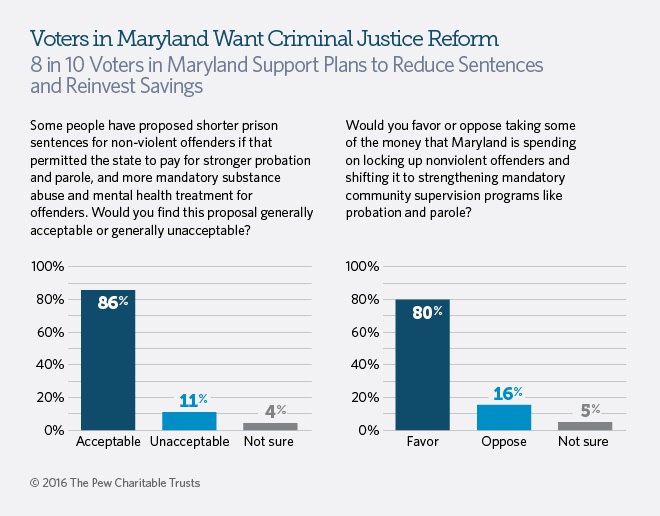 Pew commissioned the Mellman Group and Public Opinion Strategies to conduct the survey as part of its technical assistance to the Maryland Justice Reinvestment Coordinating Council. The council submitted its report and recommendations to the governor and legislature in December. The telephone survey was conducted Feb. 17-21. The margin of error is plus or minus 4 percentage points at a 95 percent level of confidence.