Solar Fi: The Marine Corps' Commitment to Clean Energy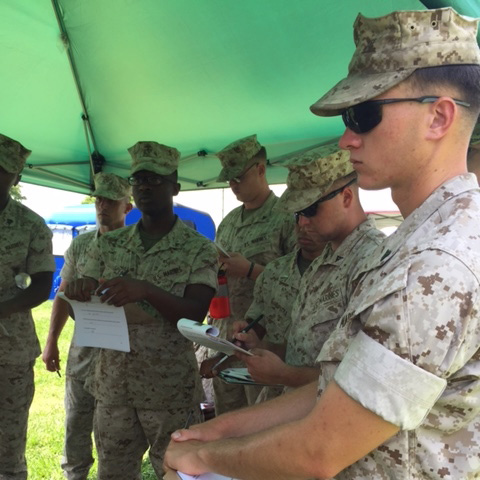 Heather Messera
Marines from a range of specialties evaluate technologies and products that could one day be adopted by the Marine Corps. The event, part of Expeditionary Energy Concepts, was held in June at Camp Lejeune, North Carolina.
Lt. Gen. John Lejeune, the legendary 13th commandant of the Marine Corps, once said that the success of the Corps depended on "efficient performance of all duties" and "promptly bringing this efficiency to the attention of the proper officials of the government and the American people." So it was entirely fitting that the Corps held this year's Expeditionary Energy Concepts (E2C) demonstration in June at North Carolina's Camp Lejeune, the base named for the man who led the Corps from 1920 to 1929.
Fitting because the three-day conference, an annual event showcasing new energy technologies of interest to the Marine Corps, is all about efficient performance. And many "proper officials" were on hand—including observers from The Pew Charitable Trusts project on national security, energy, and climate.
The Marine Corps is a rapid-reaction force, designed primarily to be first on the scene of a crisis, whether combat, disaster relief, or other missions. With a specialty in moving from sea to land, the Corps puts a premium on being fast and agile—which is not always compatible with its growing fuel use. According to the Marine Corps Energy Strategy and Implementation Plan, fuel use per Marine has increased 175 percent since the Vietnam War, and a single infantry company consumes more fuel than an entire battalion did just 10 years ago.
The No. 1 reason for the dramatic rise in energy consumption is better, or at least more, equipment. In the past 10 years, the typical Marine Air-Ground Task Force has recorded a 250 percent increase in radios, a 300 percent increase in information technology and computers, and a 200 percent increase in the number of vehicles, which also are 75 percent heavier. The amount of fuel and batteries required to meet these needs has the potential to slow the Corps down, to curtail what Lejeune termed "efficient performance" and increase risks to and vulnerabilities of forces in the field.
In 2009, when then-Commandant Gen. James Conway saw the numbers on the Corps' escalating fuel demand, he created the Expeditionary Energy Office to figure out how to shrink the Marines' energy footprint. E2C was one of the results.
Since its inception in 2009, E2C (originally called the Experimental Forward Operating Base) has reviewed hundreds of technologies, including in-field tests and laboratory evaluations. Five have become programs of record, meaning that Marines can order and use them today: solar power generation systems, tent insulation, and expeditionary LED lights.
Now, if you find the image of a Marine hugging a solar panel hard to envision, you're not alone. But that's not what E2C is really all about; instead, it's about what the Marines call "operational reach," or how far a military unit can go with full capacity of personnel and equipment. The need for energy, which is relentless, can limit or extend operational reach. The Corps has identified 152 capability gaps when it comes to this energy performance, and E2C is aimed at closing those gaps.
E2C is closing the gaps using a three-step process. First, the Expeditionary Energy Office posts a request for information on the government procurement site FedBizOpps, which lists the technologies or capability gaps the upcoming E2C will address. Then a number of respondents are invited to show their wares, which roving groups of Marines from a variety of military occupational specialties, armed with clipboards, evaluate. If a system tests well, it may enter the Marine requirements and acquisition process, as has happened with the solar hybrid generators, tent insulation, and LED lights. In some cases, equipment may be fielded rapidly to deployed forces, as well.
The 2015 E2C focused on the need for better energy storage and all-terrain vehicles, with a few other interesting technologies thrown in, such as a solar unmanned aerial vehicle and a tactical energy dashboard that commanders in the field could use to manage their battlefield energy supply and demand. Government laboratories developed 10 of the technologies on display, and commercial entities presented the other 22 technologies, traveling to the site at their own expense to do so.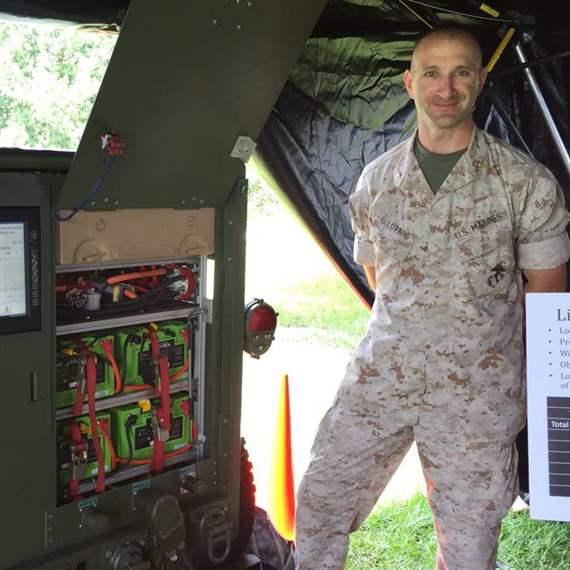 Heather Messera
The Marine Corps Warfighting Lab's Hybrid Energy Internally Transportable Vehicle Trailer is a generator that provides highly mobile and flexible power solutions to Marines on the move.
In some cases, the Army, Air Force, or Navy participated in the evaluation or the technology development, such as with conformal batteries, which troops can wear. Because it is not unheard of for the military services to make duplicative investments, this collaboration was encouraging.
The ATVs, which are fast, rugged, and very quiet, ranged from a hydrogen fuel cell version shown by the Army's Tank Automotive Research, Development, and Engineering Center (TARDEC) to a nifty, souped-up four-seater from a private company. The majority of technologies shown, however, were energy storage devices that would allow for fewer and lighter batteries on the battlefield. Also on display were hybrid generators and fuel cells, which could potentially provide efficiency, cost savings, greater transport range, constant power on demand, and greater stealth than traditional generators, though they could present some unique fuel-logistics challenges.
A number of senior defense officials traveled to see E2C in the heavy summer heat. And although it was useful for these leaders to see the technologies firsthand, the main attraction was a demonstration of the Marine Corps' cultural commitment to efficiency of operations. As Maj. Gen. William Beydler, commander of the II Marine Expeditionary Force based at Camp Lejeune, told the officials at E2C, changing the way Marines use energy is ultimately as much a question of culture as it is technology.
Sharon Burke is an adviser to the Pew project on national security, energy, and climate.