Why Vacant Schools Still Sit Empty
A look at 11 shuttered Philadelphia schools and others around the country
Large numbers of public schools have closed in cities across the country in recent years. In 2013, Pew's Philadelphia research initiative examined the struggles that Philadelphia and other urban districts have faced in finding new uses for these shuttered buildings. One key finding from the analysis was that there is no guarantee that vacant schools will be successfully reused simply because they've been sold. This is because buyers may not have clear plans for properties, and even when they do, many aspects of the redevelopment process—such as repairs, zoning approvals, financing, and community concerns—can delay or even derail a project.
Philadelphia closed more than 30 schools over the past five years, a number of which are now facing these challenges. In fall 2014, faced with a continuing fiscal crisis and a significant inventory of vacant properties, the local School Reform Commission, which oversees school district operations, approved the sale of 11 shuttered buildings: One went to a charter school operator, four to the Philadelphia Housing Authority, and six to private developers of residential, commercial, and mixed-use real estate. A year later, only one of those properties is in use: the former Joseph Leidy Elementary School, which is now home to Inquiry Charter School. The future of other sites remains unclear.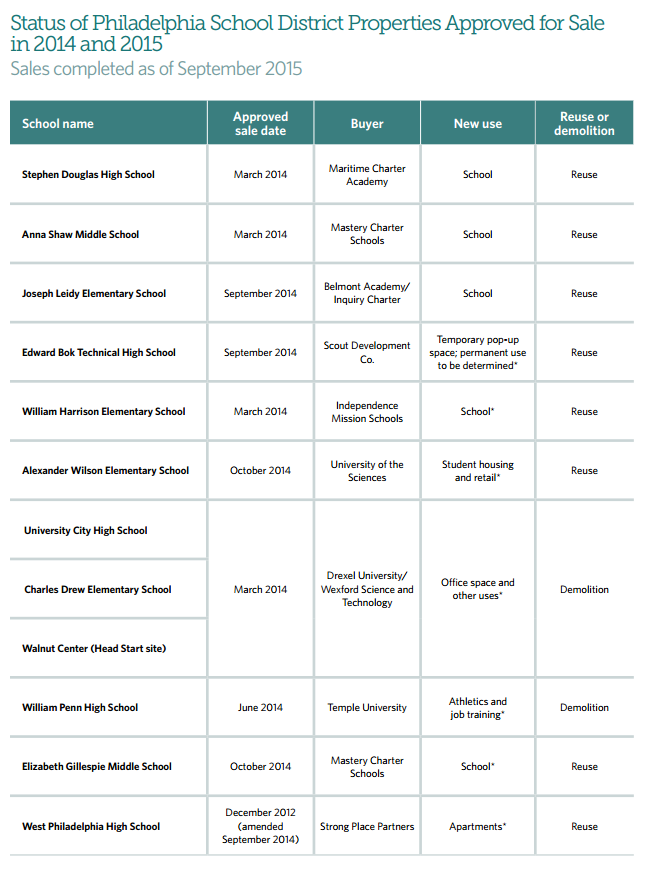 In a sense, that outcome is not surprising. Our research found that charter school operators made up the largest portion of buyers in most cities; converting one school into another presents relatively few obstacles. Some cities, though, including Chicago, have been resistant to selling or leasing shuttered school buildings to charter operators. At one point, officials there pledged to avoid such sales, expressing concern that expanding the charter sector would take students away from the traditional public schools. But that pledge was revised when, in at least one case, the only viable bid for a building came from a charter school.
Converting schools into multiunit residential facilities is also a frequent outcome, but those can take substantial time to materialize. In Philadelphia, we have seen this with the proposed development of the old West Philadelphia High School building. Given its proximity to several universities, this site was widely regarded as one of the most marketable district properties. But even if the latest plan by a private developer to turn the site into apartments comes off without a hitch, five years will have elapsed between the school's closure in 2011 and its planned reopening in 2016.
Reusing school properties for purposes other than education or housing also happens. For instance, in Kansas City, Missouri, a former elementary school was successfully transformed into a community center, complete with a fitness room, a vegetable garden, a catering company, office space for two neighborhood groups, and a foundation dedicated to local jazz history. In some cases, demolition is required to make way for a building's reuse. We have seen this in Detroit and Atlanta, with shopping centers now standing where schools once did. And in Philadelphia, Temple University purchased William Penn High School, which closed in 2010, with plans to replace it with athletic and recreational facilities and a job training center run in partnership with the local Laborers' Union. Demolition is expected to begin this fall.
No matter what the plans are for redevelopment, disagreement can arise over the best new use. As our 2013 study noted, shuttered schools provoke a stronger sense of community ownership than do other vacant buildings and can prompt passionate opinions. During summer 2015, for example, some Philadelphians became upset when a temporary bar opened on the roof of the former Bok High School and became extremely popular because of the spectacular views it offered of the city skyline. In another neighborhood close by, residents have expressed concerns that plans for market-rate housing at the closed Walter Smith Elementary School would speed up gentrification. In Washington, D.C., residents sued to halt city efforts to establish an intercity bus depot on the grounds of the former Crummell School over apprehension about air quality and because of their desire for a use that would benefit the immediate neighborhood.
School districts across the country are still looking for buyers for many of their properties. As the buildings are sold, discussions about the future of shuttered schools are sure to continue. We have seen this in Philadelphia as recently as August 2015, with the approved sale of two more sites: the Francis Willard School, which went to Project HOME, a well-known provider of services to the homeless, and the Sheridan West Academy, which was bought by GM Holdings, a property management and development company. People concerned about Philadelphia and its neighborhoods will be watching to see what becomes of the two properties—and how long redevelopment takes.
Read the 2013 report Shuttered Public Schools: The Struggle to Bring Old Buildings New Life.