Pope's U.S. Visit an Opportunity to Consider High Seas Protections
Speech at U.N. could reinforce need for better ocean governance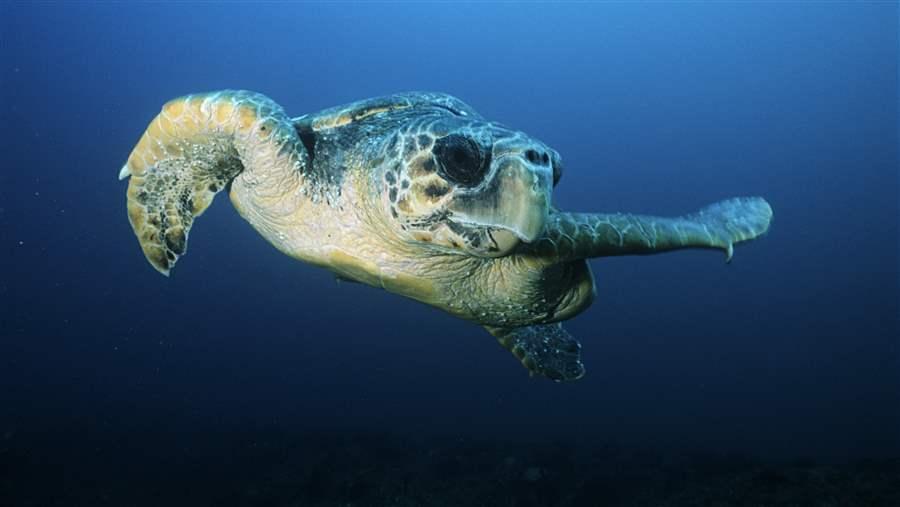 Shutterstock
Loggerhead turtle (caretta caretta) drifting.
When Pope Francis released his encyclical about environmental protections in May, many observers focused on his call to combat climate change as part of a moral need to conserve our "common home." But his message wasn't just about stopping global warming and protecting the land: Deep in the text, he also advocates for protecting the high seas through a stronger system of ocean governance. Now, with a three-city visit to the United States kicking off this week, including a Sept. 25 address to the U.N. General Assembly in New York, it is more important than ever to remember why such a system is a critical component of the papal call to action—and to global sustainability.
The high seas comprise 64 percent of the ocean, or 43 percent of the Earth's surface. But as areas beyond national jurisdiction, no single country can control these waters. While there is a patchwork of organizations that regulate and manage fishing, shipping, and mining, there remains no overarching way to ensure that these waters are protected from harmful action and no formal system of communication among these management bodies. This is to the detriment of the high seas, which are incredibly valuable: Fisheries there are worth US$16 billion annually. The entire region can also store an estimated US$75 billion to US$222 billion in carbon per year, making it critical to both food and economic security. Without strong, interconnected governance, however, no one can be sure of what is happening on the high seas at any time.
On June 19, soon after the pope released his encyclical, the U.N. General Assembly took an important step forward for the ocean by approving the start of negotiations on a treaty to protect biodiversity on the high seas. Such an agreement would be the first of its kind and demonstrate global recognition of the ocean's importance to human life. Ideally, it would create a new structure to manage and regulate all activity on the high seas, as well as methods for creating marine reserves to protect special places with vibrant ecosystems.
In addition to this new international agreement, the United Nations is expected during the Sept. 25 to 27 Sustainable Development Summit to adopt a new sustainable development goal specifically for the ocean. This goal will recognize marine protections as a critical component of promoting worldwide prosperity and well-being. Combined with the upcoming treaty negotiations, the United Nations is demonstrating a welcome and much-needed focus on the plight of the ocean.
Andreas Solaro, AFP/Getty Images
Pope Francis takes a boat on his way to cast a wreath into the sea in memory of migrants who have drowned trying to reach Europe on July 8, 2013 on the Italian island of Lampedusa.
As Francis stated in his encyclical, the high seas are a true "global commons." Even those of us not directly connected to the ocean reap its benefits every day. In March, when the United Nations meets for its first round of treaty negotiations, let's hope that member countries remember and reflect on the value these waters bring to people and the health of the planet.
Elizabeth Wilson directs international ocean policy for The Pew Charitable Trusts.