Southern New England's Worst Year in History for River Herring Raises Concerns at Sea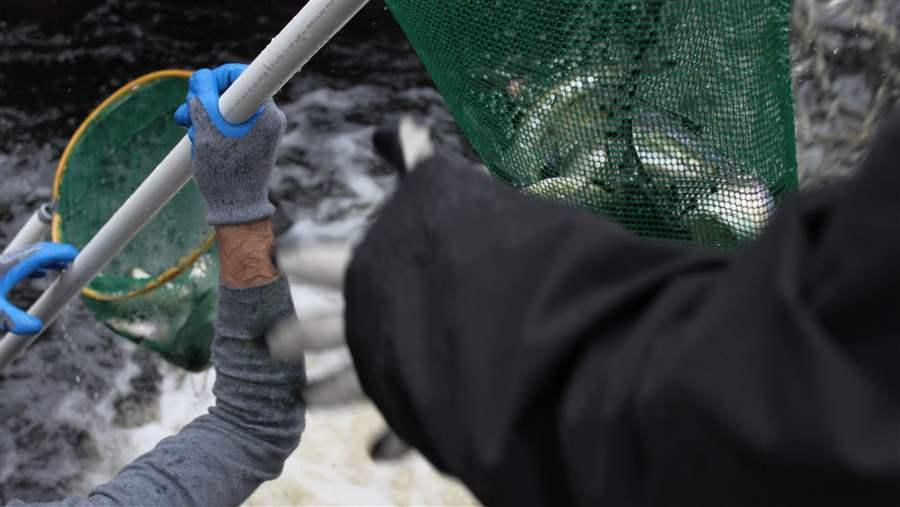 The Pew Charitable Trusts
Volunteers in Rhode Island use nets to carry migrating river herring beyond a dam so that the fish can reach spawning areas upstream.
Fisheries officials and watershed conservation groups have tallied the spring migratory runs of river herring, and in parts of southern New England, 2015 likely will go down as a particularly terrible year for these critically important forage fish. Reports from across Connecticut and Rhode Island show the number of migrating fish declining dramatically compared with recent years, leading one prominent biologist to call this year "the worst in history" in his state.
Consider a few examples from Rhode Island. Last year, more than 102,000 river herring passed through Gilbert Stuart Brook in North Kingstown. This year, that number dropped to about 11,000. On nearby Buckeye Brook, volunteer coordinators say they saw only about 15,300 herring this year compared with an average of more than 90,000 in previous years. And on the Saugatucket River, where volunteers net migrating fish and lift them over a dam to spawning areas upstream, only about 15,000 fish showed up this year, compared with 74,000 last year.
Steve Gephard, Connecticut's supervising fisheries biologist for migratory fish, told me that "everything crashed" this year in the streams he monitors and that he hasn't seen anything like it in his 35-year career. "Fishways that usually count 90,000 counted 8,000," Gephard said. "Our premier run at Bride Brook was off by at least 100,000."
This news from Connecticut is especially troubling because the state has been a national leader in restoring the freshwater habitat that river herring need. Blueback herring and alewives, collectively known as river herring, spend most of their lives at sea before returning to rivers to spawn. Both species had been depleted by a combination of overfishing at sea and dams in rivers that blocked off spawning areas. But Connecticut responded, restoring more than 150 miles of streams for migrating fish in just the past three years.
Gephard said the quality of freshwater habitat is good and that weather, which can sometimes affect river quality and fish behavior, was not significantly different this spring from other years. "I continue to suspect that what is affecting us is something in the marine environment," Gephard said.
He's not alone. Buckeye Brook Coalition Vice President Paul Earnshaw told the Warwick Beacon that he suspects offshore fishing is a large part of the problem. Saugatucket River volunteer coordinator Bill McWha told me he thinks the offshore Atlantic herring fishery "clobbers" the migrating river herring.
Because river herring species are so depleted, fishing for them is banned in most states. But farther out to sea, river herring are often scooped up as "bycatch" by industrial vessels targeting other species, especially Atlantic herring, the oceanic cousins of river herring.
Both the New England and Mid-Atlantic fishery management councils have placed yearly limits on the amount of river herring that can be killed in the Atlantic herring fishery. Unfortunately, the efficacy of these "bycatch caps" is undermined by a lack of adequate monitoring and pressure to weaken the bycatch limits before they've had time to be effective.
Information on the bycatch problem is limited because most vessels fishing for Atlantic herring still do not have independent observers on board to monitor activity, despite wide agreement that such monitoring should be increased.
We do have some information on bycatch of river herring from the University of Massachusetts Dartmouth, which operates a voluntary "bycatch avoidance program" in cooperation with the industry and the Massachusetts Division of Marine Fisheries. The data that program has made public shows that in February and April of 2015, vessels fishing for Atlantic herring had about 30 incidents of "high bycatch" of river herring. Over half of those incidents occurred near the Connecticut and Rhode Island shores, at about the time when river herring might be amassing before migrating into rivers.
Without additional data, it's difficult for scientists to determine why this was such a bad year for river herring in this region. But the correlation of these high bycatch events in the area where the migrating fish had their worst year should certainly give regulators reason for pause.
In a disappointing move, however, the New England Fishery Management Council is considering an increase in the amount of river herring allowed to be killed. For example, the bycatch cap that applies to bottom trawl vessels fishing off the southern New England coast could increase by more than 73,600 pounds, or roughly 368,000 fish. That's four times as many fish as returned to all the major Rhode Island streams this year. The annual cap that applies to midwater trawlers fishing near Cape Cod could very well double.
State and federal taxpayers have invested millions of dollars to improve stream habitat for river herring, and a broad coalition of fishermen, scientists, and conservationists worked to prevent the wasteful killing of these fish at sea.
I urge you to contact the New England council and tell the folks there that weakening limits on river herring bycatch is a move in the wrong direction. We can't let all the good work to restore these fish be lost at sea.
Peter Baker directs The Pew Charitable Trusts' ocean conservation work in New England.