The Nexus of Energy, National Security, and Climate Change and Its Impact on the Armed Services
A Conversation With Sharon Burke
Sharon Burke is former first assistant secretary of defense for operational energy and an adviser to the Pew project on national security, energy, and climate. In her work with the U.S. Department of Defense, Burke spearheaded a Pentagon-wide effort to promote the understanding of the role of energy in national security and military operations.
At Pew, she will focus on policy issues at the intersection of military readiness and energy independence. To mark the beginning of her tenure as an adviser, Phyllis Cuttino, director of Pew's clean energy initiative, spoke with Burke about her background and some of the most pressing issues regarding national security and energy.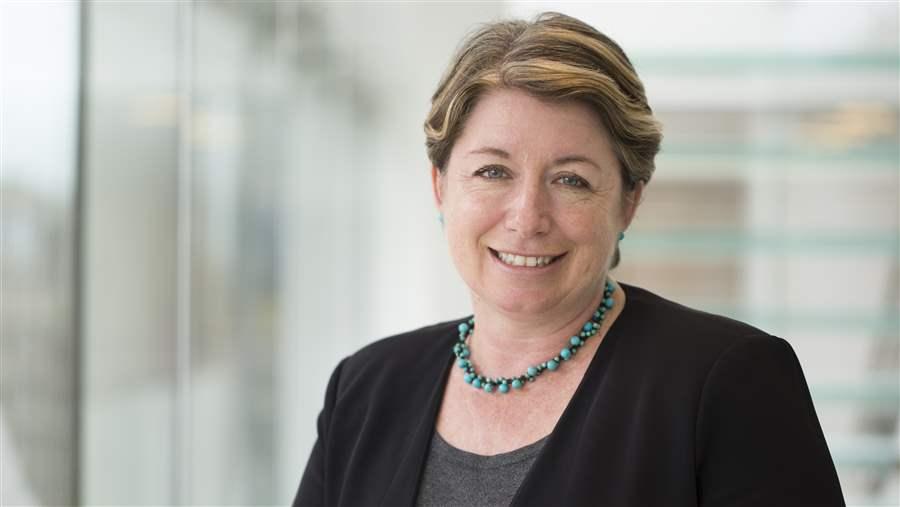 © The Pew Charitable Trusts
Sharon Burke shares her thoughts on the most pressing energy security challenges facing the Department of Defense.
Q: The Pew project on national security, energy, and climate focuses on policies that make the U.S. Department of Defense more capable and the nation more resilient. As an adviser to the project, how do you hope to further those goals?
A: When I left my position as assistant secretary of defense for operational energy, I knew there was much yet to accomplish, but I also knew there were many dedicated public servants who would carry on with this work. Having said that, there are some defense energy challenges I still want to work on, which is why I welcomed the opportunity to serve the Pew project as an adviser.
First, the United States has an overwhelmingly powerful military, with the ability to move an iron mountain of capability anywhere, any time. But that does not mean we are without vulnerabilities or opportunity costs, and I worry that we are not fully taking those into account. Someday our military may well face an adversary that cannot only target our vehicles, ships, and planes with great precision and destructive power, but also our lifelines, including fuel and electricity. I hope to keep looking at what military and civilian leaders can do to better understand and deal with those vulnerabilities, as well as how they should anticipate and respond to climate change. The effects of climate change, especially in unstable regions of the world, will increasingly shape the geostrategic landscape, the operating environment, and military missions. The Pew project on national security, energy, and climate does a great job of looking at the confluence of these issues, and I'm excited about that.
Q: You were brought on as the very first assistant secretary of defense for operational energy. What previous experience do you feel aided you most in that position and will serve you best in your work with Pew?
A: No question, my prior experience in the Pentagon was very helpful. I first joined the Department of Defense as a Presidential Management Fellow in 1994, and that program provided an exceptional introduction to DOD. I stayed for about seven years, working in the policy office and for the secretary of defense as a speechwriter and then serving in the State Department during the Bush administration. So I come to Pew with a level of comfort, good relationships, and realistic expectations—things that have all helped a great deal.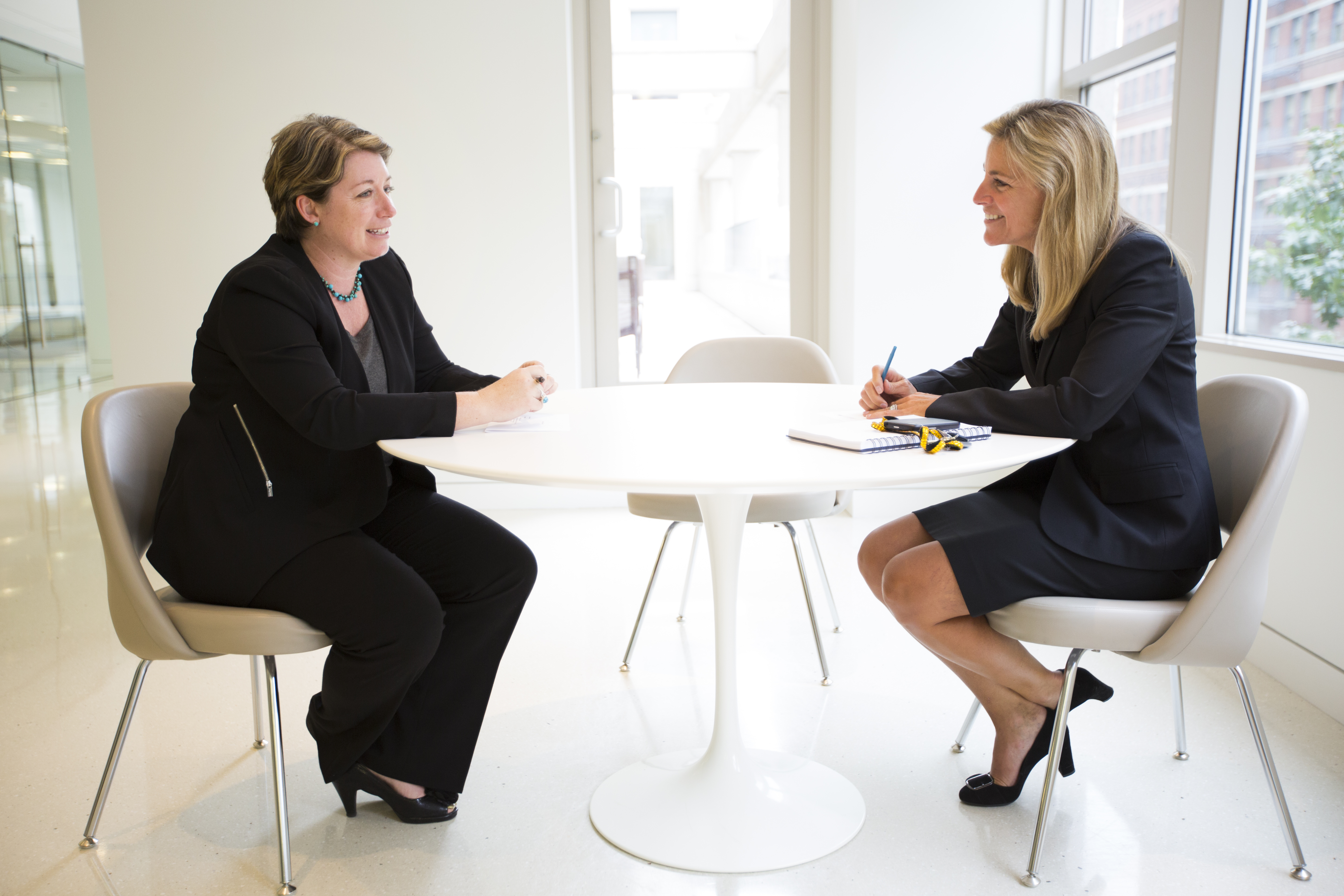 © 2015 The Pew Charitable Trusts
Sharon Burke (left), an adviser to the Pew project on national security, energy and climate, chats with Director Phyllis Cuttino.
Q: What do you feel were your biggest accomplishments and learning experiences while in government?
A: My biggest accomplishment was standing up a new office. In 2009, Congress directed the administration to establish for the first time an office focused on military energy security, so when President Obama did so in 2010, we were breaking new ground. That meant deciding how to organize the office, who to bring on board, what issues and projects to focus on, how to effect change in one of the world's largest institutions, and how do it all while meeting statutory requirements, the president's direction, and the needs of the men and women in uniform.
My greatest learning experiences came from visiting military bases, some forward deployed and others within the United States. There's no better way to understand what's really at stake and how better energy policy can help.
Q: In the past decade or so, the way the DOD views energy has evolved. How did this conversation unfold within the department and the individual services?
A: Actually, it is nothing new for the U.S. military to be looking at energy as more than just a commodity, but something with geopolitical, strategic, and tactical relevance. In World War II, for example, the Allies did everything from embargoing Japanese fuel supplies to bombing German refineries in order to secure oil-producing territories in the Middle East and North Africa. They built a 250-million-gallon fuel storage tank in the middle of a rock mountain in Hawaii and a massive pipeline under the ocean to supply the D-Day landing. In the Cold War, countries put nuclear reactors on submarines so they could sustain a stealthy military force far from home and close to the Soviet Union.
Someday our military may well face an adversary that cannot only target our vehicles, ships, and planes with great precision and destructive power, but also our lifelines, including fuel and electricity.

Sharon Burke
Since the end of the Cold War, we haven't really had to worry much about our supply lines. There wasn't really a threat or a need, and we've gotten very good at using global energy markets to create diverse, just-in-time military energy supplies. But then in Iraq and Afghanistan, U.S. forces started seeing ambushes and improvised explosive devices on the supply lines, which meant combat forces were needed to clear the roads and protect the convoys. This was happening at the same time that global demand for fuel was growing and prices were escalating. Congress paid attention to the money, but military leaders saw the vulnerability.
As assistant secretary, my intention was really to generate a new way of thinking about energy and national security at the Pentagon, or put another way, perhaps to rediscover the way the military used to look at these issues. I wanted our focus to be on strengthening the defense mission, not just using DOD's scale to generate a few discrete energy projects. We made significant progress on that, thanks to a great team and superb allies across the department.
Q: How did other energy technologies enter into the discussion as possible solutions to these operational requirements?
A: General Jim Mattis, former commander of CENTCOM [Central Command], was part of the initial deployments in both Afghanistan and Iraq. When he came home in 2004 to Quantico, he asked the Naval Studies Board to look at how to "unleash us from the tether of fuel." I've talked to him about what he meant: He thought fuel was something of a limiting factor for our operations and that we had to find a way to need less or to generate fuel and power on site. Soon after, a Joint Urgent Operational Needs Statement came out of Iraq, asking for alternative energy that could generate power in situ and not require fuel resupply. Hybrid solar power generation was one of the first technologies they considered. [Hybrid solar power systems combine photovoltaics with another energy source.] So, when the conversation started, it wasn't about "clean energy" per se, and it really still isn't about clean energy. But solar power, tactical wind, and geothermal; energy storage; efficiency—these are things that can make sense for a forward deployment.
Q: What successes were you most proud of, and how did those lay the groundwork for future work in this area both from DOD and from you?
A: The Marine Corps recently held a war game called Operational Reach 2015, which looked at how energy might shape Marine Corps missions in the 2030 time frame. The point of this game was to identify strengths and weaknesses, as well as gaps, presumably with follow-on efforts to address those gaps. That means it's not just one project or one effort, but a shift in a way of thinking, and I am proud I helped lay the groundwork for that. There's a joint DOD-Department of Energy project called the Hybrid Energy Storage Module, which the Navy is leading, and I think it's a good model of how a unique military need might help push the pace on a technology with a commercial application, as well as for how DOE and DOD can leverage each other's strengths. And I was proud to play a part in initiating and supporting projects such as the Army's Energy to the Edge and Operation Dynamo programs, which brought energy improvements such as tactical solar, minigrids, efficient generators, and insulated shelters to forward-deployed forces in Afghanistan. Many of those improvements have been mainstreamed into the acquisition process.
As for laying the groundwork for the future, I hope to help guide Pew in doing that. Before I even came to public office, I was familiar with the Pew project on national security, energy, and climate, largely through Senator John Warner. [Sen. Warner has been a senior adviser to the Pew project since 2009.] This was an organization we could count on as a partner in identifying the opportunities clean energy presents for national security, as well as how to surmount the challenges in today's policy environment. I look forward to working with Pew toward gaining a greater understanding of these constantly evolving policy challenges and hopefully presenting some potential solutions.