Summer Heats Up for Wilderness
Congress has taken important steps on conservation in recent months, as both houses have introduced bills to protect special areas in the western United States. Senators have proposed five wilderness measures since early May, and the Senate Energy and Natural Resources Committee held its first hearing of this Congress on two proposals. Meanwhile, the House of Representatives' Natural Resources Committee held a hearing in June on several wilderness bills.
Progress in the Senate Committee on Energy and Natural Resources
Northern New Mexico
The recently introduced Cerros del Norte Conservation Act (S. 1240) was one of two wilderness bills considered by the Senate Energy and Natural Resources Committee at a hearing May 21, 2015. The second would designate an area in central Idaho.
On May 7, Senators Martin Heinrich (D-NM) and Tom Udall (D-NM) introduced S. 1240. The legislation would provide extra protection through wilderness designation for two special areas within the Río Grande del Norte National Monument: Cerro del Yuta (Ute Mountain) and Rio San Antonio (San Antonio Mountain), encompassing approximately 21,420 acres of the 242,500-acre national monument near Taos. These parcels are located along what is known as the Central Flyway, one of the major migratory bird routes in the country, and are home to elk, deer, turkeys, and other wildlife.
A broad coalition of business owners, sportsmen, tribal leaders, local and federal elected officials, and people who hold grazing permits on the federal land supported designation of the national monument in 2013. A similarly diverse coalition is expected to endorse the proposed wilderness designations.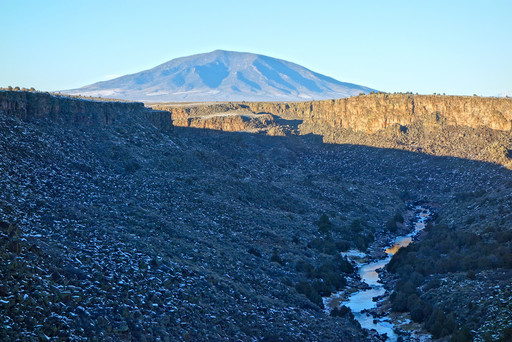 © The Pew Charitable Trusts
Ute Mountain looms in the distance at Sheep Crossing, part of the Wild Rivers Recreation Area managed by the Bureau of Land Management.
Boulder-White Clouds
The Senate committee also heard testimony on a bill to protect part of the Boulder-White Clouds area. The Sawtooth Mountains rear up from central Idaho's plain like the ragged jaw of a giant, and at their eastern edge sits Jerry Peak, a haven for wildlife and outdoor recreation. To safeguard this striking landscape, Senator James Risch (R-ID) has introduced the Sawtooth National Recreation Area and Jerry Peak Wilderness Additions Act. The measure—a companion bill to H.R. 1138, introduced by Representative Mike Simpson (R-ID)—seeks to protect portions of majestic Boulder-White Clouds by designating more than 275,000 acres of wilderness.
In a state famous for its hunting and fishing, the Sawtooth and Jerry Peak areas harbor especially rich wildlife populations. The region is popular with sportsmen and provides important habitat for salmon and big game such as elk, moose, mountain goats, bighorn sheep, black bears, and cougars.
Despite broad public support, various versions of this bill have been before Congress for more than a decade, without final passage. Pew supports the legislation because wilderness designation is the "gold standard" for public land protection. If it appears that Congress will not pass the legislation this summer, however, we will continue to strongly advocate for a monument designation through the use of the Antiquities Act as the only remaining option for safeguarding this ecologically and culturally rich region.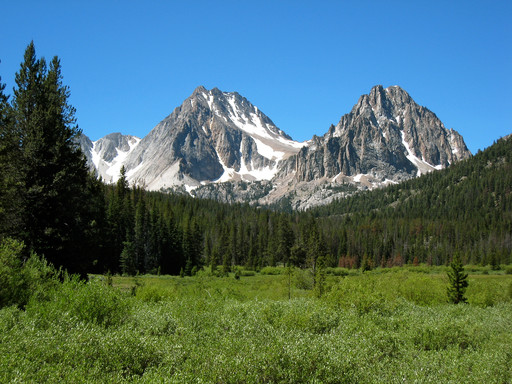 © Brad Smith/Idaho Conservation League
Boulder-White Clouds in Idaho.
More Senate Bill Introductions
Sutton Mountain
East of the big, wet mountains of the Pacific Northwest's Cascade Range spreads an equally intriguing but drier complex of remote peaks, narrow and deep canyons, and wild rivers, many of them vital to wildlife, rare plants, and human communities and recreation.
On May 7, Senator Jeff Merkley (D-OR) introduced S. 1255, the Sutton Mountain and Painted Hills Area Preservation and Economic Enhancement Act. This bill would designate roughly 58,000 acres of Oregon wilderness in the John Day River Basin, which feeds into the Columbia River east of the Cascades, and would include the Sutton Mountain, Pat's Cabin, Painted Hills, and Dead Dog wilderness study areas. The legislation has broad and diverse support from county commissions and elected officials, business owners, conservation groups, whitewater rafting and boating interests, and hunters and anglers. The area features memorable vistas, deep canyons, and unique plants and is also prime habitat for elk and mule deer.
© Jim Davis
Devil's Staircase and Wild Rogue
On June 25, Senators Jeff Merkley and Ron Wyden (both D-OR) introduced a bill to give wilderness protection to 107,800 acres in their state's Wild Rogue and Devil's Staircase areas. The Rogue River flows through a geologically complex part of the Cascades and is famous for its salmon runs and rugged landscape. The Devil's Staircase, a waterfall on Wassen Creek in Oregon's Coast Range, lies at the heart of one of the most remote locations in the state, with its steep terrain and thick vegetation surrounded by 30,000 acres of roadless land. The measure also would designate 252 miles of wild and scenic rivers and preserve 119,120 acres of the Rogue and Molalla rivers as national recreation areas. People visit these lands for hiking, fishing, and camping and for whitewater canoeing, rafting, and kayaking.
Home of the California Condor
California's central coast is home to the majestic California condor, North America's largest and most endangered bird of prey. The area also harbors a wide variety of plant and animal species, more than 90 of which are at risk of extinction, including the San Joaquin Kit fox, steelhead trout, the Arroyo toad, and the California jewel flower. Visitors from around the world flock to these coastal mountains and grasslands to hike, backpack, camp, bird-watch, ride horseback or mountain bikes, and hunt, fish, and kayak.
Late in May, Senator Barbara Boxer (D-CA) introduced S. 1423, the Central Coast Heritage Protection Act—a companion bill to H.R. 1865, which Representative Lois Capps (D-CA) introduced April 16. The bill would protect approximately 245,000 acres of new and expanded wilderness in California's Los Padres National Forest and the Carrizo Plain National Monument. The legislation also would designate wild and scenic rivers and a new national recreation trail.
© Jeff Jones
Los Padres National Forest along California Central Coast.
Wild Olympics
West of Seattle, a range of snowcapped peaks and lush forests often becomes enveloped by low-lying fog, adding mystery to an already quiet and wild landscape.
On June 4, Senator Patty Murray (D-WA) introduced her long-awaited Wild Olympics Wilderness and Wild and Scenic Rivers Act (S. 1510), with Representative Derek Kilmer (D-WA) simultaneously introducing a companion bill (H.R. 2665) in the House. The legislation, which represents a historic step forward for conservation on the Olympic Peninsula, would permanently protect as wilderness more than 126,500 acres of the Olympic National Forest while designating about 464 miles of 19 rivers and their major tributaries as wild and scenic rivers. The bill was crafted over many years with input from a broad group of community residents interested in protecting the Olympic Peninsula's ancient forests, free-flowing rivers, and alluring scenery for future generations to enjoy. It also would safeguard critical salmon habitat and sources of clean drinking water for communities on the peninsula. The Wild Olympics Campaign, which champions both bills, enjoys wide support: The legislation has been endorsed by more than 500 local businesses, farms, faith leaders, and area elected officials, as well as sportsmen, outdoor recreation interests, and conservation organizations.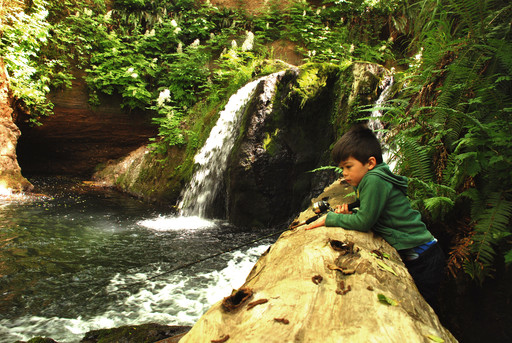 © Thomas O'Keefe
Washington's Olympic Peninsula offers recreational opportunities for folks of all ages.
Movement in the House
The Senate was not the only place where conservation causes made progress.
On June 16, the House Natural Resources Committee held a hearing on a number of bills, including H.R. 1138, Idaho Representative Mike Simpson's version of the Sawtooth National Recreation Area and Jerry Peak Wilderness Additions Act. The legislation was approved by the committee July 9.
The committee also considered H.R. 496, the Alabama Hills National Scenic Area Establishment Act, introduced by Representative Paul Cook (R-CA). Located in eastern California, the Alabama Hills are not so much hills as enormous heaps of rounded, granite boulders scattered in a dry and otherworldly landscape at the foot of the Sierra Nevada. Movie fans might recognize them from dozens of old Western films that were shot in the area.
Cook's bill would designate approximately 18,000 acres of wild lands in Southern California as a national scenic area and include them in the Bureau of Land Management's National Landscape Conservation System. A similar provision is contained in S. 414, the California Desert Conservation and Recreation Act, introduced by Senator Dianne Feinstein (D-CA). The culmination of years of collaboration with a broad and diverse group of stakeholders, including conservationists, businesses, and county and municipal governments, H.R. 496 seeks to protect a vital, ecologically significant area of the California desert. As Rep. Cook notes, the Alabama Hills are a natural treasure deserving of protection, and his legislation strikes the right balance between diverse user groups and interests in the area.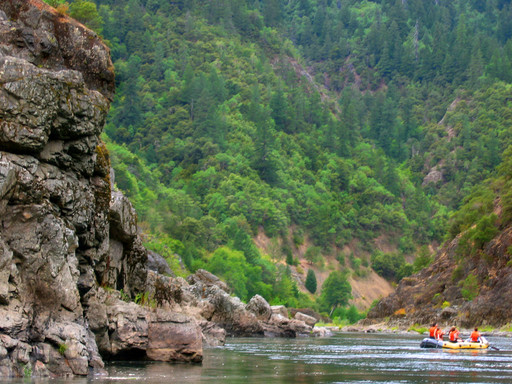 © Rolf Skar
Rafting on Rogue River in southwest Oregon.
After the introduction of harmful legislation in the past month—bills that would significantly scale back environmental and conservation protections and pose risks to our national forests, wilderness, and other public lands—Pew is heartened that Congress is also considering many ways to protect, enhance, and expand the wilderness preservation system throughout the country. After the introduction of harmful legislation in the past month—bills that would significantly scale back environmental and conservation protections and pose risks to our national forests, wilderness, and other public lands—Pew is heartened that Congress is also considering many ways to protect, enhance, and expand the wilderness preservation system throughout the country.