Strong, Science-Based Plans Needed to Protect Greater Sage-Grouse
Government's proposal is a major step toward smart conservation of the species' habitat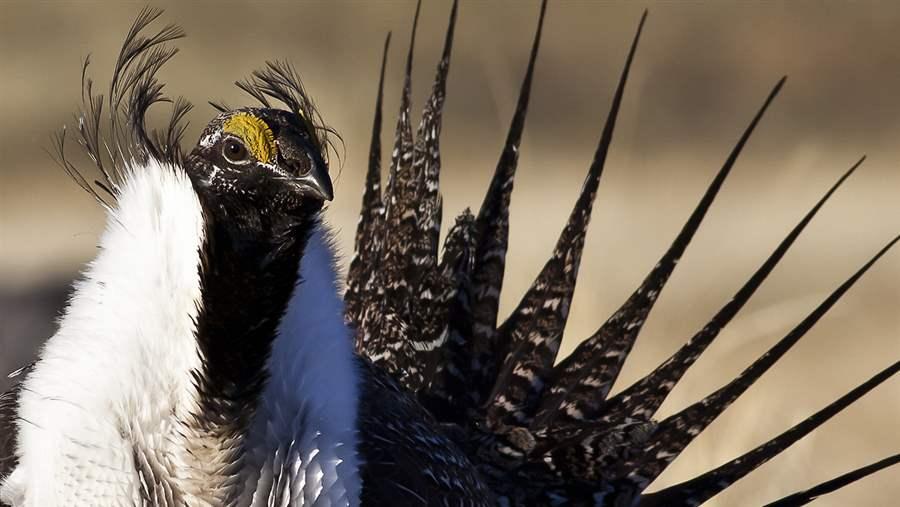 Bob Wick
As part of the Western Lands Initiative, Pew is working on a campaign to preserve greater sage-grouse and their habitat.
On May 28, the Interior Department's Bureau of Land Management (BLM) announced its single largest conservation effort at the landscape level ever—a proposed plan to protect habitat across 10 Western states for the greater sage-grouse.
The release of the plan, which followed half a decade of deliberations and discussions with stakeholders, is a seminal moment: No other land manager, state or federal, is responsible for more of our nation's remaining sage-grouse habitat. These lands, which encompass more than 50 million acres from the Dakotas to California, support more than 350 species of plants and animals and provide a boost to local economies through tourism and recreation.
Wildlife biologists classify the sage-grouse as an indicator species, meaning that its population numbers are an important indicator of the ecological health of much of the interior West. During the past century, the sage-grouse's range has shrunk by half—and 90 percent of what remains has been altered, which is why grouse populations have dropped by 95 percent.
In her remarks during the release of the plan, Interior Secretary Sally Jewell noted that, "Today the federal government is stepping up and doing its part" to protect the bird's remaining habitat, nearly two-thirds of which is on federal land. "How we manage that land really matters," Jewell added.
I couldn't agree more. These lands are held in trust for all Americans, so we all have a say in how this landscape should be managed. The newly released plans, while a significant improvement over the draft plans issued in November 2013, still need fine-tuning to meet the best-available science regarding sage-grouse conservation.
Pew has focused on safeguarding sage-grouse habitat because that enormous expanse of land is the heart of the West. Protecting this ecosystem means conserving the home of not only the sage-grouse, but also other magnificent wildlife such as elk, mule deer, pronghorn, and golden eagles. It is a region valued equally, but differently, by Western governors, sportsmen, ranchers, outdoor enthusiasts, and energy developers. Only by listening to each other and working together can we reach a responsible, balanced plan for its future.
The U.S. Forest Service has warned that the sagebrush ecosystem is one of the most imperiled in the United States. Secretary Jewell said the sagebrush landscape is "woven into our Western heritage. We can't afford to lose this landscape, just like we couldn't afford to lose the Florida Everglades or the Tallgrass Prairie."
But time is of the essence. The agency will make its final decisions on the sage-grouse plan this summer. Secretary Jewell and BLM Director Neil Kornze clearly understand the importance of protecting the sage- grouse. This is their best chance to get these plans right.
I encourage the administration to finalize decisions—based on the best-available science—that appropriately balance conservation with development. Doing so will save an irreplaceable part of the West and a Western way of life so cherished by generations of Americans.