Sharks Gain New Ally in China
Link-U shark conservation initiative launches in Beijing
The campaign to reduce demand for shark fins in China gained a new ally recently when Link Capital Nature & Social Affairs Center unveiled a conservation initiative to focus on significantly reducing shark consumption in China's private sector.
Although the Chinese government instituted a ban on shark fin consumption by government officials at state functions in December 2013, the critical ocean predator remains on the menu of many hotels and restaurants in Beijing, Shanghai, and many other cities.
The new campaign, called Link-U: Shark Protection in Action, will work to encourage Chinese businesses to stop serving shark fins. Organizers also want to raise awareness among young people—using social media sites such as Weibo and WeChat—about the important role sharks play in the ocean ecosystem, the threats they face, and the need to protect them by avoiding consumption.
Link Capital Nature & Social Affairs Center is a Hong Kong corporation founded by Jim Zhang, a Chinese businessman and conservationist. The Pew Charitable Trusts named Zhang a Global Shark Guardian in 2014 for his work to secure the government ban.
It was a privilege to join Zhang in launching the campaign April 7 at Tsinghua University in Beijing. We were also joined by two extraordinary individuals: well-known explorer, scientist, and ocean advocate Dr. Sylvia Earle and film star Liu Ye.
At the launch, Zhang said he wanted all Chinese people to know that sharks are fundamental to the health of the ocean: "Their populations have declined precipitously over the last 30 to 50 years, and that's bad news for the ocean."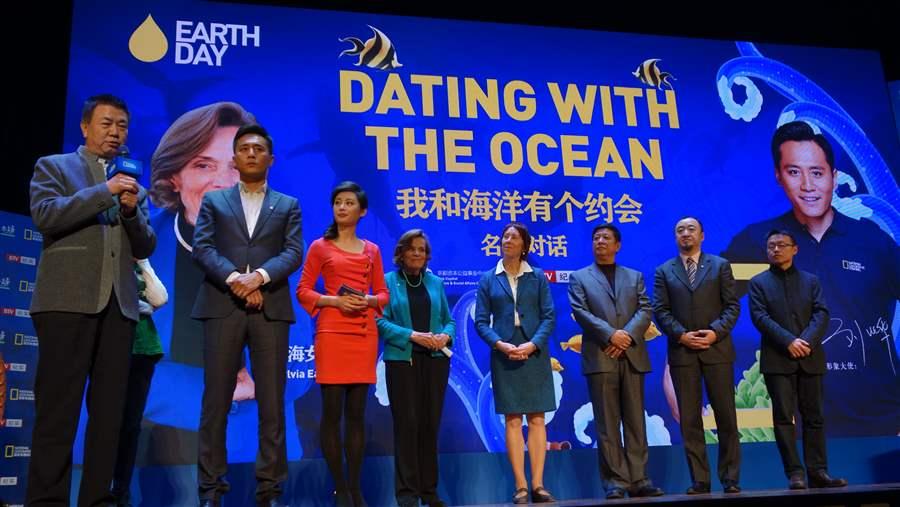 © Jen Sawada
Link-U founder Jim Zhang speaks to the crowd at the press event to launch Link-U.
Being there, I was excited to see shark conservation ramping up in China. Around the world, nearly 30 percent of known shark species fully assessed by scientists are threatened with extinction. Reducing demand will help those populations recover.
About 100 million sharks are killed every year in commercial fisheries. This mortality continues, despite scientific studies showing that when shark populations are intact and healthy, the entire ecosystem benefits.
The global decline has been driven mostly by the demand for shark products, such as shark fin soup. Because the Chinese are the biggest consumers of shark fins, conservation efforts aimed at reducing demand are crucial to the future of the species and to maintaining healthier oceans.
Earle urged Chinese citizens to act to protect sharks. "Now is the time. This is the moment. Our decisions, our actions, will shape everything that follows. The youth of China today are the ocean's best hope. My hope is that as a result of this initiative launched today, more and more young people in China will say no to shark fin soup," she said. "In this extraordinary country, young people today can give a powerful gift to the ocean simply by saying yes to a future with sharks, the world's most awe-inspiring animals."
Liu Ye, whom National Geographic Channel China has named an Earth Day Ambassador, also expressed support for shark conservation and ocean protection.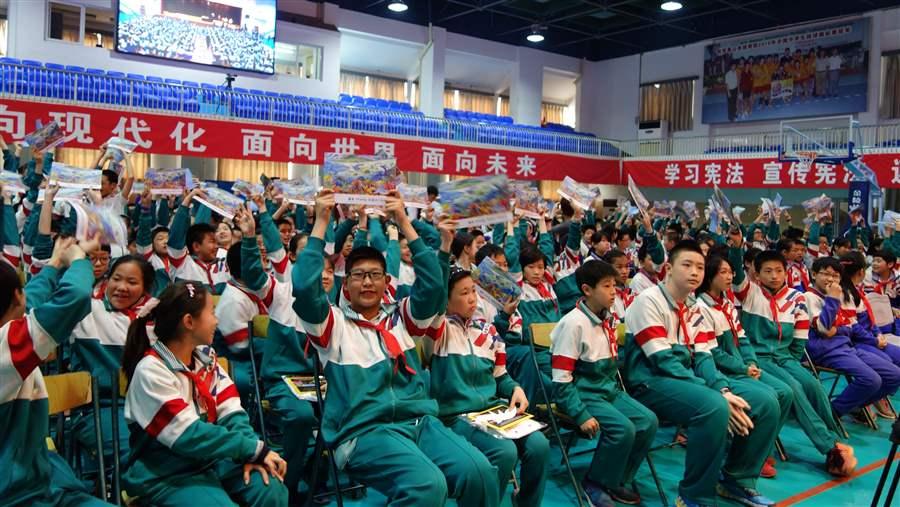 © Jen Sawada
Students at the Jingshan School are looking forward to a reading of "The Adventures of Shark Stanley & Friends."
Earle also visited an elementary school in Beijing to help promote and read aloud from the new version of "The Adventures of Shark Stanley and Friends," a children's book that emphasizes that healthy oceans need sharks.
Imogen Zethoven directs Pew's global shark conservation initiative.