Quebec Establishes Conservation Roots in the Boreal Forest
By renewing pledge to protect half of its northern territory, the Canadian province shows commitment to an intact landscape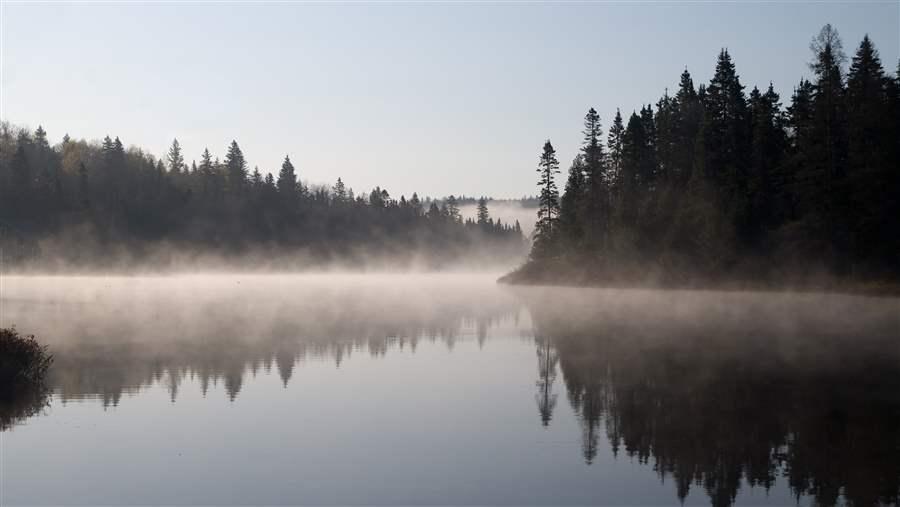 © Shutterstock
Fog rises over a boreal lake in Quebec.
In the effort to protect the world's last great wild landscapes, few days in recent history were as significant as May 9, 2011.
That's when the government in Canada's Quebec province, led then by Premier Jean Charest, announced a grand sustainable development project known as the Plan Nord. The policy was ambitious both in its vision for the long-term economic prosperity of Quebec's largely untouched northern territories and in its goals for conservation.
By 2035, half of the province's territory north of the 49th parallel—almost 150 million acres of intact boreal forest and tundra—would be protected from industrial activity. That's an area about the size of France. Development on the remaining 50 percent would be subject to world-leading sustainability guidelines, the government pledged.
This was big news, well worth celebrating.
The International Union for Conservation of Nature called Quebec "a guiding light to the globe as we combat the enormous global challenges of biodiversity loss and climate change."
The New York Times said in an editorial that Quebec was laying "the groundwork for one of the largest land conservation initiatives in history."
Of course, laying groundwork for environmental protection doesn't always yield success or guarantee follow-through. Governments change. Priorities shift.
For a time in 2013 and 2014, Quebec's support for the 50 percent target appeared to waiver, and timelines for protecting the boreal and tundra regions seemed certain to slip.
Thankfully, the Plan Nord is now on track—with its conservation commitments intact.
In a high-profile relaunch last month, the province's premier, Philippe Couillard, renewed the pledge to maintain the initial 2035 timeline for protecting half the boreal region. He also reaffirmed an interim conservation benchmark: Twenty percent of the Plan Nord territory would be protected by 2020.
Concrete actions
The April announcement was accompanied by concrete action. The provincial government finalized the protection of 1.15 million acres in the Kovik River watershed, a victory for Inuit communities with age-old cultural ties to the region.
And Quebec added 500,000 acres to the Ulittaniujalik National Park, which buffers the Rivière George, home to one of the province's most-threatened caribou herds as well as one of its important remaining runs of wild Atlantic salmon.
Regarding Quebec's conservation plans, Couillard noted: "Fifty percent protected is not seen anywhere else on the planet."
Indeed, apart from the neighboring province of Ontario, which has legislated 50 percent protection of its boreal forest region, few jurisdictions have been as forward-thinking as Quebec on conservation issues.
Its decision to "re-up" on its pledges stands as a testament to the environmental value of maintaining large, interconnected and intact landscapes.
More than 1,500 scientists from around the world have endorsed the concept of protecting at least half of Canada's boreal forest region from development. It's a benchmark considered essential to maintaining a full range of biodiversity and mitigating the impact of climate change.
The stakes are high in the effort to protect this landscape, and not just for Quebec and Canada. With 1.2 billion intact acres, the Canadian boreal is one of the largest forest ecosystems remaining on the planet.
A region of remarkable biodiversity, it is one of the few places left where long-range territorial migrations are possible. Quebec alone is home to more than 25 percent of Canada's threatened woodland caribou.
The province's boreal is also a breeding ground for 300 million to 500 million birds, representing 180 species, including threatened species such as Canada warblers and olive-sided flycatchers.
More than that, Canada's boreal is the world's largest source of unfrozen freshwater. It contains 25 percent of the world's wetlands and has 200 million acres of surface water.
Its trees, peat lands, and soil store vast amounts of carbon—low estimates put the total at about 208 billion metric tons across the forest. The boreal in Quebec alone stores 31 billion metric tons of carbon, more than 200 years' worth of Canada's overall emissions.
Hard-fought progress
By protecting this landscape and keeping that carbon in the ground, Quebec and Canada are doing a warming planet an enormous service.
It took hard work to get this far.
Before the Plan Nord was announced in 2011, nearly 450 representatives of provincial, regional, First Nations (Cree, Naskapi, Innu), and Inuit governments spent a year and half developing the vision.
Maintenance of Nation to Nation relationships also will be important to ensuring the Plan Nord's proper implementation as areas are designated for conservation or development.
Big challenges remain. The government can back up its stated commitment with appropriate funding to develop and implement ecological planning. And there still isn't as much money committed to conservation studies in Quebec as there is to economic ones.
But by committing to balance conservation with development, Quebec has set itself apart as a global leader in promoting both long-term environmental health and economic prosperity on a landscape scale.
It's a model that other jurisdictions—in Canada and beyond—would do well to follow.
Steve Kallick directs international lands conservation for The Pew Charitable Trusts.