Mount Irish Wilderness in Nevada's Basin and Range
The Mount Irish Wilderness, a 28,274-acre parcel less than two hours' drive north from Las Vegas, harbors the parched region's most precious resource: water. Congress voted to protect the wildlife-rich area in 2004 as part of the Lincoln County Conservation, Recreation, and Development Act sponsored by Senator Harry Reid (D-NV), former Senator John Ensign (R-NV), and then- Representative Jim Gibbons (R-NV). But while the legislation preserved part of this unexpectedly diverse landscape, some of it still lacks official safeguards against future development, a gap that many Nevada residents want to close.
The wilderness exemplifies the basin-and-range topography, which features mountain ranges (running roughly north to south) separated by flat, lowland expanses. These low-lying stretches often are deserts, but in this case, the flat area—or basin— is surprisingly moist. Mount Irish is bounded to the west by Tikaboo Valley and to the east by Pahranagat Valley, and "Pahranagat" is a word used by the native Southern Paiute bands to mean "person who sticks his feet in the water." Indeed, the White River runs the length of the valley east of Mount Irish to a series of ponds and lakes skirting the Desert National Wildlife Refuge in the south. Dozens of creeks flow from Mount Irish across the valley floor toward the river.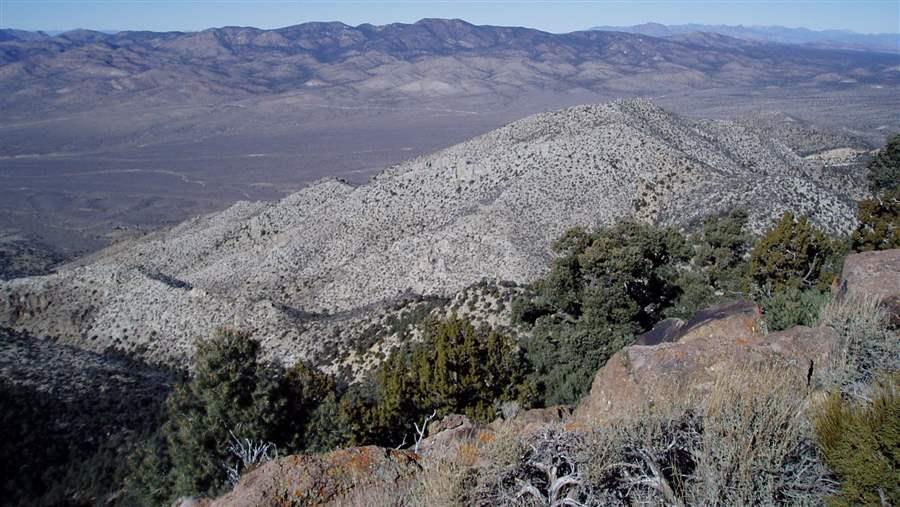 © Bureau of Land Management
Nevada's Mount Irish Wilderness.
Pinyon-juniper can be found throughout the region, and the mountain and surrounding canyons provide habitat for mule deer and pronghorn, as well as desert bighorn sheep at higher elevations.
Today, Mount Irish is a rewarding destination for hikers, hunters, campers, and horseback riders, but silver miners resided here in the 1860s and '70s. Earlier, the Southern Paiutes were the primary inhabitants, contributing most to the region's cultural and historic legacy.
Perhaps the best example can be found along the northern edge of the wilderness at the Mount Irish Petroglyph Site, which boasts a concentration of native rock art, most of it dating between 500 and 2000 years old. One of the most intriguing of these figures is Pahranagat man, a rectangle-shaped anthromorph found primarily in Lincoln County.
Local conservationists are working with residents, local businesses, community leaders, and elected officials to permanently protect more of the basin and range area to the north of the Mount Irish Wilderness. Their goal is to preserve allowable recreational and traditional uses, such as grazing, while protecting the historic, cultural, and archaeological resources from development.