Worldwide Launch for New Shark Stanley Book Kicks Off in Grenada
Series of 10 events showcases the globe-trotting children's book character and the need for conservation
An updated version of "The Adventures of Shark Stanley and Friends" debuts April 9 in the Caribbean nation of Grenada, marking a new chapter in global shark conservation.
This colorful children's book follows the oceanwide adventures of a friendly hammerhead named Shark Stanley, but it is also a tool to teach children around the world why shark conservation should matter to them. In the latest edition, Shark Stanley makes new shark friends and, through their adventures, learns about the perils facing the world's oceans. Ben Goldfarb and Leah Meth, who is Shark Stanley's co-creator, wrote the story, and Dan Yagmin Jr. drew the illustrations.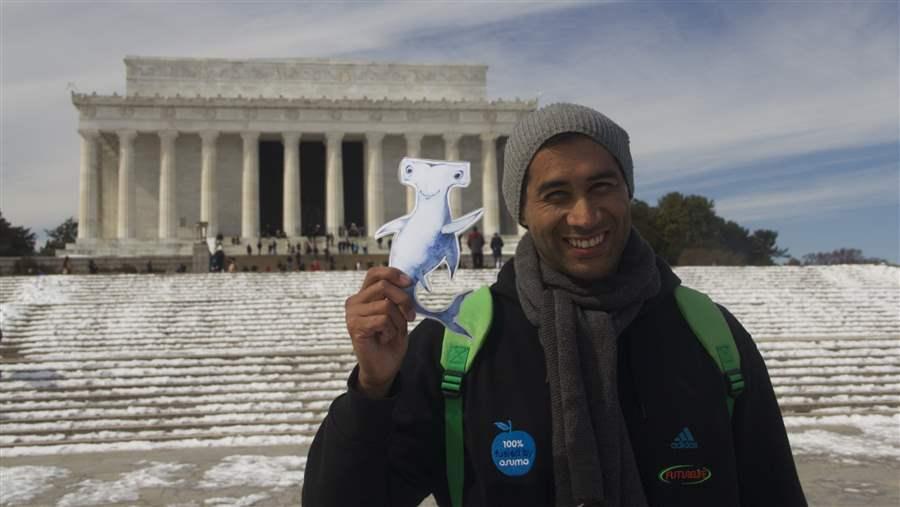 © The Pew Charitable Trusts
Achmat Hassiem, a shark attack survivor and South African Paralympic swimmer, poses with Shark Stanley on a visit to the Lincoln Memorial in Washington, DC.
"Seeing Shark Stanley grow and evolve over the past few years has been exciting," said Meth, who is also an adviser to Pew and an instructor at Yale University. "I hope that the new group of students, teachers, and grass-roots supporters we reach will be integral to continuing to advance shark conservation worldwide."
After his introduction in 2012, Shark Stanley proved to be an international force during a campaign to secure protection for five species of sharks and two species of rays under the Convention on International Trade in Endangered Species of Wild Fauna and Flora (CITES). Advocates collected more than 10,000 photos from 135 countries that showed people posing with cutouts of Shark Stanley and demonstrating their support for conservation.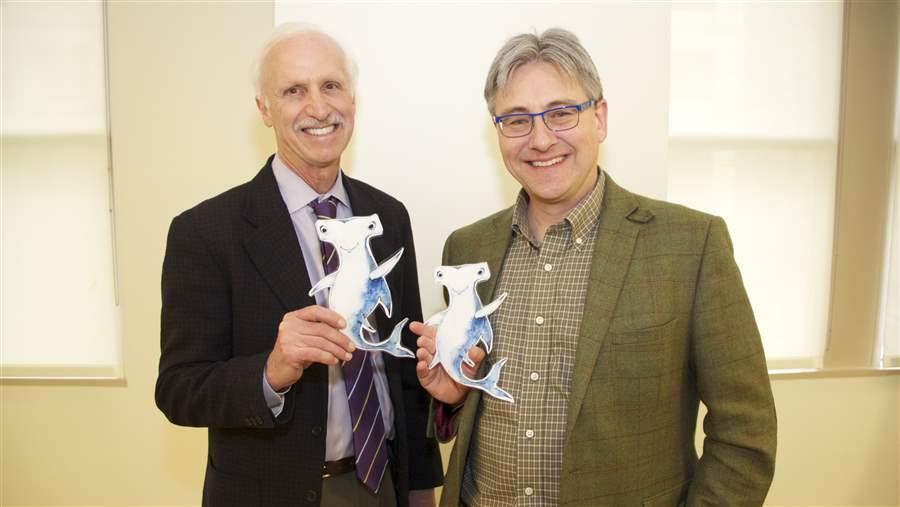 © The Pew Charitable Trusts
Josh Reichert (left), Pew's executive vice president, with Pew Marine Fellow Dr. Callum Roberts, and two Shark Stanleys.
CITES, one of the most effective global wildlife treaties, acted in 2013 to protect oceanic whitetip, porbeagle, and three species of hammerhead sharks, as well as the manta ray species. The outpouring of support generated by Shark Stanley helped make the case for action.
"Shark Stanley has already been tremendously successful at showing children around the world that healthy oceans need sharks," said Angelo Villagomez, a shark expert with Pew. "By sharing the updated book and new shark characters, we can ensure that every region and country involved in conservation efforts has a powerful engagement tool to educate all citizens on the value of sharks to their waters."
© The Pew Charitable Trusts
Sir Richard Branson (second from right) and friends celebrate shark conservation with Shark Stanley in Bimini, The Bahamas.
The updated book is available in eight languages. Using fun, educational rhyme, it explains why shark sanctuaries and trade protections are important for sharks and the world's oceans. The edition for China and Hong Kong also discusses the need to reduce consumption of shark meat and fins.
Go to www.sharkstanley.com to learn how you can become a friend of Shark Stanley, upload your own photo, and share in this shark conservation movement.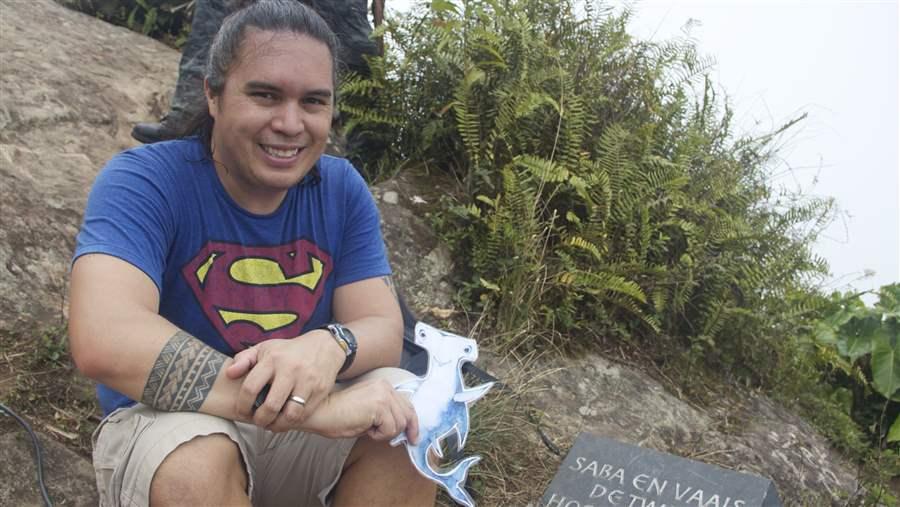 © The Pew Charitable Trusts
Pew's Angelo Villagomez and Shark Stanley take a visit to Saba, an island in the Dutch Caribbean.
Shark Stanley Events:
April 9: St. George's, Grenada
April 10: Beijing, with special guest Dr. Sylvia Earle
April 10: Providenciales, Turks and Caicos Islands
April 15: Bimini, The Bahamas
April 26: Fiji
April 29: Samoa
April 15: Philippines
April: Boston or New Haven, U.S.
April: Hawaii, U.S.
May: Vancouver, Canada
© The Pew Charitable Trusts
Left to right: Pierre Porbeage, Manta Reina, Waqi Whitetip, and Shark Stanley wave from a beach on the British Virgin Islands.