Californians Urge Permanent Protection of the Berryessa Snow Mountain Region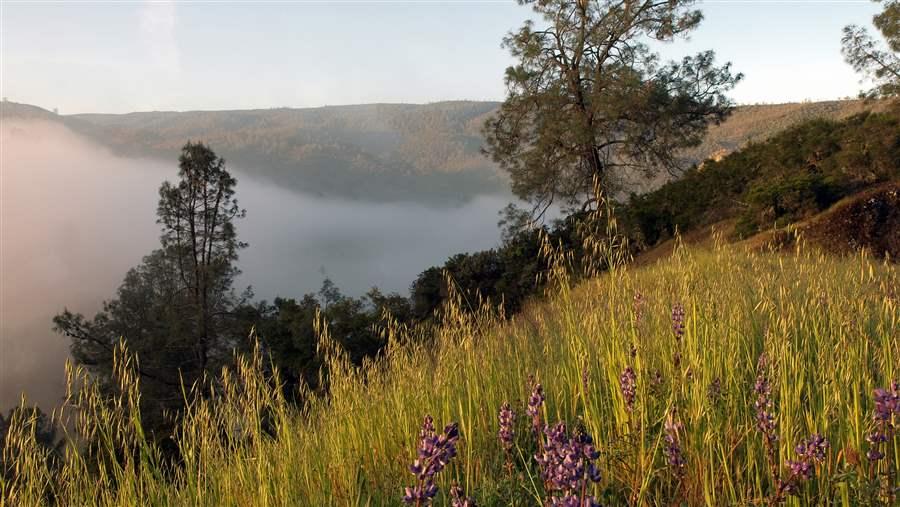 View across Pope Canyon to Cedar Roughs in Berryessa Snow Mountain.
Senators Barbara Boxer and Dianne Feinstein, California Democrats, and Representative Mike Thompson (D-CA) have introduced bills in Congress calling for national monument status for the Berryessa Snow Mountain region of northern California—one of the most biologically diverse, yet least known, areas of the Golden State. This ecological treasure, located less than 100 miles from the Sacramento and Bay Area metropolitan regions, stretches from Putah Creek in the south over 100 miles to the subalpine habitat of Snow Mountain Wilderness in the north.
The area provides critical habitat for numerous species, including mountain lions, black bears, herds of wild tule elk, and California's second-largest population of wintering bald eagles. It is also home to a wide variety of rare plants such as serpentine willow and Jepson's navarretia. Given its multitude of native plants, Berryessa is a particularly rich part of the California Floristic Province, which has been named a biodiversity hot spot by Conservation International.
The region also offers a wealth of outdoor recreational opportunities, including whitewater rafting on the wild and scenic Cache Creek, hiking the numerous trails in the Mendocino National Forest, fishing in Lake Berryessa, and camping, hunting, and horseback riding. Additionally, the area harbors important sources of drinking and irrigation water for nearby communities.
Local farmers and ranchers have worked together for years with local and national recreation and conservation organizations, and with members of Congress, on a plan to preserve this crown jewel of Northern California for future generations.
The legislation introduced last month in both the House and Senate would designate 360,000 acres of the Berryessa Snow Mountain region as a national monument. Should Congress fail to act on the measure, Rep. Thompson and Sens. Boxer and Feinstein are also working with the Obama administration to persuade the president to designate the region as a national monument though executive action.