Experts Find Significant Value in Fleet Fuel Efficiency Improvements
Proposed rule seeks to reduce carbon emissions from medium- and heavy-duty trucks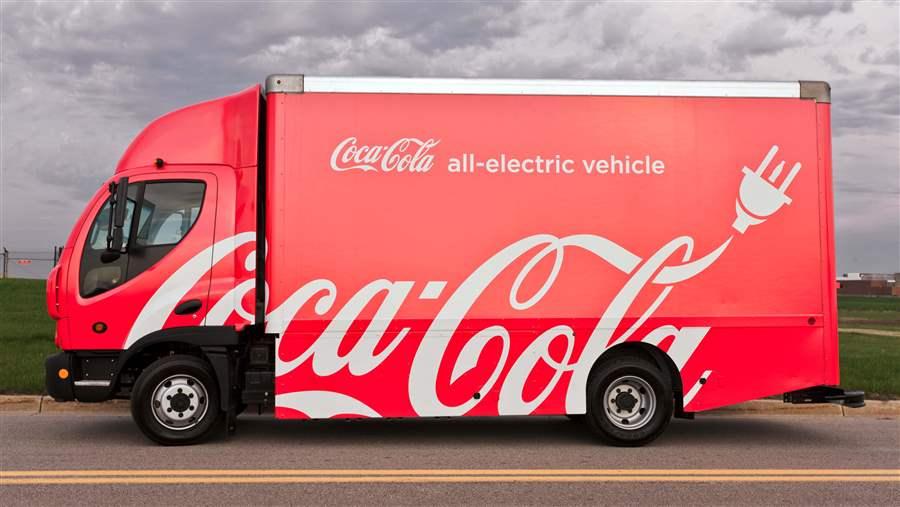 National Renewable Energy Laboratory
Electric delivery truck operated by Coca-Cola.
Reducing fuel consumption and greenhouse gas pollution from medium- and heavy-duty vehicles, such as delivery vans, garbage trucks, and tractor-trailers, makes economic and environmental sense, experts say. In the United States, these classes of vehicles account for more than a quarter of transportation fuel use and generate significant carbon pollution. The use of trucks to deliver goods and services is growing, which presents a significant opportunity for efficiency gains among businesses that operate fleets, manufacture parts and components, and use these types of vehicles.
The Pew Charitable Trusts held a webinar Dec. 10, 2014, to examine how public and private sector leaders are advancing the trucking industry and to discuss the forthcoming Environmental Protection Agency and Department of Transportation proposal for fuel efficiency and greenhouse gas emission standards for medium- and heavy-duty trucks. Speakers included Fred Bedore, senior director of sustainability with Wal-Mart; John Hroncich, business development manager with BAE Systems; Gurpreet Singh, program manager with the vehicle technologies office at the U.S. Department of Energy; and Ronald Graves, director of the sustainable transportation program at Oak Ridge National Laboratory. These experts described actions their organizations are taking to improve operational efficiency, contribute to a cleaner environment, and protect national security.
"We have a commitment to double fleet efficiency by 2015 [from 2005 levels]," Bedore said. "We recognized, early on, that these projects were things that would make sense not only for our business, but also for the environment." Wal-Mart, the world's largest retailer, operates a fleet of more than 6,000 trucks to deliver goods nationwide.
BAE Systems, a global security and aerospace firm, partners with original equipment manufacturers to electrify buses and power the largest hybrid bus fleet worldwide. Municipalities that use the company's technology for buses realized an average fuel economy increase of 41 percent relative to traditional components, Hroncich explained.
Singh stressed the growth potential. "It's projected that there will be a 75 percent increase from now [until] 2040 in the fuel use by heavy-duty vehicles," he said. He also elaborated on the DOE's partnerships with major truck companies and other federal agencies to develop engines and components that use less fuel, operate more safely and reliably, are cost-effective, and will meet future emissions standards.
Graves discussed how Oak Ridge and the other national labs provide valuable resources to businesses looking to create the next wave of trucking industry innovation. He emphasized the availability of these resources across the country. "Each national laboratory has some set of user facilities like our computational center, and it's possible to get computing hours at essentially no-cost," he said. Graves highlighted partnerships with private interests such as SmartTruck Systems, a company that utilizes lab resources to design aerodynamic tractor-trailer components that can increase fuel economy by more than 6 percent.
The experts also weighed in on the implications of short-term fuel prices, maintaining that low prices at the pump do not hinder their businesses and organizations from pursuing improvements to medium- and heavy-duty technology.