Peter B. Littlewood, Director of Argonne National Laboratory
Clean energy perspectives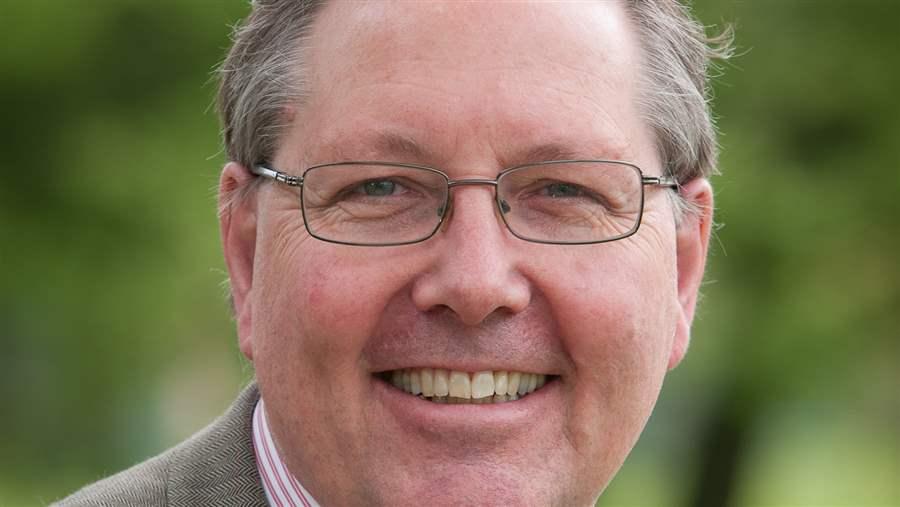 Argonne National Laboratory
Peter B. Littlewood, Ph.D., is director of Argonne National Laboratory near Chicago, one of the nation's largest science and technology research centers, and a professor of physics at the James Franck Institute at the University of Chicago.
Littlewood previously served as associate laboratory director of Argonne's Physical Sciences and Engineering Directorate, bringing a focus on basic scientific discovery and the development of new materials to address the most pressing energy challenges of the 21st century. He spent 14 years at the University of Cambridge, where he last served as the head of the Cavendish Laboratory and the Department of Physics. Littlewood began his career at Bell Laboratories in 1980 as a postdoctoral member of the technical staff; by 1992, he was the head of theoretical physics research.
Littlewood sat down with The Pew Charitable Trusts' clean energy initiative to discuss Argonne's role in energy discovery and technology development in support of the U.S. clean energy economy.
Pew: Argonne National Laboratory is one of 17 U.S. Department of Energy-funded labs across the country. What is Argonne's mission, and how does it distinguish itself from the other national labs?
Littlewood: Argonne's mission is to conduct scientific research that leads the way to a secure nation with a plentiful supply of safe, sustainable energy; a healthy environment; and a competitive economy. We have always been a lab that tackles big questions and challenges, and there is no shortage of problems that need answers from science and engineering.
Argonne has particularly strong programs in battery science, nuclear energy research, and materials science. As part of the Department of Energy's mission, we house large facilities for the international scientific community, including the most advanced high-performance computing, nanoscience, nuclear physics, and X-ray science. We're very proud of our Advanced Photon Source, a baseball field-sized synchrotron— which produces some of the brightest X-rays in the Western Hemisphere. More than 6,000 scientists visit the synchrotron each year to perform research in almost every field from biology to geology.
The fact that we have so many scientists and engineers in so many different fields working on the same site with these excellent large facilities is key to finding unexpected solutions. Our structure at Argonne allows us to work with a long-term vision and in a very collaborative fashion, bringing together groups of people across the disciplines—and across the national laboratory system—to attack really big issues.
Our other advantage is that we're located in an area with one of the highest concentrations of top-tier research organizations in the world, and we partner with them frequently. Being so close to Chicago allows us to collaborate on projects with the city. One compelling project we're doing involves building computer models to help design a brand new community, which lets architects creatively plan how to integrate clean energy and urban transit and traffic flow. We're also mapping microbes in the Chicago River and working with the University of Chicago on a project to place sensors around the city to help officials identify traffic, pollution, and noise hot spots, among other activities.
What role does Argonne play in the innovation of energy technologies?
We fill in a missing part of the innovation process. I began my career at Bell Labs, the renowned AT&T research and development lab; I was head of theoretical physics research when I left in 1997. You don't see that kind of investment in basic research from private companies anymore. Today private labs, with a few exceptions, are geared toward improvements and technologies that will pay dividends in five years or less. But the really significant discoveries take 15 to 20 years to fully make their way into the marketplace.
Argonne is doing that kind of science. It's where you can find the facilities, the talent, and the knowledge to pursue ideas that need intensive work but can make very, very big differences down the road.
Can you share examples of basic scientific discoveries at Argonne that led to improvements in our everyday life, both historically and more recently?
Absolutely. One of our recent successes was an advanced cathode technology licensed to GM to make the battery that powers the Chevy Volt. That was quite recent. Earlier I mentioned our synchrotron—the Advanced Photon Source. Discoveries made at that facility by pharmaceutical companies have resulted in several widely prescribed drugs: Kaletra, for example, which treats AIDS, and Zelboraf and Votrient, which fight skin cancer and kidney cancer, respectively.
And certainly one of our achievements that substantially affects everyday lives centers around nuclear energy—almost every commercial nuclear plant around the world has its roots in Argonne research from the 1940s, '50s, and '60s. Even today we're continuing to perform research to improve the safety, cost-efficiency, and lifetimes of reactors and to close the nuclear fuel cycle by finding ways to reprocess spent fuel.
Can you describe how industry and small businesses engage with our national labs to commercialize and bring clean energy technologies to market?
This is something we think very deeply about. One interesting model we are pioneering with our battery research hub, the Joint Center for Energy Storage Research, is a collaboration involving four other U.S. Department of Energy labs, five universities, many individual academics, and four industrial partners. We feel that there's a real opportunity here. Manufacturers are closely focused on the bottom line and tend not to put systematic amounts of money into breakthrough research. They are working quarter to quarter, and for them five years sounds infinitely far off. To scientists, on the other hand, five years sounds rather close. So our goal is to sit in the middle and do things that are very hard from both ends.
In this model, our industrial partners work with us throughout the entire process, from lab bench to industrial scale-up. That way, we get to know their concerns, areas of interest, and typical problems, and we can use this to guide our research. We also worked out an intellectual property agreement beforehand, so work could begin right away, and companies can begin putting their own investments in to prepare for market rollout as we're making discoveries, rather than afterward.
As part of the innovation ecosystem in Illinois, we are actively building partnerships with organizations like the Chicago Innovation Exchange and the Clean Energy Trust. We partner with top-notch universities, like the University of Chicago, University of Illinois, Illinois Institute of Technology, and Northwestern University, which have leading entrepreneurship programs and business schools, to get our science into the hands of those who can build businesses and develop market-ready technologies.
According to the National Science Foundation, the federal government continues to be the primary supporter of basic research, providing 55 percent of the funding. How do reductions in federal investments affect the rate of innovation?
Argonne works very hard to minimize the impact of government budget fluctuations on our scientific programs. But deep cuts do affect the national laboratory system. To keep moving toward our goals—which include things like inventing better solar cells or batteries that can take a car 300 miles without charging, goals that very much matter to the American economy and society—it's paramount to keep that funding consistent.
Many scientific discoveries take years or even decades to reach fruition in the marketplace. For example, lithium-ion batteries, the kind in your laptop and cellphone and the latest hybrid cars, are based on research that scientists began intensively in the 1970s. Those batteries are very good today, but they needed many years of deep fundamental research and industry investment to reach the performance—and price—we enjoy now. We need to maintain funding for that entire cycle.
Maintaining consistent funding is also important for cultivating the next generation of scientists. You want to be able to keep young, bright scientists in the field in the United States and not to lose them because projects are constantly being cut.
Many advocates, including Bill Gates, former Bank of America Chairman Chad Holliday, and Pew have called for an increase in federal investment for clean energy research and development. How could additional investment be harnessed to benefit innovation and deployment?
I would like to say that Argonne would be delighted to receive that extra investment, and we would put it to excellent use. The U.S. Department of Energy estimated conservatively that every federal dollar that goes into research and development yields between $1.20 and $1.67 in return. So we are a wonderful investment.
Clean energy is particularly in need of R&D. For example, we have several facilities at Argonne where researchers study materials at the nanoscale. Learning to work at that scale is challenging; materials often behave differently than they do at other scales, so you need a suite of tools and experienced researchers to build what you want. And that's likely how we'll develop the next generation of solar panels, just as one example.
On a more immediate timescale, our analysts study how best to deploy existing technology: where to put wind turbines to maximize output, technology for small communities to generate and use their own power, how to integrate variable solar and wind power into the grid while minimizing disruptions and extra cost. These are all studies we do at Argonne, and each is essential to add more clean energy to the mix.
Pew research indicates that China attracted more than $50 billion in clean energy investment in 2013 and is expected to remain one of the leaders in the marketplace. How can the national labs ensure that the U.S. remains globally competitive?
The national labs are a vital part of the network that has made and continues to make the United States the premier global scientific destination. If you want the best science education in the world, you come here. Scientists and engineers are trained in American universities and come to the national labs as postdocs to get experience. Some stay here to continue their work, and others join industry to energize American companies. That's what the labs bring to the United States: an enormous pool of talent with connections in both academia and industry, in addition to world-class scientific facilities.
China is investing heavily in its science and technology infrastructure, which has allowed it to catch up to the world leaders very quickly. Our advantage is that we already have that network in place, so the investments we make in science and R&D funding will go that much further.
But I do think that we can make improvements to our system by studying what the Chinese are doing. China is facing tremendous challenges in their rapid industrialization, which fuels an intense appetite for progress on better technologies and gains for all if we find ways to partner on the development and deployment of clean technology.
President Barack Obama's administration has made carbon reduction a priority for its energy and environment agenda. What role does innovation play in addressing climate change and what R&D is taking place at Argonne?
Many of us believe that innovation is the only way to address climate change. We can reduce our electricity usage—and we are making excellent strides in energy efficiency—but ultimately, we'll need transformational new energy technologies if we want to significantly reduce the amount of carbon released into the atmosphere.
We don't know where all the answers will come from. That's the exciting part about science. That sort of truly game-changing innovation is going to emerge from some very fundamental research at a materials science lab or a chemistry lab or a synchrotron. Or all of them—we are very much an "all of the above" lab, and I think the most likely scenario is that we'll need advances in every area to tackle climate change.
What we do is create the conditions where that will happen. The labs are home to many of the world's brightest minds and most state-of-the-art facilities.
That's what you need to get the kinds of breakthroughs to address a challenge as wide-ranging as climate change.