Texas Wind Powers 3.3 Million Homes
Industrial efficiency and solar technologies also drive state's clean energy economy
The winds blow fast and far on the Texas prairie and generate more power than in any other state—23 percent of the nation's total. Competitive electricity markets, a state target for installing 10 gigawatts (GW) of renewable power by 2025, and federal incentives have helped Texas harness this resource to deploy 12.8 GW of wind energy, powering 3.3 million homes and reaching and exceeding its goal 15 years ahead of schedule.
According to new research by The Pew Charitable Trusts—released in a Nov. 17 webinar with industry leaders—Texas is an energy giant not only in oil and gas—but increasingly in clean and efficient technologies. In 2013, the Lone Star State was ninth in the nation in attracting private investment in clean energy, at $553 million. Private investment over the past five years (2009-13) totaled $10.6 billion and is on track to exceed $42 billion over the next decade (2014-23). Texas also ranks second nationwide in jobs supported by clean energy and other environment-related activities.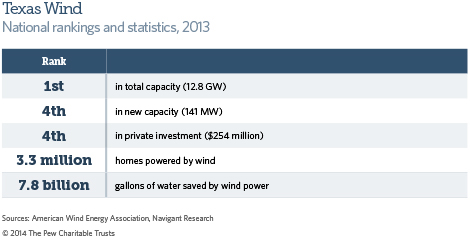 "Pew's research demonstrates that a reliable electricity grid requires both a diversified mix of affordable generation sources such as wind and government policy to foster deployment," said Jeff Clark, executive director of The Wind Coalition, who was a presenter at the webinar. "Texas consumers are benefiting because the state has capitalized on the federal production tax credit to build its wind industry, which provides more than 177,000 jobs."
Tom Swanson, manager of Pew's clean energy initiative, added, "Texas illustrates how state and federal policy can complement one another to spur deployment of clean energy and attract private investment. The outcomes include job creation across the state, energy and cost savings for businesses, and reliable, affordable energy for residential customers."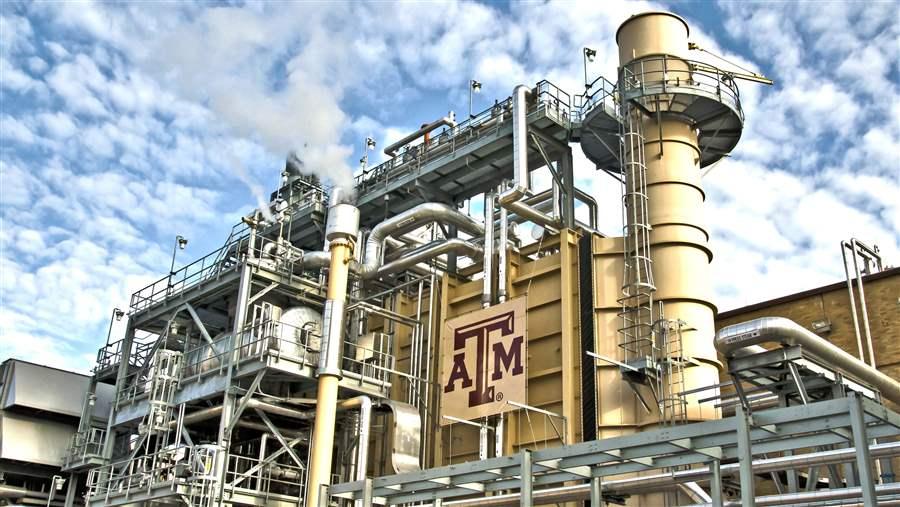 © Troy Adams/Texas A&M University
Combined heat and power system at Texas A&M University.
Lone Star State harnesses wasted heat and sunlight to generate power
Texas is also the national leader in the use of industrial energy efficiency technologies (17 GW), which produce both heat and power from a single fuel source (a process known as combined heat and power), or capture wasted heat from industrial processes to generate electricity (known as waste heat to power). These technologies can help manufacturers reduce energy consumption, costs, and water use—all of which are critical in Texas given the state's high electricity prices and chronic droughts.
Because energy is generated on-site, facilities that use industrial efficiency also can meet critical power needs during disruptions to the electricity grid. Numerous industries utilize these methods to provide power and steam. The oil and gas sector, for example, produces 18 percent of the power and steam needed to fuel operations in the United States from combined heat and power. Texas state policy has encouraged the adoption of industrial energy efficiency through measures that encourage on-site power generation and require critical government facilities to consider adding these technologies during any major renovation or construction.
With enough sunlight to meet the world's power needs twice over, Texas is beginning to capitalize on solar power as an emerging market. The industry ranked eighth nationally in new capacity installed last year and provided more than 4,000 jobs statewide. Cities such as San Antonio and Austin are leading the charge, establishing aggressive renewable energy goals—20 percent by 2020 and 35 percent by 2020, respectively—that are spurring new solar power projects.
Texas has emerged as a clean energy leader, with its unparalleled wind and solar resources and a large manufacturing industry ideal for exploiting industrial energy efficiency. With further policy support, the state can continue to tap into this potential and use it for economic growth.