Wind Powers 15.5 Million U.S. Homes
Clean energy perspectives
Tom Kiernan is CEO of the American Wind Energy Association, the national trade association for the U.S. wind industry. The group represents more than 1,000 members, including project developers, parts manufacturers, utilities, financiers, and researchers. Wind energy is one of the fastest growing American industries.
From 2009 to 2013, an average of $15 billion a year in private investment more than doubled new U.S. wind capacity, and the industry is on track to deliver 20 percent of the electricity in the United States by 2030. With more than 50,000 well-paying jobs in development, siting, construction, manufacturing, and operations, wind energy has become a key part of our clean energy economy.
Kiernan recently participated in a question-and-answer session on wind industry trends with The Pew Charitable Trusts' clean energy initiative.
Q: Globally, wind energy investment and deployment continue to grow, and 2012 was a record year for the U.S. wind industry with 13.2 gigawatts installed. Wind energy now powers 15.5 million U.S. homes. In 2013, the United States was second worldwide in attracting investment in wind energy. What is the current outlook for the U.S. wind industry?
A: The outlook is strong. It took 25 years for the wind energy industry to reach the 10-gigawatt (GW) milestone in 2006. Yet within the next two years the industry was able to double U.S. generating capacity, and then double again in the following two years. We are now at 62 GW, which is approaching 5 percent of the electric power in the entire United States.
That does not mean that growth is always steady, as the short-term tax credit extensions lead to unwelcome volatility from year to year.
The U.S. Department of Energy has a new "Wind Vision" report out for peer review that shows with stable policy, wind can grow to 20 percent of our electricity by 2030, and to 35 percent by 2050—at which point wind could be the largest source of electric power in the country. Wind power is also among the biggest, fastest, cheapest ways to reduce carbon emissions, and for many states will be an important part of affordably meeting the Environmental Protection Agency's new standards for cleaner electric power plants.
Q: What impact do tax incentives, such as the Production Tax Credit, have on the wind industry's growth? Although the incentive expired at the end of 2013, certain projects were able to qualify for the credit because they had begun construction. How important is this financial tool in encouraging new deployment of wind technologies? Does it help facilitate parity with traditional fuels?
A: The federal renewable energy Production Tax Credit (and the Investment Tax Credit for offshore and community wind developers) has been an extremely successful policy in encouraging the deployment of wind energy. It has allowed wind energy to compete with other energy sources that have enjoyed federal incentives for decades. In the past five years, wind energy has accounted for 31 percent of new generating capacity, second only to natural gas. This clean, affordable source of energy can now power 15.5 million American homes. And over the past five years, we have averaged over 50,000 U.S. jobs in wind energy.
However, Congress has extended the Production Tax Credit mostly in one- and two-year intervals since 1992, and has even allowed it to lapse, creating uncertainty for businesses. In 2013, Congress once again allowed the incentive to lapse for any project not started by the end of that year. Congress must act quickly to extend the tax credit through the Expiring Provisions Improvement, Reform, and Efficiency (EXPIRE) Act, as failure to do so will kill jobs and roll back the progress the U.S. has made in diversifying its electricity portfolio.
Q: The cost of deploying wind energy has decreased considerably over the past decade, and in some areas, it is cost competitive with natural gas. Aside from federal tax incentives, what factors are helping to reduce wind power prices?
A: We have an amazing story to tell about U.S. ingenuity and driving down costs for utilities and consumers. In the past five years, the price of wind energy has declined by 58 percent. Taller towers and longer blades mean that more wind energy is being captured. The industry has learned along the way, improving blades and gearboxes so that they are longer-lasting and more efficient, and putting 35 years of experience to work on siting turbines so they will be most cost-effective. Performance-based federal incentives, such as the Production Tax Credit, have helped spur this innovation because they only reward results.
The fact that we are now manufacturing much of the equipment here in the United States has also reduced costs by avoiding overseas transportation of such large components. New wind capacity is more affordable than coal-fired generation, according to several analyses, and in some regions is now cheaper than all other forms of new electricity generation.
Q: At the state level, laws addressing project siting, transmission, interconnection, and safety potentially influence wind deployment rates. What state issues are priorities for your association?
A: Strong statewide renewable portfolio standards, a policy mechanism to set goals for renewable energy generation or capacity, can help states ensure that they attract wind projects that spur local economic development, save consumers money, reduce pollution, and cut water consumption. Today, 29 states and the District of Columbia have such a law on the books. We also prioritize policies that provide predictable state tax laws, encourage the building of more transmission to get renewable energy to market, and allow for prudent location selection of new wind farms. Iowa is a great example of a state that has led the U.S. in the percentage of power generated from wind, in part due to an early and strong renewable portfolio standard. Texas passed a landmark transmission policy that helps move electricity from wind-rich west Texas to other parts of the state. Other states should follow the example of these states in diversifying their electricity sources. We need to continually make the case to state legislatures to defend and strengthen these policies, and not let existing electric power monopolies in some areas keep dominating the market.
Q: Because of the current size and scale of commercial wind turbines, the industry relies heavily on domestically sourced and manufactured components. What happens throughout the industry's supply chain if Congress doesn't renew policies such as the Production Tax Credit?
A: Wind energy components have increasingly been made-in-the-USA, thanks in large part to the tax credit. With a supply chain of over 500 factories in 43 states, wind energy provides thousands of Americans with well-paying manufacturing jobs. In fact, over half the dollar value of U.S. wind farms is now made-in-the-USA. Companies save on transportation costs (and related emissions) when they buy American. Building the factories and training employees are major investments, though, and companies need a predictable business environment to keep investing and to keep the existing factories open. Extending the Production Tax Credit would provide this certainty for businesses. Otherwise, we could lose hard-won gains in domestic content and risk tens of thousands of skilled jobs here in the U.S.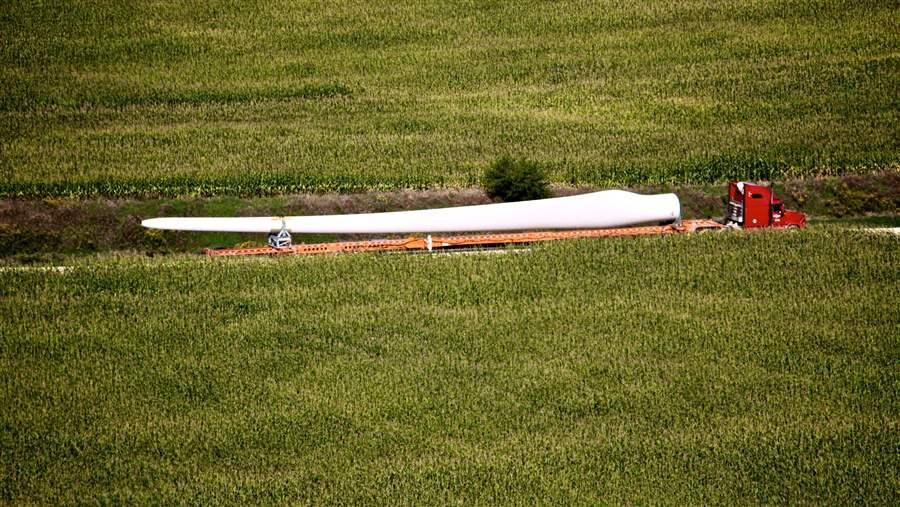 Ben VanderVeen
Q: In 2013, Maine saw the launch of the first offshore wind turbine pilot project connected to the electrical grid in the United States. What is on the horizon for our country's offshore wind industry, and what state and federal programs would best benefit this industry?
A: This is a turning point for offshore wind power. In addition to Maine's demonstration offshore wind turbine, utility-scale offshore wind energy projects are now set for construction in 2015 in Rhode Island and Massachusetts. Our association's recent Offshore WINDPOWER Conference & Exhibition in Atlantic City, New Jersey, showed what an exciting time it is for offshore wind power. The federal government needs to renew two essential policies—the Investment Tax Credit and the Production Tax Credit—in order for the industry to continue attracting the private investment it takes to put steel in the water. We look forward to working with both parties and both houses of Congress to pass these pro-business policies.