'The Penguin Counters' Film Screens in Advance of Meeting to Protect Antarctic Waters
International diplomats and dignitaries urged to conserve the Southern Ocean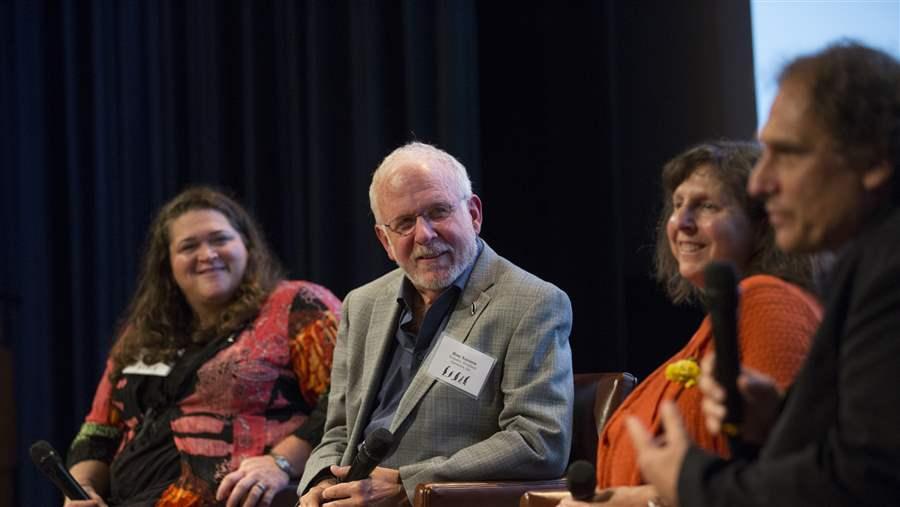 The Pew Charitable Trusts
Members of the Commission for the Conservation of Antarctic Marine Living Resources (CCAMLR) are gathering in Hobart, Australia, October 20–31 to consider proposals to designate two large areas in the Southern Ocean as marine reserves and to improve management of the krill fishery.
In advance of the meeting, international diplomats and U.S. Department of State representatives joined The Pew Charitable Trusts on Oct. 14 for a screening of a new documentary, The Penguin Counters, at the National Geographic Society headquarters in Washington.
The film, produced by Getzels Gordon Productions, follows Ron Naveen and his team of field biologists on a hazardous journey to the Antarctic as part of his 20-year effort to track—and literally count—far-flung penguin populations. With their work, the team has helped demonstrate the role that fluctuations in penguin populations play in understanding environmental changes.
According to the International Union for Conservation of Nature, or IUCN, the majority of penguin populations around the world are declining, leading some experts to describe these flightless birds as sentinels of ocean health.
Naveen's penguin counters collect evidence of population shifts at a time of climate change and increased fishing pressure, especially for krill, a dietary staple of Antarctic penguins. Industrial fishers are targeting krill for use in omega-3 supplements and as an ingredient for farm animal feed and aquaculture.
In remarks before the screening, Melissa Shackleton Dann, a descendent of famed Antarctic explorer Sir Ernest Shackleton, praised Naveen's work and stressed the importance of CCAMLR acting this year to create marine reserves in the Ross Sea and in the waters off East Antarctica. She noted that many consider the Ross Sea "the least altered marine ecosystem on Earth."
Andrea Kavanagh, director of Pew's global penguin conservation program, also stressed the need for action now.
"Films like The Penguin Counters help all of us better understand the importance of protecting Antarctic waters," Kavanagh said. "I hope that at this year's CCAMLR meeting, countries can finally reach consensus and create meaningful protections for penguins and all of the Southern Ocean's amazing species."
To learn more about Pew's work to protect the world's penguins, visit www.pewtrusts.org/ccamlr.