Solar Industry Continues Record-Breaking Growth
Clean energy perspectives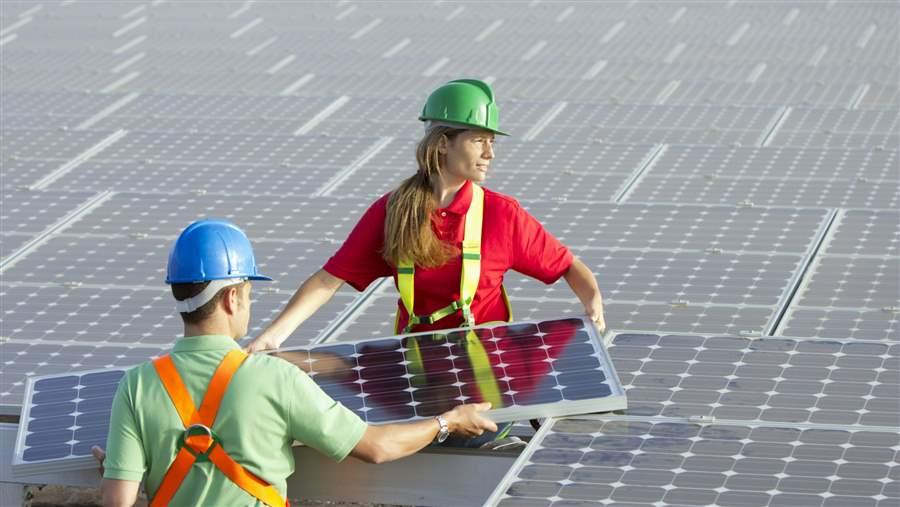 © Getty
Rhone Resch is president and CEO of the Solar Energy Industries Association, the national trade association for the $15 billion U.S. solar energy industry. During Resch's nine-year tenure, solar has experienced record-breaking growth, becoming one of the fastest-growing industries in the United States with more than 6,100 companies and more than 140,000 employees.
Clean, affordable solar energy generates enough electricity to power more than 1.5 million homes—including the White House. And its popularity continues to grow, with 9 out of 10 Americans supporting an expanded use of solar nationwide.
Resch sat down with Pew's clean energy initiative for a question-and-answer session on solar industry trends.
Q: The Solar Energy Industries Association (SEIA) represents more than 1,000 members from across the solar energy supply chain as well as financial institutions and nonprofits. Why do businesses and organizations outside the solar industry join your association?
A: As the voice of the industry, SEIA provides its members with advocacy on pressing issues. At the state and federal levels, smart public policies are key to continuing solar's run as the fastest-growing source of renewable energy and one of the fastest-growing sectors of the American economy. Net energy metering, renewable portfolio standards, the solar investment tax credit, and the ongoing trade dispute with China are just some of the issues the industry needs to come together on. SEIA offers the platform to do so.
Businesses and organizations outside of the solar industry also join SEIA because they see the tremendous growth occurring in the industry; they want to be a part of it and to meet and network with our members who are driving this growth.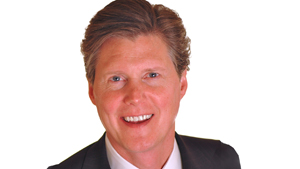 © SEIA
SEIA President and CEO Rhone Resch
Q: Solar had another record year in 2013, both in the United States and globally, due in large part to continuing price reductions for photovoltaic (PV) systems. In your mind, what is the headline for the U.S. solar industry so far in 2014?
A: In 2014, it is going to be "Another Banner Year for Solar." In fact, the first quarter of this year was the biggest quarter ever for new installed solar capacity of Concentrating Solar Power (CSP) and the first time that residential PV installations surpassed commercial installations. Also, 2014 has also been dubbed the Year of CSP, which uses mirrors or lenses to focus sunlight, creating high temperatures to power turbines. With a total of 857 megawatts of CSP expected to be completed by year's end, 2014 is on pace to be the largest year for CSP in history, and for the first time ever, POWER magazine named a renewable energy plant, the Ivanpah Solar Electric Generating System, as its Plant of the Year.
Q: Can you describe the impact that third-party financing has had on the solar industry's growth? How important have these financing vehicles been to deploying new solar, including on public lands, rooftops, and military bases?
A: Third-party financing has been a game-changer for the solar industry and for consumers, enabling homeowners, businesses, and public institutions to access solar for little to no money down, and spurring tremendous growth in the industry in an incredibly short period of time. More than 90 percent of New Jersey's residential solar market has consisted of third-party-owned systems since the second quarter of 2013. In the first quarter of 2014, more than 50 percent of New York's distributed generation systems were third-party owned, and in California, Arizona, and Colorado, 69 to 81 percent of installed distributed generation systems were third-party owned.
Power-purchase agreements, a form of third-party financing, has allowed public institutions, such as schools and the federal government, to power their buildings with solar. For example, in a 2013 report, SEIA found that the military had installed more than 100 megawatts of solar to help make their energy supply more secure. In the fall, the Solar Foundation will be issuing a report on how schools are installing solar to save money and reduce their carbon footprints.
Q: Will energy storage technologies increase the ability of solar to provide important services to the electric grid during peak energy use? How will this affect costs for utilities and customers over the long term?
A: Energy storage technologies will absolutely increase solar's ability to supply important services to the electric grid during peak and off-peak times. We have already seen how thermal energy storage when combined with CSP can provide substantial grid flexibility. When combined with distributed and utility-scale PV solar, storage helps reduce overall load, decreasing the need for excess generation capacity. Storage will also allow us to better utilize existing generation resources during off-peak times.
Energy storage costs will continue to decrease as the technology becomes more widely available and demand drives supply. In fact, a few of our member companies are already offering storage solutions as a complement to the solar systems they are installing on homes and businesses.
However, it's also important to note that solar already generates power during peak demand times and can be widely distributed without negatively affecting grid reliability.
Q: The investment tax credit for clean technologies, including solar, has contributed to significant growth in private investment in clean energy in recent years. But the credit is scheduled to expire at the end of 2016. How important is an extension to the industry?
A: The tremendous success of the solar investment tax credit exemplifies the importance of stable policy for the private sector and yields a high return on public investment in solar energy in terms of economic benefits, domestic job creation, energy security, and lower costs for consumers. In 2005, there were 15,000 Americans working in solar. There are now 143,000 workers at 6,100 companies throughout the solar supply chain. The average price of a solar panel has declined by more than 60 percent since the beginning of 2011, making solar cost-competitive with natural gas and other resources in several states. This dramatic price decline and the market certainty provided by a long-term extension of the tax credit has led to significant capacity growth. Annual solar installations have grown by over 3,000 percent since the investment tax credit was implemented in 2006— a compound annual growth rate of 77 percent. The United States now has nearly 16 gigawatts of installed solar electric capacity.
Without an extension of the tax credit, the solar industry's remarkable growth will stagnate, Americans could lose their jobs, and many consumers may lose access to a reliable, affordable, and clean energy resource.
Q: Other policy issues, including minimum utility bills and net metering, which allows residential and industrial customers to offset their energy costs by returning electricity to the grid, have been prevalent in states this year. Are there other state policy issues that SEIA is prioritizing?
A: While net metering remains one of SEIA's top state policy priorities, the association works on a variety of other state issues, including defending and refining renewable portfolio standards, which have been significant drivers of utility-scale solar installations. In addition, we continue to work on reducing barriers to permitting and interconnecting solar projects and on expanding the availability of third-party financing and power-purchase agreements, which are unavailable in some states. SEIA has also been active in helping state policymakers understand how they can reach new Environmental Protection Agency targets under the proposed 111(d) regulations.
Q: In August, SEIA submitted comments to the Internal Revenue Service regarding an upcoming rule that allows certain types of solar property to qualify for financing through real estate investment trusts (REITs), which could inject billions into the clean energy sector, benefitting solar, energy efficiency, and combined heat and power technologies. What are the main points that the IRS should consider as it finalizes this rule?
A:
SEIA appreciates the IRS's meaningful efforts to better incorporate solar energy installations into the definition of real property and REITs. While the agency has taken a step in the right direction, the IRS should allow REITs to work within the third-party ownership and tax equity partnership models that are used in the solar industry. In addition, it should allow all components of an installed solar system to qualify as real property, including modules. The current limitation on PV modules is inconsistent with existing regulations and significantly reduces the value proposition of a solar energy installation, making it less attractive for REIT ownership. Finally, structural components, as defined by the IRS, must be able to serve a dual purpose so that solar energy installations that net meter and produce renewable energy credits qualify as real property.
Additional Resources