Palau President Tommy Remengesau Jr. Given Ocean Elders Award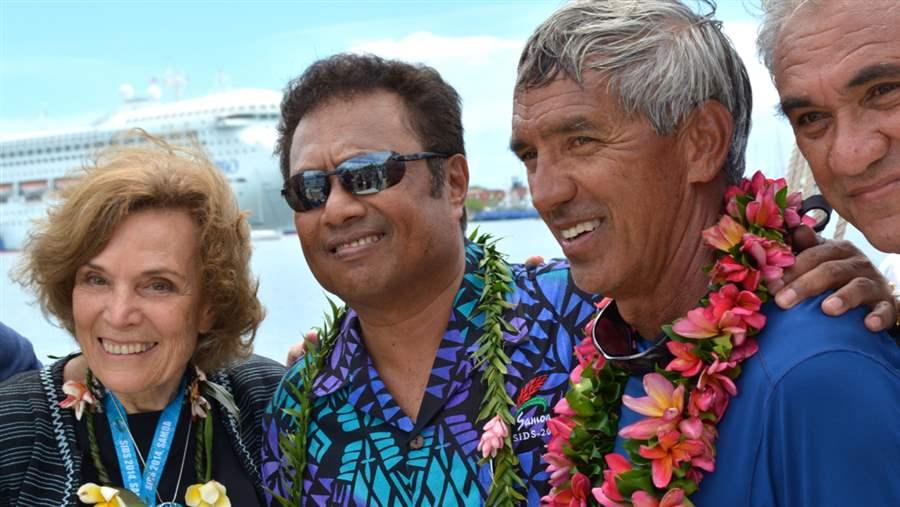 © Keobel Sakuma

Ocean Elder Sylvia Earle (left), Palau President Tommy Remengesau Jr., Ocean Elder Nainoa Thompson, and William Aila Jr., chairman of the Hawaii Department of Land and Natural Resources, at a recent conference in Samoa.
Palau President Tommy Remengesau Jr. received the 2014 Leadership Award on Sept. 21 from the Ocean Elders, a group of distinguished global leaders who support ocean protection.
The award, given at a dinner in New York, recognizes Remengesau for his efforts to create a fully protected marine sanctuary in much of the Pacific island nation's ocean waters.
The announcement came as world leaders, including Remengesau, gathered at the United Nations to address pressing environmental issues.
Located in the western Pacific, Palau is world-renowned for its healthy and incredibly diverse marine ecosystem. Home to more than 1,300 species of fish and 700 species of coral, the waters off this Micronesian nation have been called one of the seven underwater wonders of the world. This nutrient-rich environment is teeming with sharks, turtles, manta rays, dugongs, and tropical fish. These attributes merit greater protection.
In June 2014 at the U.S. State Department's Our Ocean conference, Remengesau announced plans to transform more than 80 percent of the waters surrounding Palau into a fully protected marine sanctuary.
Less than 1 percent of the ocean worldwide is fully protected, compared with 12 percent of the land. Research shows that very large, fully protected marine reserves are essential to rebuilding species abundance and diversity and to protecting the overall health of the marine environment.
Global Ocean Legacy, a project of The Pew Charitable Trusts and its partners, is collaborating with the Palau president to make his vision a reality. Pew's staff is working with local communities, governments, and scientists around the world to protect and conserve some of our most important and unspoiled ocean environments.
Together we are establishing the world's first generation of great marine parks by securing the designation of large, fully protected reserves. To date, efforts by Pew and its partners have helped to double the amount of safeguarded ocean habitat worldwide.