Action in August on Land Protection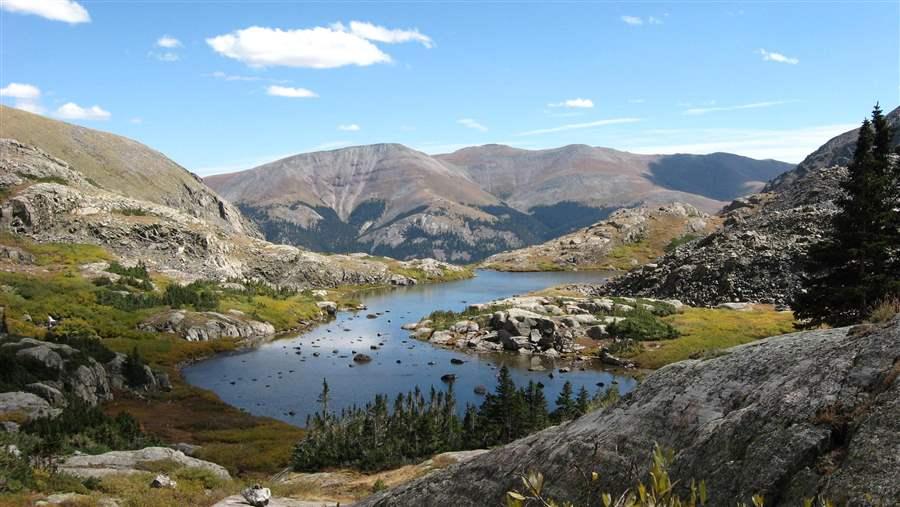 © Lisa Smith
One of many alpine lakes in McCullough Gulch, part of the Tenmile Range in Summit County.
Before lawmakers left town in August, Representative Jared Polis (D-CO) introduced legislation to safeguard more than 58,000 acres of wilderness and create other protective designations. The Rocky Mountain Recreation and Wilderness Preservation Act (H.R. 5311) would protect mid-elevation forests, alpine lakes, and rivers in Colorado's Eagle and Summit counties, places that are known for their wildlife, recreational opportunities, and clean water.
The measure was crafted by local residents, business owners, and sportsmen who wish to preserve the Central Rockies and their vital populations of black bear, elk, mule deer, bighorn sheep, moose, and lynx.
Conserving these prized outdoor recreational landscapes would be a win-win for the state's economy and environment. Outdoor recreation in Colorado generates $13.2 billion in consumer spending and supports 125,000 jobs that pay $4.2 billion in salaries and wages annually. The unparalleled natural beauty of the Central Rocky Mountains draws people to hike, camp, ski, kayak, raft, hunt, fish, mountain bike, and horseback ride. The White River National Forest alone attracts more than 9 million visitors each year.
Without permanent protection, the Central Mountains could be threatened by energy development, logging, and harmful road-building. Such actions would put at risk Colorado's clean air and drinking water, as well as undermine the state's outdoor recreational economy and unique way of life.
Also in August, representatives from the U.S. Department of Agriculture, including Undersecretary for Natural Resources and Environment Robert Bonnie and U.S. Forest Service Chief Tom Tidwell, hosted a community meeting in Baldwin Park, California, to discuss the future of the San Gabriel Mountains. Representative Judy Chu (D-CA) had introduced legislation (H.R. 4858) in June to designate the region as a national recreation area, but she has since asked President Barack Obama to make Los Angeles' backyard mountains a national monument.
© 2010 Michael E. Gordon/www.Michael-Gordon.com
Hundreds of local residents came out to support the movement for national monument status, reflective of recent polling that found 80 percent of Los Angeles County voters support protection for the mountain range. The San Gabriels provide 30 percent of the area's water supply and 70 percent of the county's open space, and they are essential for providing nearby urban communities with opportunities for healthy recreation and environmental education. A diverse coalition has been working for years to permanently preserve the San Gabriel Mountains, and a national monument designation would be an important first step in realizing the community's vision for the region.
Congress will have a short work period in September, and then break again to prepare for the elections in November. Pew will be working diligently to move wilderness legislation in the time remaining and will continue to encourage the Obama administration to ensure that national treasures such as the San Gabriel Mountains get the protection they deserve.