U.S. Forest Service Hosts Los Angeles Meeting to Discuss Future of San Gabriel Mountains
The U.S. Forest Service convened a public meeting Aug. 26 in Los Angeles to discuss options for use and protection of the San Gabriel Mountains, which span the Angeles and San Bernardino national forests. The San Gabriels are an important source of clean drinking water for more than 3 million Los Angeles residents, and they also provide opportunities for wilderness recreation.
Robert Bonnie, undersecretary for natural resources and environment for the U.S. Department of Agriculture, and Tom Tidwell, chief of the U.S. Forest Service, participated in a panel discussion with members of the community. Local support for permanent conservation of the mountain range has grown steadily over the past decade, and the meeting attracted residents who are concerned about access to clean water, outdoor space, and wilderness areas. Land users, youth corps members, cultural preservationists, elected officials, and conservationists shared their ideas with the two officials about how to enhance access to, recreation in, and preservation of natural, cultural, and historic areas in the forests.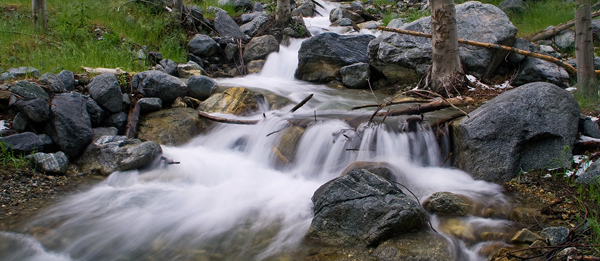 © Michael E. Gordon
A running stream in the forests of the San Gabriel Mountains California.
A recent survey of area voters found wide support for strengthening protections for the San Gabriel Mountains and its rivers, especially to ensure clean water, wildlife habitat, and open space for people to enjoy.
"Eighty percent of Los Angeles voters have voiced loud and clear that they want President Obama to preserve the San Gabriel Mountains," said Jim Mathews, an officer with the U.S. public lands program of The Pew Charitable Trusts. "This wide public support should embolden the president to designate these mountains as a national monument. Safeguarding this outstanding natural resource will ensure that in Los Angeles County, residents and visitors alike can continue to enjoy clean water and gain more recreational opportunities."
Representative Judy Chu of California has introduced legislation to designate the San Gabriel Mountains and rivers as a national recreation area. She has also asked President Obama to protect the area as a national monument.