Bill to Protect Central Rocky Mountains Introduced in Congress
Colorado's Central Rocky Mountains include thousands of acres of mid-elevation lands and waters. A new bill, the Rocky Mountain Recreation and Wilderness Preservation Act, would safeguard these lands, known for their wildlife, recreational opportunities, and clean water.
Introduced by Representative Jared Polis (CO), and crafted by local residents and businesses wishing to preserve the Central Rockies, the legislation would conserve 58,419 acres as wilderness and other protected designations. The measure would preserve public lands in Eagle and Summit counties that are home to black bears, elk, mule deer, bighorn sheep, moose, lynx, and wild turkeys.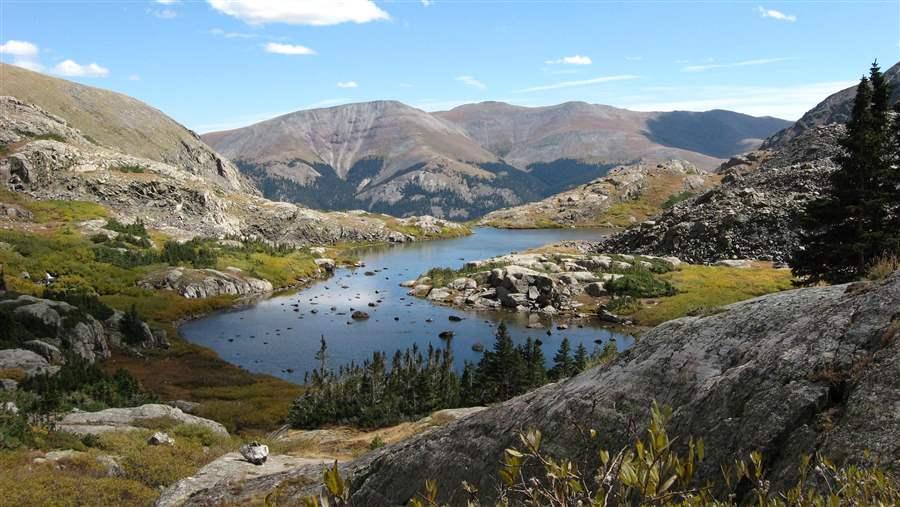 © Lisa Smith
One of many alpine lakes in McCullough Gulch, part of the Tenmile Range in Summit County.
Conserving these prized outdoor recreational landscapes would be a win-win for Colorado's economy and environment. Outdoor recreation in the state generates $13.2 billion in consumer spending and supports 125,000 jobs that pay $4.2 billion in salaries and wages. The unparalleled natural beauty of the Central Mountains draws people to hike, camp, ski, kayak, raft, hunt, fish, mountain bike, and horseback ride. The White River National Forest alone attracts more than 9 million visitors each year.
"As a business owner in Vail, I'm in favor of more protected wilderness lands and happy to see Congressman Polis introduce this bill," said Tom Mullen, a small business owner in Vail. "People come here for the opportunity to hike and be in beautiful, quiet areas, and that's one reason my business thrives in this mountain resort."
Without permanent protection, the Central Mountains could be threatened by energy development, logging, and unnecessary roads. This could pollute Colorado's clean air and drinking water, and undermine the state's outdoor recreational economy and way of life.
Over the past five years, residents of Eagle, Summit, and Pitkin counties have come together to protect the Central Mountains. While Rep. Polis' legislation is a great first step in conserving lands and waters in Eagle and Summit, stakeholders are also working with Senator Mark Udall (CO) to introduce legislation in the Senate to protect more areas, in addition to lands in Pitkin County.
More than two-dozen wilderness bills are awaiting action in Congress. From coast to coast, Americans are working to safeguard more of the nation's public lands. As we stand ready to celebrate the 50th anniversary of the Wilderness Act, we ask Congress to stand, too, for the protection of America's common ground.