Fuel Efficiency Standards Promote Economic, National Security, and Environmental Benefits
Stronger Rules Would Spur Cleaner Medium- and Heavy-Duty Trucks
Stronger fuel efficiency for medium- and heavy-duty trucks would benefit the U.S. economy, bolster our nation's security, and reduce harmful carbon pollution.
Researchers at the Oak Ridge National Laboratory estimate that price volatility in the global oil market has cost the United States more than $5 trillion in wealth transfer, job losses, and reduced gross domestic product since the 1970s. Deutsche Bank economist Joseph LaVorgna and the Wall Street Journal explain the impact of rising prices as the "Hamilton-to-a-quarter rule," which means that an increase of $10 in the price of a barrel of oil tends to lead to an increase of 25 cents in the price of a gallon of gas.
In June, the national average cost of gasoline reached $3.66 per gallon, according to AAA. Rising fuel prices disproportionately affect medium- and heavy-duty trucks, which represent only 7 percent of U.S. vehicles but more than 25 percent of transportation fuel consumption. Customers served by these trucks often bear the higher costs of gas and diesel.
Recent federal standards for fuel efficiency and greenhouse gases provide examples of strong public policy that can achieve economic, national security, and environmental goals. Since 2009, the U.S. Environmental Protection Agency and National Highway Traffic Safety Administration have implemented rules that will attract new private investment into the production and deployment of cleaner cars and trucks in the United States.
These agencies now are building on their successes to promote fuel efficiency and carbon pollution reduction by developing proposed rules for medium- and heavy-duty trucks sold after model year 2018. If adopted, the new standards would take effect beginning with model year 2019. A broad group of stakeholders, including truck makers and companies that operate big rig fleets, support the proposal.
The new efficiency goals probably would affect primary classes of medium- and heavy-duty trucks in different ways. Efficiency experts recommend that the United States trim its overall truck fuel consumption 40 percent by 2025. To meet that target, tractor-trailers, which consume the most fuel compared with other truck classes, probably would need to reduce their consumption more than work trucks and heavy duty pickups.
The chart below shows the improvements necessary in each category to reach this goal, as well as how quickly each class would achieve a return on investment for improving efficiency. Tractor-trailers, for example, could pay back the investment in a more efficient truck in just 13 months, saving $30,000 a year in fuel costs.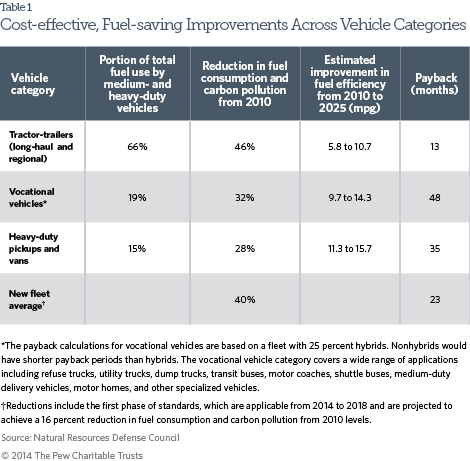 Manufacturers and fleet managers know that improving efficiency can save them and their customers money. Eaton Corporation, a multinational vehicle technology manufacturer, and Con-Way Inc., the third-largest U.S. freight company, are among the supporters of fuel efficiency and emission standards, which federal agencies are expected to propose next spring. These rules would spur investment in advanced manufacturing, strengthen U.S. competitiveness, and reduce fuel costs for trucking companies. When manufacturers save money, they pass those savings along to consumers.
Walmart, the world's largest retailer, has 6,500 tractors and 55,000 trailers and is committed to doubling its fleet's efficiency by 2015. Through partnerships with major truck and component manufacturers, the company is nearly 90 percent complete with achieving its goal.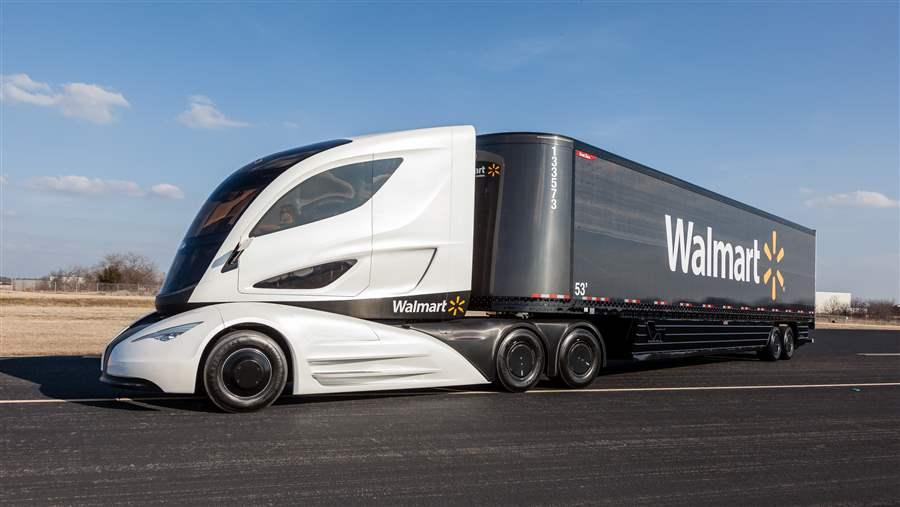 © Walmart
The Walmart Advanced Vehicle Experience concept truck is a one-of-a-kind prototype. The trailer is made almost exclusively with carbon fiber, saving around 4,000 pounds, which can then be used to carry more freight.
With national goals that reduce fuel consumption by medium- and heavy-duty trucks 40 percent by 2025, the EPA and NHTSA are poised to strengthen U.S. leadership and competitiveness in the clean transportation sector while providing policy certainty for manufacturers of these trucks. Strong standards, supported by broad groups of stakeholders, would unleash new private investment in clean transportation technologies, save consumers and businesses on fuel costs, ease the burden on the Department of Defense to secure global oil transit routes, and reduce harmful pollution.