Retracing an Ancient Journey to Promote Marine Protections in French Polynesia
Cliquez ici pour la version française
Imagine using only nature as your guide the next time you travel someplace new. Thousands of years ago, this was the norm for Pacific Islanders. The stars, sun, and ocean swells—not compasses and global positioning devices—provided all the essential clues to successfully navigate long distances across the Pacific Ocean.
For the next three years, an intrepid crew will sail around the world on the Hōkūle'a—a replica of a traditional Hawaiian double-hulled voyaging canoe. They will follow in the tradition of the ancient Polynesians to spread a modern message: Protect our oceans.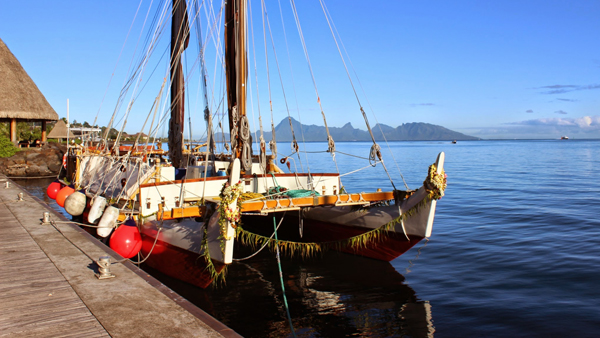 © Jerome Petit
The Hōkūle'a – a replica of a traditional Hawaiian double-hulled voyaging canoe – arrived on June 22, 2014 in Tahiti.
On June 22, these navigators arrived in Tahiti, an island of French Polynesia in the southern Pacific Ocean, to a rousing welcome. At the first stop on a tour that started in Hawaii on May 30, the crew expressed the idea of Mālama Honua—"to care for our Earth." They called for greater ocean conservation and celebrated Polynesians' deep connection to the sea.

The message of the Hōkūle'a was echoed on Tahiti's shores as Polynesian associations, as well as The Pew Charitable Trusts' Global Ocean Legacy project, joined together as "Friends of Hōkūle'a" to urge the government to protect 20 percent of the French territory's vast and healthy waters by 2020. This message was also delivered to French Polynesia's president, Gaston Flosse.
In September, the vessel and its crew will stop in Apia, Samoa, to promote ocean conservation to those attending the United Nation's Third International Conference on Small Island Developing States.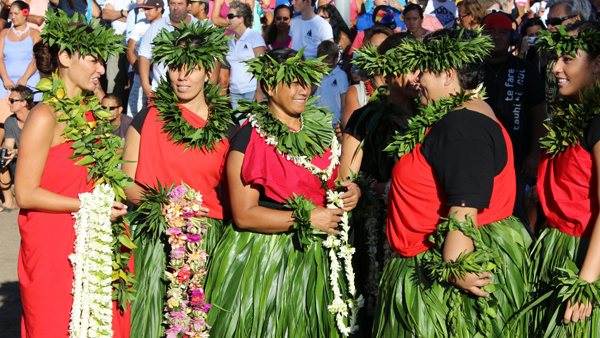 © Jerome Petit
Hundreds of people, many in traditional garb, took part in the celebration welcoming the Hōkūle'a and its crew to Tahiti.
At 5 million square kilometers (1.9 million square miles), French Polynesia's waters span an area as large as the landmass of the European Union. They are home to 21 species of sharks and feature an exceptional coral reef system that supports 176 coral and 1,024 fish species. Pew is working with local communities, scientists, and government officials in the Austral Islands, one of the French territory's five archipelagos, to help achieve the broader goal of 20 percent marine protection.