Canadian Boreal Forest Site Sparks UNESCO Rules Review
Pew supports World Heritage nomination for Pimachiowin Aki region
A remote wilderness region in Canada's boreal forest has sparked an international debate that could change the rules used to bestow culturally and environmentally significant locations with coveted status as UNESCO World Heritage sites.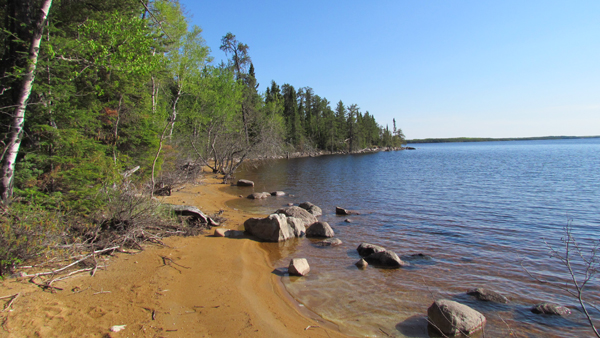 © Jeff Wells
The Pimachiowin Aki region has been home to aboriginal peoples for more than 6,000 years.
Delegates to UNESCO's World Heritage Committee meetings in Doha, Qatar, are grappling to resolve what the organization has called "fundamental" issues with an evaluation process that led to the deferral last year of a final decision on the nomination of Pimachiowin Aki, an ecologically intact tract of forest straddling the provinces of Manitoba and Ontario. The 2014 meetings for the U.N. organization run from June 15 to 25.
A plenary session in Qatar will "examine options for changes to the criteria and/or to the Advisory Body evaluation process" for the nomination of "mixed" sites that have both cultural and natural values, according to the meeting agenda. The committee says the review was prompted by Pimachiowin Aki, which it called a "clear example of a site that does reflect symbiosis between culture and nature." Pimachiowin Aki, which means "The Land That Gives Life" in Ojibwe, encompasses 33,400 square kilometers (12,895 square miles) of Anishinaabeg traditional aboriginal territory and provincial parks within Canada's boreal shield, the largest of the country's terrestrial eco-zones.
The region is almost wholly intact, and the vast majority of the nominated area is protected from development. It forms a critical part of the world's largest remaining intact forest and has global significance as a source of carbon storage and unfrozen freshwater.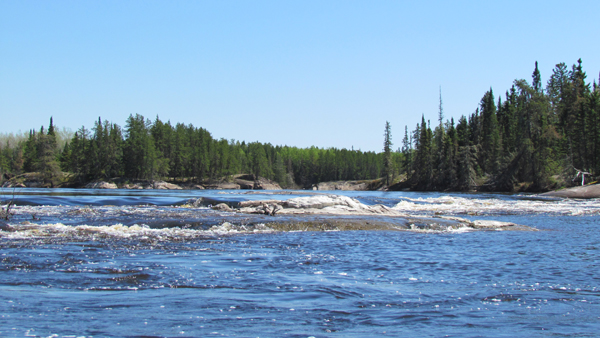 © Jeff Wells
Pimachiowin Aki, which means "The Land That Gives Life" in Ojibwe, encompasses 33,400 square kilometers of boreal forest in Manitoba and Ontario.
Rich in biodiversity, the region is home to more than 40 native mammals—including wolverine, moose, beaver, and timber wolf—and provides vital habitat for threatened woodland caribou populations and at least eight at-risk bird species. But there is also an equally important cultural dimension to the World Heritage site nomination. Five aboriginal First Nations— Bloodvein River, Little Grand Rapids, Pauingassi, Pikangikum, and Poplar River—call Pimachiowin Aki home. Their ancestors have occupied the land for more than 6,000 years.
Stories of the past, which intertwine with the landscape, have been handed down for generations and remain an integral part of the cultural life of the region. Following the stories and memories of Elders, archeologists have discovered traditional hunting and cooking tools at Pimachiowin Aki and have located ancient camps, burial sites, and pictographs on rock faces, dating back thousands of years.
This combination of ecological integrity and cultural continuity in a landscape of such magnitude is exceedingly rare in North America.
Efforts by the five First Nations to secure World Heritage site status for Pimachiowin Aki started in 2004. The nomination has been developed in partnership with the provincial governments in Manitoba and Ontario, as well as Canada's federal government.
The Pew Charitable Trusts endorsed Pimachiowin Aki's nomination in 2013. In comments to the World Heritage Committee last year, Pew hailed the region as "an outstanding example of a large, healthy, multilevel, and resilient boreal shield ecosystem." The committee last year commended the "exemplary efforts" by Pimachiowin Aki's First Nations and their supporters to protect the region's significant cultural and natural assets. At the same time, it was hamstrung by an evaluation process in which "cultural and natural values of one property are currently evaluated separately" in mixed nominations for World Heritage site status.
The Pimachiowin Aki nomination brought to the fore longstanding issues regarding a review process that has prevented UNESCO from recognizing the value of "the indissoluble bonds that exist in some places between culture and nature," the committee said.
It acknowledged that "maintaining entirely separate evaluation processes for mixed nominations does not facilitate a shared decision-making process."
Mat Jacobson, Pew's boreal conservation officer, said he is hopeful that the proceedings in Qatar will lead to a stronger evaluation process that recognizes the unique relationship between the land and indigenous cultures.
"The governments of Manitoba, Ontario, and the five First Nations of Pimachiowin Aki are to be commended for forging a new path based on recognizing not just the value of the land and the indigenous cultures, but also the unique relationship between the two," Jacobson said.
"It is our belief that ultimately this nomination process will result not only in the inscription of Pimachiowin Aki as a World Heritage site, but also in an improved evaluation system that is more open to, and respectful of, the values of aboriginal people," Jacobson added. "This new process will help reintegrate people and their cultures into policies designed to protect the environment, rather than artificially separate them from it."
Sophia Rabliauskas, of Poplar River First Nation, said that integrated review is essential. "From the outset, our intention has been to have this area recognized for both its cultural and its ecological values,'' she said. "It's been suggested that we separate the two, but they are inseparable for us. There is no distinction. We are the land."
The issues raised by Pimachiowin Aki's nomination will also be at the center of discussion at two side panels at the meetings in Qatar, one of which will consider revising the evaluation process to better address the intersection of nature and culture in mixed nominations.
The other will explore ways in which the evaluation process might better weigh the relationship between traditional indigenous land management and the outstanding universal values of wilderness and large landscapes.
To be included on the World Heritage List, UNESCO requires that sites must be of "outstanding universal value." According to World Heritage Convention guidelines, that "means cultural and/or natural significance which is so exceptional as to transcend national boundaries and to be of common importance for present and future generations of all humanity."
The Pimachiowin Aki nomination is being revised with the support of advisory missions from the International Union for Conservation of Nature and the International Council on Monuments and Sites. It will be resubmitted in February 2015. Bruce Bremner, co-chair of the Pimachiowin Aki Corporation, the organization leading the nomination bid, is attending the meetings in Qatar with Canadian representatives.
"It is very important to understand how potential changes to the UNESCO criteria or evaluation process are evolving as we are still in the midst of a nomination process. We have appreciated advice from the Advisory Bodies and will continue to work with them to achieve a successful nomination," Bremner said.
Even though its status remains temporarily in limbo, "Pimachiowin Aki is destined to become a new model for other indigenously managed landscapes of outstanding universal value throughout the world," Jacobson said.