New Caledonia Advances Ambitious Plan for Marine Park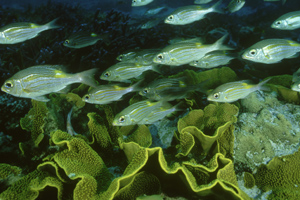 The South Pacific Ocean could soon gain a vast new marine park.

On April 24, the government of New Caledonia, a French overseas territory approximately 900 miles east of Australia, announced that it will develop a management plan for what will be known as the New Caledonia Coral Sea Natural Park. Spanning the territory's exclusive economic zone of 1.2 million square kilometers (463,323 square miles), the new park will cover an ocean area twice the size of mainland France.

"This decree brings us one step closer to ensuring that New Caledonia's ecologically important marine habitat and the life it holds will remain healthy for the long term," said Christophe Chevillon, director of The Pew Charitable Trusts' Global Ocean Legacy project in New Caledonia.

The territory's waters are home to an incredible array of marine life, comprising more than 9,300 marine species, including 1,700 fish and 473 coral species, and the region features one of the largest lagoons on Earth.

Pew is advocating for the full protection of an area within the park of at least 200,000 square kilometers (77,220 square miles), in which fishing and other extractive activities would be prohibited. This level of protection has been recognized for fostering healthy marine ecosystems and maintaining fish populations, particularly highly mobile and migratory species, and would preserve the waters of New Caledonia for generations to come.