U.S. Marines Take Lead in Deploying Clean Energy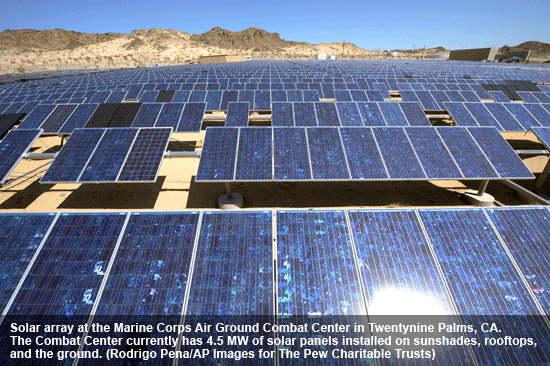 Base in Twentynine Palms, CA, Showcases Solar and Efficiency Technologies
As we celebrate Earth Day, April 22, there are hundreds of success stories of how our environment has improved since 1970. Clean energy technology has been an important driver in reducing emissions and saving businesses money as they improve energy efficiency and deploy renewable power.
The Department of Defense is a leader in deploying clean energy and has a goal to install 3 gigawatts of renewable power by 2025—enough to power 750,000 homes. On March 25, the base's Energy Manager Gary Morrissett and Public Affairs Officer Captain Justin E. Smith led a tour to showcase energy efficiency and renewable technologies at the Marine Corps Air Ground Combat Center in Twentynine Palms, CA. The tour included a close-up look at the installation's combined heat and power, or CHP, technologies and solar arrays.
"Here at the Combat Center, we take pride in our energy management, energy efficiency, power generating capacity, and the cost savings that result from these ambitious efforts," said Captain Smith, base spokesman. "Our commitment to energy innovation is making our installation more energy secure and saving the taxpayer millions of dollars per year."
Twentynine Palms' new innovations include the Marine Corps' largest CHP plant, which produces 7.2 megawatts of electricity—more than half of the base's energy needs. That plant was built and is maintained at no cost to the taxpayer through a performance-based contract with Johnson Controls. During the tour, visitors also saw the brand new 9.2-MW CHP plant that is expected to come online later this month. When fully up and running, the new plant will be one of the lynchpins of an advanced microgrid system that will allow the installation to manage its energy as efficiently as possible throughout the base, save taxpayer dollars, and operate off grid in the case of an emergency.
Participants also viewed the base's solar technologies. The Combat Center has one of the largest federally-owned solar arrays with 4.5 MW of solar panels that are installed on sunshades, rooftops, and the ground. This supplies about 5 percent of the base's electricity—sufficient to power more than 550 homes for a year. The base is adding another solar array, which would bring the total amount of solar generating capacity to nearly 6 MW. To fund these renewable projects, the Marine Corps is harnessing innovative third-party financing mechanisms that save money with no up-front costs to the taxpayer. A 1.5 MW rooftop solar array that was installed in 2011, for example, is saving the base $3.2 million annually.
Leading the Way
The Combat Center leads the Marine Corps in energy management, power generating capacity, and cost savings, with up to $7 million saved annually in energy costs. Most of the base's energy needs are produced on the installation: 60 percent of its own energy year round and 95 percent during the winter months.
"As we focus our efforts to maximize our energy efficiency and expand energy generation on the base, we will continue to look toward the future with solar, cogeneration, and microgrid energy solutions," Smith said. "We are also looking at other renewable energy sources, including determining the suitability of adding advanced geothermal energy, as we aim to continue to lead the Marine Corps in advancing energy solutions at our installation."
Pentagon Prioritizes Clean Energy
The base's innovations are part of a larger Defense Department priority—one that emphasizes deploying clean energy and energy security measures at bases across the United States in order to help assure mission success, reduce costs, and comply with existing laws. Over the past decade, the Department of Defense has saved hundreds of millions of dollars by deploying efficient and renewable technologies.
REPORT: Power Surge.
VIDEO: Power Surge: How the U.S. Military is Financing Clean Energy.