Chinese Business Executives Lead the Way on Shark Conservation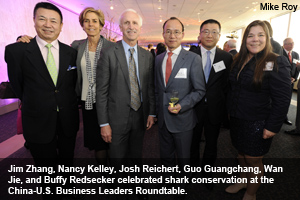 Four of China's most successful business executives have been recognized as "Global Shark Guardians" for their work securing a ban on shark fin soup at Chinese state banquets. On April 17, The Pew Charitable Trusts, The Nature Conservancy, and WildAid honored Guo Guangchang, Wan Jie, Ding Liguo, and Zhang "Jim" Xingsheng at the annual meeting of the China-U.S. Business Leaders Roundtable in New York.

Joshua S. Reichert, executive vice president of Pew's environmental programs, explained to members of the group how these entrepreneurs achieved this feat in the birthplace of shark fin soup. He was joined in bestowing the honors by Nancy Kelley of The Nature Conservancy and Buffy Redsecker, representing WildAid.

In 2009, as members of the China Entrepreneur Club, Ding, Guo, and Zhang pledged to stop eating shark fins and called on fellow business leaders to do the same. In March 2011, Ding submitted a proposal to the National People's Congress to support a ban on the trade in shark fins. Wan submitted the same proposal to the Chinese People's Political Consultative Conference. The measure did not become law, but the men were not deterred.

The next year, Ding and Guo proposed to the National People's Congress that consumption of shark fins be prohibited at government banquets. Wan submitted the same proposal to the Chinese People's Political Consultative Conference. Supported by more than 30 members of the National People's Congress, the State Council announced in July 2012 that it would seek to ban the consumption of shark fins at official events. The ban went into effect in December 2013. Hong Kong had instituted a similar prohibition three months earlier.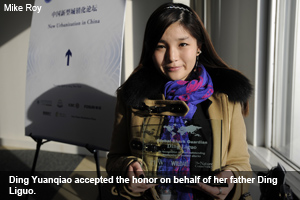 "The achievements of Mr. Guo, Mr. Ding, Mr. Wan, and Mr. Zhang mark a significant turning point for shark conservation," said Imogen Zethoven, director of Pew's global shark conservation program. "Sharks are majestic, ancient animals that have evolved within their marine ecosystems for more than 400 million years. But within the past few decades, overfishing of sharks has damaged the environmental and economic health of our oceans. These business leaders are not just saving sharks; they are saving our oceans."

It is estimated that 100 million sharks are killed each year, driven in large part by demand for shark fins, an extravagant, high-end menu item in many parts of the world. More recent developments, however, indicate growing momentum to protect sharks. On April 9, Starwood Hotels & Resorts Worldwide, which operates nine major hotel chains, announced that it would join a growing list of hospitality and transportation companies that no longer serve or ship shark fins.
Bios of Global Shark Guardians

| | |
| --- | --- |
| | Guo Guangchang is a founder and chairman of the Fosun Group, China's largest privately owned conglomerate. Based in Shanghai, Fosun's holdings include insurance, industrial operations, asset management, and real estate, including the recent acquisition of One Chase Manhattan Plaza in New York. He was a member of the National People's Congress and is a member of the Chinese People's Political Consultative Conference. Dubbed by Forbes as "the Warren Buffett of China," Guo has received numerous awards. He has been named China's outstanding private entrepreneur and one of its top 10 economic leaders. Guo is a member of the China Entrepreneur Club, a group of more than 50 business leaders that promotes sustainable corporate development. He received an undergraduate degree in philosophy and a master's degree in business administration from Fudan University. |
| | Wan Jie is the founder and chairman of Artron Enterprises (Group) Ltd., one of the world's premier art printing and publishing firms. The group also manages China's largest digital image and artwork database. Wan is a member of the Chinese People's Political Consultative Conference. He has been active in various charitable activities, including causes related to environmental protection, educational improvement, and cultural promotion. Wan is on the board of several leading nonprofit organizations in China, including the Society of Entrepreneurs and Ecology, and has been honored as one of China's most socially responsible entrepreneurs. |
| | Ding Liguo is the executive chairman and CEO of Delong Holdings Ltd., a steel manufacturing and trading group based in Beijing. Before this, he was chairman of Tangshan Liguo Enterprise Group Co. Ltd. and the Tangshan Changcheng Rolled Steel Factory. Until 2013, Ding was a member of the National People's Congress. He also is a member of the China Entrepreneur Club and holds a diploma in machinery manufacture from China's Hebei University of Technology. |
| | Zhang "Jim" Xingsheng is chief representative for The Nature Conservancy in China. From 2008 to 2013, he served as the organization's managing director for the North Asia region. He was responsible for establishing its China board and engaging Chinese entrepreneurs in the group's global activities. Zhang also is a founding member of Society Entrepreneur Ecology, a Chinese-based organization that encourages business leaders to take on social and environmental responsibilities. He is a member of the China Entrepreneur Club. In April 2003, Zhang joined AsiaInfo as president and CEO. In addition, Zhang served in executive-level positions for the Swedish-based telecommunications firm Ericsson, including as its executive vice president and chief marketing officer. He is a graduate of Beijing University of Posts and Telecommunications and received his master's degree in business administration from the Norwegian School of Management and the Management School of Fudan University. |