Save the Boreal, Save the Caribou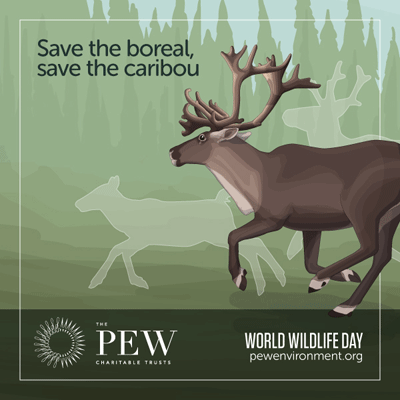 For millennia, the people who live in the far reaches of North America's boreal forest have relied on woodland caribou for their survival.
Now, the tables have turned. With half of their traditional range lost in the past century and their populations depleted, these iconic animals depend on us for their survival.
To mark the United Nations' World Wildlife Day on Monday, March 3, The Pew Charitable Trusts is raising awareness of threats facing caribou in the boreal, one of the world's last great wildernesses.
Nearly extinct in the Lower 48 states, once-healthy woodland caribou populations are now in trouble across Canada. The Canadian government lists the boreal-dwelling caribou as threatened—one step above endangered—and has found that populations in 37 of 51 ranges have fallen below sustainable levels.
In its recent woodland caribou recovery strategy (PDF), Environment Canada, the federal environmental department, said "immediate action" is needed to halt the boreal population's decline. It set a five-year timeline for provinces and territories to complete plans to protect critical caribou habitat.
But progress has been uneven. A December 2013 report by the Canadian Parks and Wilderness Society found that "most provinces and territories are lagging" in implementing recommendations in the federal recovery strategy.
What action is needed?
Scientists agree that boreal caribou populations require preservation of large, intact and connected tracts of old-growth boreal forest. Simply put, their future is tightly linked to the health of the boreal ecosystem they inhabit.
"Woodland caribou have been on a downhill trajectory for the last 100 years, and if anything it's speeding up," said Jeffrey Wells, a science adviser to Pew on boreal forest conservation. "There are herds that are still either in good shape or right on that cusp of going one way or another. We could maintain them if we did what is supposed to be done—maintain those large intact areas."
In 2011, Wells and members of the International Boreal Conservation Science Panel co-authored a paper (PDF) on the challenges faced by woodland caribou, part of a subspecies distinct from migratory tundra caribou.
The science panel said that conservation plans must account for the long-term consequences of human and natural disturbances in the boreal forest. That's because woodland caribou reproduce slowly and are highly sensitive to habitat changes.
Not only do caribou depend on old-growth forest for sustenance—their diet relies heavily on slow-growing lichens found on trees and in peatlands—but disturbances to their habitat also put them at greater risk to predators.
For boreal caribou, it can be a vicious cycle. Even as caribou suffer from habitat disturbances—whether caused by industrial activity such as logging, or natural events such as forest fires—other species, including moose and white-tailed deer, thrive.
Booming deer and moose populations, in turn, lead to larger predator populations of wolves, coyotes and bears, further heightening the risk to caribou. In some areas of Canada, overhunting adds to the threat.
According to Environment Canada, boreal caribou populations require a minimum of 65 percent undisturbed habitat within their range to be self-sustaining. The government says 31 of Canada's 51 boreal caribou ranges fail to meet that threshold.
Healthy forests, healthy caribou
Caribou also are considered an indicator, or umbrella, species. Their health reflects the broader health of the boreal forest, the largest intact forest ecosystem remaining on the planet.
"I think we have a shared future. Caribou will be a good indicator this century of our ability to maintain a sustainable way of life," said James Schaefer, a biology professor at Trent University in Ontario and a member of the International Boreal Conservation Science Panel. "If we can maintain caribou in the forest at the same time as we extract resources, it would be a very good sign that we can maintain prosperity for the long haul, not just the next few decades."
For now, the future of boreal-dwelling caribou is uncertain.
Environment Canada considers their recovery to be "technically and biologically feasible." But the International Boreal Conservation Science Panel says it may take another decade before scientists understand whether caribou can thrive in ranges where forests are recovering from past disturbances.
"As yet, we have no convincing evidence that caribou can reinhabit an area once it's been disturbed," Wells said.
"That may be because we haven't had time to see these forests reintegrate back into caribou habitat. The other possibility is they never will. That is a huge area of uncertainty."
As federal, provincial and First Nations governments in Canada scramble to respond to the challenge, environmentalists and industry are working together to provide solutions to policymakers.
Under the 2010 Canadian Boreal Forest Agreement, responsible timber firms agreed to temporarily suspend operations in roughly 71 million acres of forest, representing a significant portion of caribou habitat within company tenures, while scientists determine what is needed for recovery.
"In the vast boreal forest we don't have to choose between caribou and jobs. With just a little advance planning, we can find room for both," said Steven Kallick, Pew's director of international lands conservation. "A forest without caribou would be as terrible as a village without people. That is the fundamental premise of the Canadian Boreal Forest Agreement."
Pew, which helped broker the agreement, is advocating for conservation of 1 billion acres of boreal forest in Canada through a combination of strict protection and sustainable development.
Wells said the challenges facing caribou are "an invitation for us to think big" about how to manage Canada's forests.
"As a rule of thumb, we could have perhaps as much as a third of a population's range disturbed," said Wells. "So it just means tempering the rate at which we might draw resources. It's a question of short-term exploitation versus long-term wealth."
Facts about woodland caribou
Boreal caribou are one of six geographically distinct populations of the woodland caribou subspecies in Canada.
Boreal-dwelling woodland caribou are found in nine Canadian provinces and territories: British Columbia, Alberta, Saskatchewan, Manitoba, Ontario, Quebec, Newfoundland and Labrador, as well as Yukon and the Northwest Territories.
The Canadian government estimates the country's boreal-dwelling woodland caribou population at 34,000.
The caribou has been featured on Canada's 25-cent coin since 1937.
Woodland caribou once ranged as far south as Maine, Minnesota, Wisconsin, and New Hampshire.
Listed by the U.S. Fish and Wildlife Service as endangered in 1983, woodland caribou in the Lower 48 states are now found only in three counties in northern Idaho and Washington.
The timeline for the boreal caribou recovery could span decades, because it can take "50 to 100 years" for damaged habitat to recover, according to the Canadian government.
First Nations peoples in Canada have traditionally depended on caribou meat for sustenance, and used their hides and fur for clothing and shelter and their bones for tools.
Read the stories below to learn more about Pew's global work to conserve the wildlife we all cherish: