Fishing Forges Connections Across the Generations
Millions of Americans spent last summer and fall fishing.
Now, as we endure the cold days of winter, many of will start to get cabin fever and begin to reminisce about last year's adventures on the water. Pew's "Fishing Forges Connections Across Generations" series continues to highlight personal stories about time spent fishing with friends and loved ones and why we need to protect our nation's ocean fish.

Future generations will need a strong Magnuson-Stevens Fishery Conservation and Management Act so that they, too, can tell their own fishing stories. Share your personal experience here.
Lissie Cain: Charleston, SC:
Fishing has always been a part of my family's experience and that's why it's important to me. I used to spend my summers at my grandmother's house at Sandbridge Beach near the Outer Banks. The house itself has changed very little since being designed by my grandfather in the 1960s and times my mom spent summers there. Despite having withstood serious hurricanes, innumerable nor'easters, and the roller coaster lives of its inhabitants—namely the four grandchildren, myself included—this same house continues to stand tall to this day, albeit with a weathered and slipshod appearance.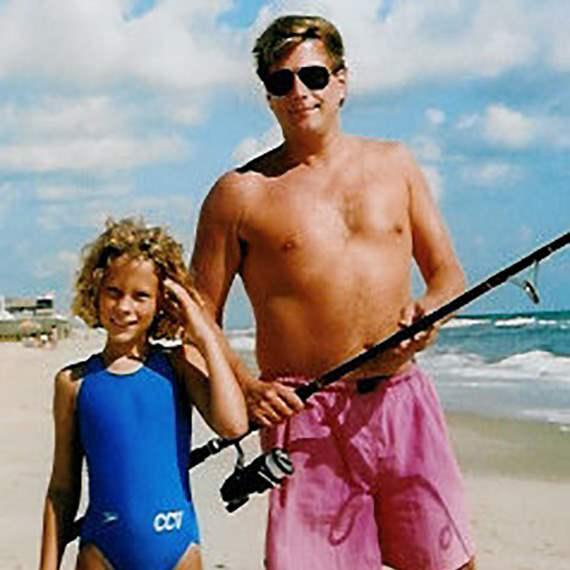 Lissie and her dad getting ready to surf cast.
I remember my great Uncle Reid spending hours surf casting at the shore, but as far as I know, he never caught much large enough to keep. He would stand in the surf for what seemed like an eternity and I would wonder how he could stand there for so long with nothing to show for his efforts.
When my dad came for the weekend he would get the fishing rods, always a tangled mess, out of storage and then go up to the store for the bait. Every once in a while he would catch something, usually spot, sometimes a striper, and rarely flounder. As immersed as I was playing in the water and sand, those catches would pique my interest.
As I got older, I started surf casting with dad and began to understand the appeal of fishing. Surfcasting with my dad was one of the few ways father and daughter could bond without an argument. I loved the slow pace that came with fishing and the memories it built for all of us. Over the years, we exhausted our possibilities of suspects, including the occasional stingray, one or two sandbar sharks, and one fisherman's boot.
I learned to appreciate the joy of fishing and saw that it revolved around the anticipation of landing a keeper, not the actual catch itself. There was suspense and sport behind it since you never knew what would be on the other end of the line. I now understand what old Uncle Reid was doing all that time with the fishing rod; he was anticipating a great catch.
Today, I live in Charleston, SC, and still enjoy a day at the beach with a surf rod.
I'd like to think it will be possible to enjoy the kind of summers I had growing up with my children and their children. I see that the only way this is doable is to support fish habitat protections, reduce overfishing, and try to boost recovering fish populations.
And maybe, just maybe, someone else's uncle 20 years from now won't have to spend hours at the shore without catching anything.
Sean Barrett: Shinnecock Inlet, NY:
I have been fishing since I could walk and talk; not sure which one—fishing, walking or talking—came first. My father first introduced me to fishing 35 years ago right here in Montauk, NY, where I have been fishing ever since. I remember him taking our daily catch to his restaurant, which he owned in New York City. All of us would be sitting around the dinner tabling chatting, telling stories and just enjoying the food. This was what I remember most and became the genesis of an idea of bringing fresh seafood using local fishermen and connecting them to people in the community who could have the same experiences I did as a kid.
So, "Dock to Dish," a Community Supported Fishery, was formed. This is a program when "catch of the day" was really caught that day, sustainably and environmentally friendly with no bycatch, and delivered to restaurants and families all within 24 hours. I believe in environmentally friendly fishing practices that minimize habitat destruction like using rod and reel and spearfishing to catch our fish.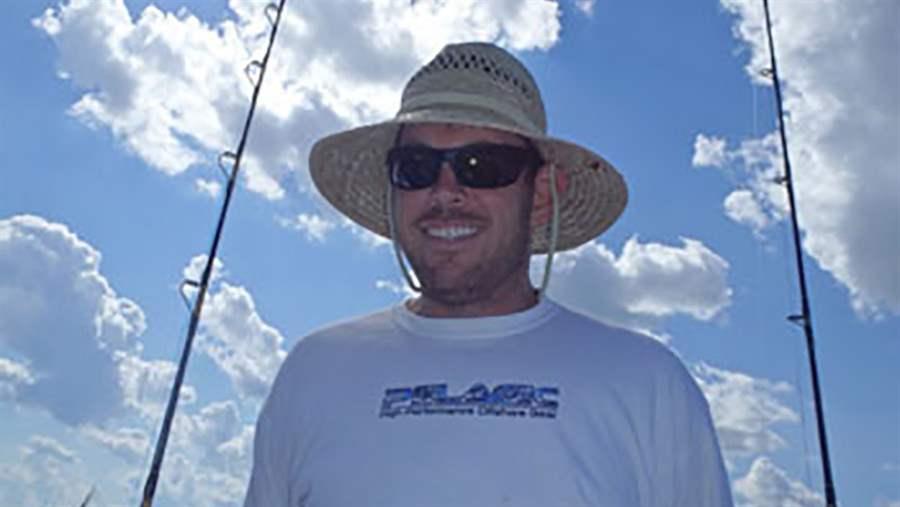 Sean Barrett enjoying his time on the water.
Spearfishing is widely considered to be the most environmentally friendly form of fishing because it is highly selective, having no bycatch, causing no habitat damage, and creating no pollution or harm to protected endangered species. For a fish to be served Dock to Dish it must have been caught locally and sustainably with respect to methods, species, the environment, the foodshed and the fishers.
Mike Megill: Little Silver, NJ:
Fishing the beaches of the northern coast of New Jersey has been a passion since I was old enough to hold a rod. Both my grandfather and father grew up and spent their lives pursuing the same passion on the same beaches. I have introduced my son and daughter to fishing and both have adopted a fondness for it. Last summer, I took my daughter and her best friend to the beaches of Sea Bright, NJ. We had a great time, like we always do!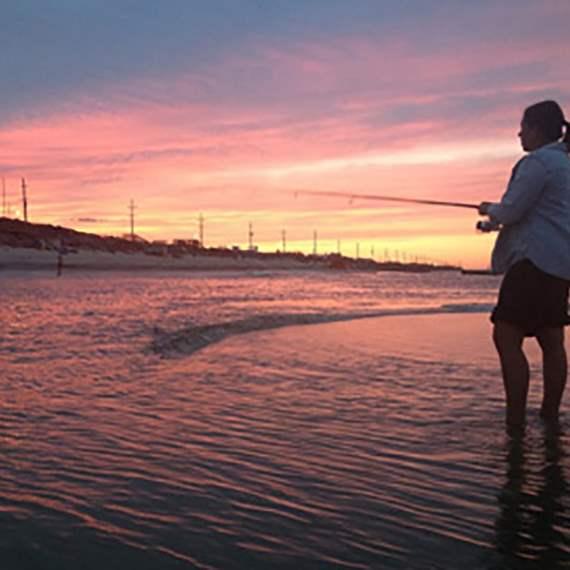 Mike's daughter, Kelly, wetting a line at the Jersey Shore.
But the way of life my grandfather, father, and I so thoroughly enjoyed is slowly fading away. As the girls and I left the beach, we knew the experience we just shared was short lived, as bulldozers, pipes, and other sand pumping equipment were brought to that particular stretch of beach to help rebuild it after Super Storm Sandy.
Protecting resources like our New Jersey coast is of the utmost importance. Regarding fisheries, mindful and fact -based management of the fishery must be consistent and balance the needs of all stakeholders, and fishery managers should practice ecosystem-based fishery management. Congress needs to support a strong Magnuson-Stevens Act so fish populations can continue to rebound and we can share our passion for fishing for generations to come.
James Blinken: East Hampton, NY: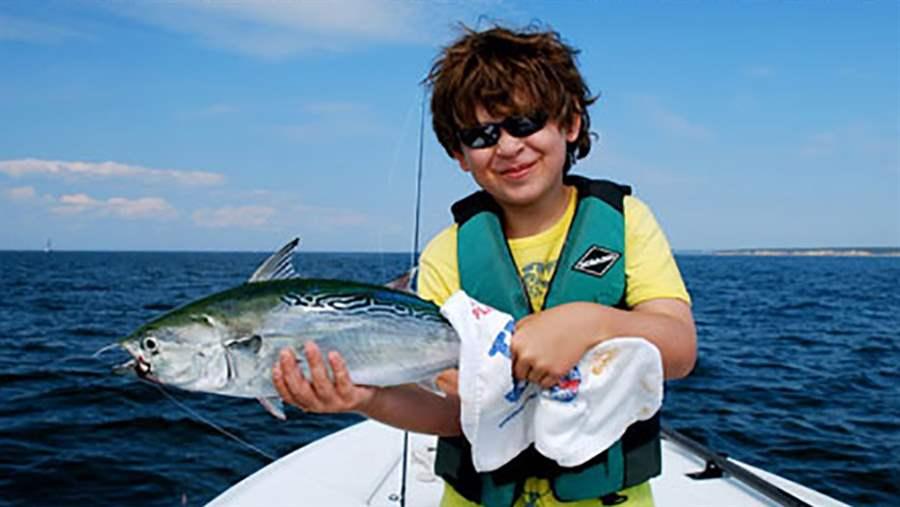 James Blinken, son of David Blinken, an NY fly fishing guide, showing off his albie
It was a bright sunny day two weeks before school started when my dad and I went fishing. At first, I thought it was going to be the same old thing, catch some fish, look at them, and then let them go. I was so wrong.
We got in my dad's boat and took off into the ocean. About ten minutes later, dad spotted a school of fish called false albacore. We raced the boat over there and were able to catch two fish from that school. One fish actually threw up all over me! "I will call you spilled guts," I said.
We tried to catch more fish, but it was a failure until I saw another school about one hundred yards away. We raced to it and caught three fish in about fifteen minutes. That was so cool!
We ended up seeing about two more schools of fish and we caught about three more. We never killed any of them or ate them. We always let them go free. To this day, my dad and I keep joking about how many fish we caught that day, I say it was seven. He thinks it was eight.
I know how important it is to take care of the fish in the ocean. If we take care of the oceans, surely my dad and I can have more fishing adventures for many years to come.
Ensure that your children can tell a fishing story of their own. Don't weaken the conservation provisions in the Magnuson-Stevens Fishery Conservation and Management Act.
If you'd like to share your fishing stories with us, please submit them here.