Message from Mike Matz: This Is the Year
By Mike Matz
January always gives us time to take stock of the prospects for the coming year, and, for wilderness aficionados like you and me, the horizon looks very bright for a couple of reasons.
This September will mark the 50th anniversary of the Wilderness Act, a landmark law that experts call the gold standard of protection for our natural heritage. We will commemorate this anniversary with a series of activities that culminates in a week when people from all walks of life and every political stripe engaging in public education and outreach campaigns around the country will convene in the nation's capital to meet with public servants and promote action on wilderness bills. It's a week of democracy in action, when citizens exercise their rights in pursuit of permanent protection for special places.
During that anniversary week in September we will also hold a gala reception at the Smithsonian's National Museum of Natural History, featuring a juried exhibit of photographs. It's a chance to celebrate among images of the natural glory that has been handed down to us—an area equal in size to California. These lands will remain as havens for moose and elk, bighorn and Dall sheep, wolves and grizzlies, wolverines and pronghorns, snowy and great gray owls, golden and bald eagles, and other species too numerous to name.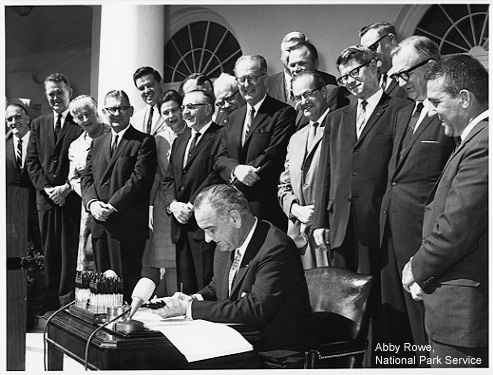 It's not just about honoring the past 50 years, though. It's about taking measure of what can be accomplished this year, and on that score we have good news. Just before the holidays, the chairman of the House Natural Resources Committee stated that he intended to move wilderness bills early this year, possibly marking up legislation this month to give permanent protection to Sleeping Bear Dunes in Michigan and Blue Lakes and Alder Creek in Nevada. Three wilderness bills passed the Senate last year, and we expect more to come because the chairman and ranking minority member of the Senate Energy and Natural Resources Committee have been working together to assemble a package of bills that could include proposals for wilderness in Colorado, Montana, Nevada, New Mexico, Oregon, and Washington.
We will strive in this second session of the 113th Congress to give to future generations a legacy of newly designated wilderness in which they can hike, hunt, fish, canoe, kayak, camp, or simply revel in the panoramic views, knowing that there are spots saved "where the earth and its community of life are untrammeled by man," wild places that retain their "primeval character and influence," as the Wilderness Act so eloquently states.
This is the year to celebrate. And this is the year to capitalize on the promise of the Wilderness Act.