Featured Wilderness: Oregon's Kalmiopsis
Just west of the town of Cave Junction, in the heart of southern Oregon's Klamath-Siskiyou region, lies the 180,000-acre Kalmiopsis Wilderness. Named for an endemic, pre-Ice Age plant found nowhere else, the area has a unique and rich botanical diversity that draws tourists from around the world. Visitors come to play and rest here, attracted by the awe-inspiring landscape of wildlands and wild rivers, the varied wild flowers, and ancient forests, bringing new economic resources to this rural part of Oregon.
The mosaic of high ridges and river valleys here produce several microclimates that support rain forests, dry pine forests, and alpine grasslands. In 1964, the Kalmiopsis Wilderness was one of the original areas protected by Congress under the federal Wilderness Act. Despite being visited by thousands of people each summer, signs of human presence are virtually nonexistent, and this area remains a respite for those seeking a true wilderness experience.
Adjacent to it are approximately 250,000 acres of equally rugged backcountry which also deserves permanent protection under the law. This area is the largest remaining unprotected wild area along the West Coast—from the Olympic Mountains to Baja, California.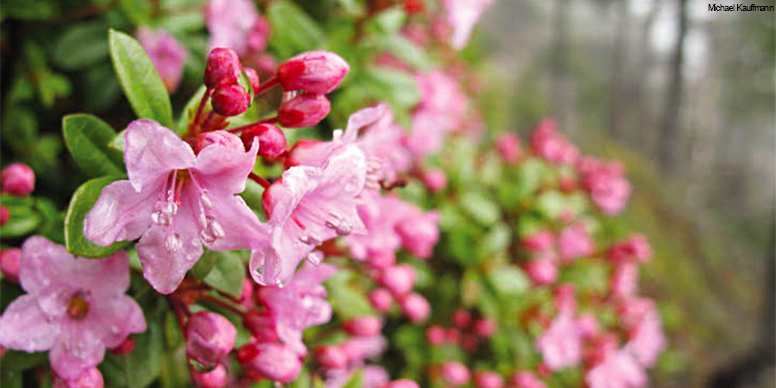 Some of the clearest and most pristine rivers in the West course through this roadless landscape. Wild creeks—including the Rough and Ready, Baldface, Indigo, Josephine/Canyon, and Silver—serve as invaluable strongholds for healthy runs of chinook and steelhead salmon, while also providing outstanding opportunities for fishing and kayaking.
The wild salmon, steelhead, and trout populations in the area are nationally important as well. Here the rivers run free from their headwaters to the sea. It's one of the last remaining wild areas in the contiguous United States with habitat capable of creating and sustaining salmon strongholds.
The unique geography and geology of the Kalmiopsis backcountry areas have also created habitat for a remarkable variety of plants. The serpentine and peridotite soils that define the region come from rock uplifted from the seafloor over hundreds of millions of years. Plants and animals have had to adapt and form unique associations, and it's the single greatest reason for the diversity and why this region has been identified as one of Earth's biological hot spots.
For plant lovers, these are legendary lands, host to the highest concentration of rare endemic plants in the Klamath-Siskiyou region and one of the highest in North America. Two dozen species of coniferous trees, including Douglas firs, mountain hemlocks, weeping spruces, coastal redwoods, and Jeffrey and ponderosa pines thrive there. Of the more than 3,500 plant species found in the larger region, more than 280 are unique. These rare trees and flowering plants also support more than 200 species of butterflies and 400 species of birds.
This natural splendor attracts visitors while hiking, boating, fishing, and camping all create jobs and economic stability in the local community.
Unfortunately, because these lands are not federally protected, they are threatened with timber production and mining. Although the opportunities for both are limited, there is just enough to encourage resource extraction and potential despoiling of these wildlands. Because of the natural beauty and rich ecological value, as well as the economic benefits from recreation, fishing, and hunting in the area, much of Oregon's congressional delegation has voiced support for protecting the rivers that run through these lands, but no federal protection has yet been enacted and no legislation to safeguard the wildlands that shelter these rivers, plants, and wildlife has been introduced.
Clear rivers, wild salmon, roadless land, and the prospect of enveloping solitude make the backcountry surrounding the Kalmiopsis Wilderness a refuge of unique natural value that should be forever preserved by the nation's Wilderness Act.