New York State PTA Votes to Protect Antibiotics and Children's Health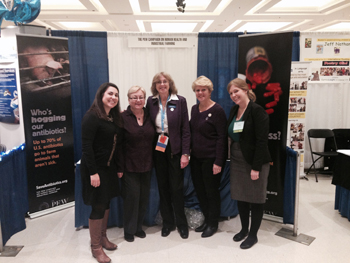 Katherine Portnoy (far left) and Alicia LaPorte (far right) of The Pew Charitable Trusts pose with (from left to right) Pat Assortato, Susan Landini and Mary Ward of the New York State PTA.
The New York State Parent Teacher Association made history at its 117th Annual Convention by becoming the first state PTA to take a stand against antibiotic overuse in livestock. On November 16, delegates passed a resolution calling on Congress and the U.S. Food and Drug Administration to protect human health from antibiotic overuse on industrial meat and poultry farms.
The resolution supports legislation improving labeling on meat and poultry products and making antibiotic use on the farm more transparent. Furthermore, as part of this resolution, the New York State PTA is encouraging schools to serve meat and poultry from farms that use antibiotics only to treat disease. It also supports educating parents and schools on how antibiotic use in livestock production contributes to antibiotic resistance.
New York State PTA member Susan Landini guided the resolution through from start to finish. "PTA's mission is to advocate for the health and well-being of children and youth, which is why we adopted a resolution to ban the overuse and misuse of antibiotics in food animal production," she said. "Thank you to Pew for bringing this issue to the forefront, for its diligence in protecting children and families, and for working with us on this important issue."
New York State PTA has set an example for state parent-teacher associations throughout the country, and more will hopefully follow suit.
For information and resources on schools serving meat raised without antibiotics, click here. If you are a PTA parent interested in replicating New York's success in your state, please contact us at [email protected].