Vote Centers in Sebastian County, Arkansas
Sebastian County, AR, is considering a plan to reduce the cost of polling site operation by cutting the number of traditional polling places and establishing vote centers, which would allow voters to cast a ballot at any location, regardless of where they live.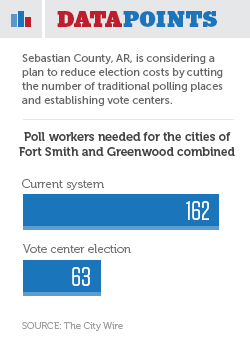 The plan would result in estimated cost savings of $17,645 for the May 20, 2014, primary election and $18,550 for the Nov. 5, 2014, general election, mostly from reductions in the number of poll workers. For example, the cities of Fort Smith and Greenwood together would require only 63 poll workers for a vote center election, compared with 162 under the current system.
The county would incur one-time costs to establish the vote centers, including approximately $100,000 for new electronic poll books, which allow workers to verify that a voter is registered and has not already cast a ballot at another vote center. Follow us on Twitter using #electiondata and get the latest data dispatches, research and news by subscribing today.