This month marks the 49th anniversary of President Lyndon Johnson signing the Wilderness Act into law, establishing the National Wilderness Preservation System, and banking the first 9 million acres in a natural condition forever. September 3, 2014, will be the golden anniversary, and we are kicking off a yearlong celebration to commemorate a concept that's as American as apple pie, baseball, and the Fourth of July.
In this edition of Your Wilderness, you can learn about our plan to introduce over the next year 50 people who are working to protect their favorite place as wilderness. We'll share their stories, you'll get to know them and what inspires them, and—who knows, one of the people we feature might even be you.
We're going to publish an updated edition of Our Wilderness: America's Common Ground, with photographs of places that will take your breath away. The 50th anniversary edition of the book will include vignettes that highlight the groups and volunteers who succeeded in getting those places set aside. It will give a brief narrative on the history of the Wilderness Act of 1964, regale you with stories about the importance of wilderness in our lives—from clean air and water to economic opportunities, from describing the democratic process by which we make decisions affecting the disposition of our public lands to how communities benefit from having protected land nearby—all by way of showing how and why the National Wilderness Preservation System has grown to nearly 110 million acres. That's 12 times the original investment.
President Johnson's Remarks at the signing of the Wilderness Preservation Act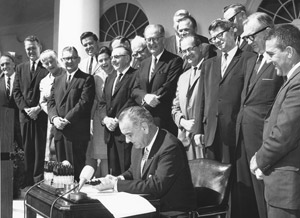 We've petitioned the U.S. Postal Service suggesting it print a series or sheet of postage stamps to commemorate this momentous event in America's history, and we'll learn in December whether our petition is successful. We will co-host a photography exhibit at the Smithsonian Institution's National Museum of Natural History in Washington. The photographs will be selected through a competition, which we will help to judge to ensure that a full diversity of the National Wilderness Preservation System is represented. We'll be part of a Wilderness Week in DC and a conference in Albuquerque to gather together people so their collective voices are heard nationally. Other events and activities will include maps, media, and more.
And it's not just us, of course. Various groups, government agencies, and businesses have convened an umbrella entity, Wild 50, which is planning to undertake a host of activities, about which you can find out more by visiting Wilderness50th.org.
We have a lot of accomplishments from the past 50 years to celebrate, but this isn't just about looking back. It's about looking forward to what needs to be done. Wilderness is distinctly American. Wilderness protects the air we breathe and water we drink. It provides economic opportunity, improves the quality of our lives, and provides places to hike, hunt, camp, canoe, watch wildlife, and soothe our psyches in this fast-paced society. We need to pass those amenities on to the next generation. We have to leave this county better off than when it was given to us. That is the promise of wilderness for the next 50 years.