Marine Marvels at Auckland Museum
The changing nature of our marine environment is the subject of a new exhibition. Writes Rebecca Priestley.
When I got off HMNZS Canterbury in Auckland a year ago, I was carrying a soccer-ball-sized chunk of pumice, a freshly erupted rock found floating off Raoul Island in the Kermadec group. At the instruction of Niwa geologist Helen Bostock, I handed the rock to Tom Trnski, Auckland Museum's head of natural sciences.
The pumice was examined and catalogued: the tiny goose barnacles that had colonised it while it was in the water were identified as Lepas anatifera. But in contrast to many specimens, which remain in back rooms for museum staff to study, item GE15593 is now on prominent display – as "floating proof of an undersea eruption" – in Moana: My Ocean at the Auckland Museum.
This exhibition takes visitors on a marine journey from Auckland's east coast, along the Kermadec Trench to the Kermadec Islands. There is plenty of audiovisual excitement, including an interactive display that puts you at the centre of a mid-ocean feeding frenzy, and wall-sized projections of the minute and intricate phytoplankton that pump out half the world's oxygen. But for me, the highlight is the biological specimens.
Speckled eggs of seabirds sit alongside giant limpet shells and 100-year-old bird skins, with species names handwritten in ink on brown paper tags. In a darkened room, the gross flea-like body of a giant trench-dwelling amphipod glows waxy white and repellent as it presses up against its glass tube. On a low table is a jar containing a zebra lionfish, whose poisonous spines can "cause horrible pain even when it's dead". On a higher shelf is a jar of cushion stars that look like freshly baked cookies.
An entire section is devoted to mid-water marine species, such as the bizarre anglerfish whose tiny males enjoy a parasitic relationship with the females, supplying sperm in exchange for food, but many of the most recent additions to the museum's collection are from the Kermadecs. Trnski led an expedition there in 2011 that discovered dozens of previously unknown species of fish, algae and invertebrate. The public's appetite for stories from that trip was the inspiration for Moana: My Ocean, says exhibition developer Victoria Travers.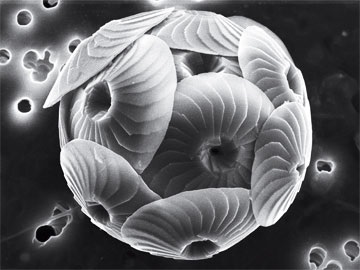 A microscopic marine plant known as microalgae or phytoplankton. Image/Dennis Kunkel Microscopy
They're fascinating to look at, but museum biological collections are much more than display items, says Trnski. "They're part of understanding our biological estate." Knowing what species live where allows scientists to monitor change, including climate change, "and allows us to ask bigger questions about dispersal and evolution of species". Many of the species found in the northern Kermadec waters, where the oldest volcanic islands emerged from the water less than a million years ago, are subtly different to those found around Auckland, "so we're watching evolution in action".
There's a strong conservation message throughout the exhibition. Many of the waters featured – at Leigh, the Hauraki Gulf, and the Kermadecs – are already partly in marine reserves. But collectively, New Zealand's marine reserves protect only 0.3% of our total marine environment, which is "grossly inadequate", says Trnski. Proposals to add new reserves and expand existing ones include the Pew Charitable Trusts-led initiative to create a Kermadec Ocean Sanctuary that would be one of the world's largest marine sanctuaries.
The last word in the exhibition goes to University of Auckland marine biologist Rochelle Constantine, who appears in a video made on our 2012 voyage to the Kermadecs. "People say they care about the sea, but I wonder if that's really true? That's what worries me most – that we just won't care enough and soon a lot of it will be gone."
Moana: My Ocean, Auckland Museum, until October 28.
NAME THAT FISH
A digital field guide to New Zealand's diverse marine life has been developed by Auckland Museum. The free NZ Marine Life app, for iPhone and iPad, references 265 marine plants and animals and can be downloaded from the App Store. For more info, click here.
This article was originally published in the Listener, Issue 3826.