Voter Registration in the 2012 Election Cycle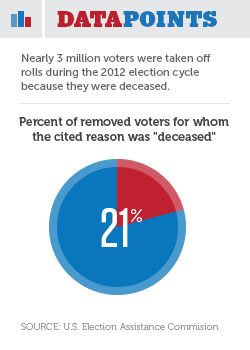 Return to Election Data Dispatches.
This week's dispatch will be the first of two to focus on the recent report on voter registration from the U.S. Election Assistance Commission.
Included in the report are data examining how many voters were removed from the rolls during the 2011-2012 election cycle. In total, 13.7 million voters were taken off rolls nationwide. The leading reason for removal nationally, at 30.1 percent, was failure to vote.
Additionally, nearly 3 million voters (more than 20 percent of the total removed) were taken off rolls because they were deceased. The rates of deceased voters removed varied greatly, however, from state to state, showing some of the differences in how states maintain their voter lists. In the 37 states and District of Columbia where data were reported from all counties or jurisdictions, the percentages of voters removed from the rolls for being deceased ranged from a low of 7 percent in New Hampshire to a high of 64.5 percent in Kentucky.