Senate Subcommittee Considers Two Montana Wilderness Bills
The Senate Energy and Natural Resources Subcommittee on Public Lands, Forests, and Mining on July 30 heard testimony on two pieces of legislation to designate wilderness in Montana. Together the bills would permanently protect more than 700,000 acres of national forest and Bureau of Land Management lands in western Montana.
The committee also reviewed a bipartisan collection of 11 additional public lands bills. The next step for all 13 measures will be markups by the full committee.
Montana Senators Max Baucus and Jon Tester, both Democrats, co-sponsor the wilderness bills for their state. Baucus has championed the Rocky Mountain Front Heritage Act (S. 364), and Tester has taken the lead on the Forest Jobs and Recreation Act (S. 37).
Sen. Baucus recently said that passing the Rocky Mountain Front Heritage Act is one of his top legislative priorities. He said he is "doubling down" on the bill "because it protects our outdoor heritage and supports hundreds of Montana jobs related to ranching, hunting, and recreation."
His legislation would add 50,500 acres to the Bob Marshall Wilderness and 16,700 acres to the Scapegoat Wilderness. The bill also would designate 208,000 acres as a conservation management area and make noxious-weed eradication and prevention a priority on the protected lands.
When endorsing the Rocky Mountain Front Heritage Act in April 2012, the Billings Gazette wrote:
"By taking care of places that store our snowpack—the mountainous regions like the Rocky Mountain Front that feed our streams and rivers—we're taking care of ourselves, our neighbors and our grandchildren and their children. What could be better and more American, and more Montanan, than that?"
In February, the Bozeman Daily Chronicle offered praise for the second piece of Montana wilderness legislation, the Forest Jobs and Recreation Act:
"It has been decades since there has been any movement on the wilderness preservation issue in Montana. Tester's bill represents the first time in a generation that traditional adversaries have come together on a compromise over just a small portion of Montana's roadless lands. And it could offer a template and a way forward for resolving the fate of all the state's roadless lands.
"Tester's bill is a good one. It creates jobs for Montanans, protects wilderness and deserves the support of Congress, Sen. Max Baucus and Rep. Steve Daines included," the editorial said. Daines, a Republican, represents the state in the House of Representatives.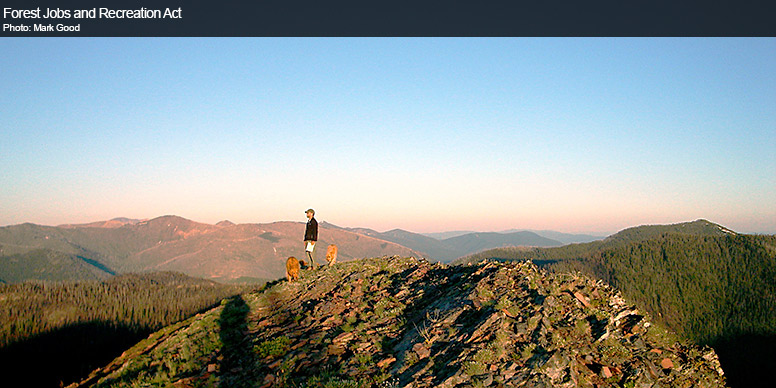 Sen. Tester's legislation would protect nearly 700,000 acres of wilderness across the Beaverhead-Deerlodge, Lolo, and Kootenai national forests, including the East and West Pioneers, the Sapphires, Lost Cabin and Lima Peaks, and additions to the Lee Metcalf, Anaconda-Pintlar, and North Fork Blackfoot Monture Creek wilderness areas.
The bill would improve forest health and fish and wildlife habitat, protecting the lands for hunting, fishing, hiking, and horseback riding. The measure also would designate areas for backcountry recreation and areas for forest stewardship.