The Pew Charitable Trusts' team of wilderness experts joined more than 250 outdoor enthusiasts in Washington, D.C., the last week of June to celebrate Great Outdoors America Week. The diverse group of high school students, active-duty and veteran service members, conservationists and business leaders, hunters and anglers, and bikers and boaters gathered to ask elected officials to protect our natural heritage.
"GO Week" is held each June to coincide with America's Great Outdoors Month, established by President Barack Obama as part of a 2010 initiative to partner with the American people to develop a lasting conservation and recreation agenda.
Senator Martin Heinrich (NM) kicked off GO Week 2013 by challenging and inspiring advocates to continue pushing for meaningful progress on outdoor issues. Throughout the week, participants met with members of Congress and staff to share their enthusiasm for the places they love.
Despite the bipartisan support for wilderness preservation, the last Congress was the first since World War II that did not protect a single new acre of public land as a national park, monument, or wilderness area. Advocates are confident that momentum is growing for conservation this year, however, as more diverse communities join to protect America's great outdoors.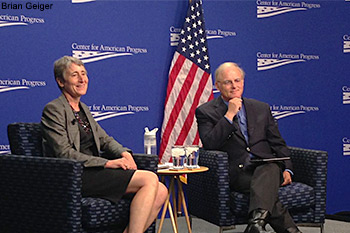 In addition to meeting with elected officials, activists had the opportunity to attend a series of issue briefings and panel discussions about the economic benefits of outdoor recreation, the importance of getting children outdoors, the challenges posed by large-scale renewable energy projects, and the vital role the outdoors plays in sustaining active-duty and veteran members of the armed services. A highlight of the week was an informal conversation with Secretary of the Interior Sally Jewell and award-winning author Richard Louv about the growing movement to reconnect children, who are the future stewards of our public lands, with nature.
"We really need to emphasize the importance of letting our children have unstructured outside play," said Secretary Jewell. "There are many groups and people trying to take this idea beyond words and rhetoric and go deeper into the curriculum."
Turning her words into action, Secretary Jewell then led the "Kids, Youth and the Great Outdoors Festival and Walk" on the National Mall. More than 100 children learned about nature-based activities, including kayaking, mountain biking, and camping. Then they joined the secretary for a hike that started at the base of the Washington Monument, ran the length of the Mall, and finished with a climb up the west steps of the U.S. Capitol.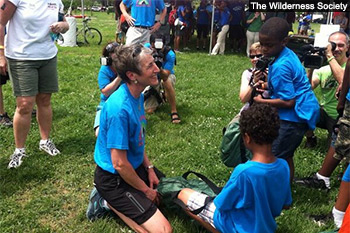 GO America Week came to an official close with a reception on Capitol Hill celebrating the legislative work of congressional champions to protect, and reconnect people to, America's great outdoors. Senators Heinrich, Ron Wyden (OR), Patty Murray (WA) and Mark Udall (CO) and Representative Raul Grijalva (NM) were among those recognized for their leadership on conservation issues.
From Oregon's rocky coasts to the wetlands of Louisiana to the lush woodlands of Maine, our great outdoors have set the scene for countless adventures throughout American history. Wilderness advocates use GO America Week to remind lawmakers why safeguarding our nation's wild treasures is vitally important. The Pew Charitable Trusts and its partners are working for passage of 16 wilderness bills now before Congress, introduced by Republicans and Democrats alike.
For more information, visit the Great Outdoors America Week website.