Full Elections Performance Index Data Now Online
Return to Election Data Dispatches.
Pew's Elections Performance Index, or EPI, released last February, was the first empirical examination of election administration performance and policy across all 50 states and the District of Columbia.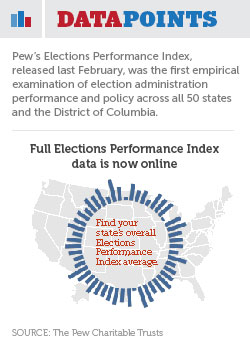 Based on 17 indicators such as polling location wait times and rejected voter registrations, the index aggregates data from five different sources, making it easy for election officials and policymakers to benchmark performance over time and assess which policies are working effectively.
The full datasets are now available online through both the EPI and Harvard's Dataverse Network. Both sources allow you to download data from Election Assistance Commission's Election Administration and Voting Survey, the Survey of the Performance of American Elections, the Census's Voting and Registration Supplement to the Current Population Survey, and many of the files used to compile the data into the EPI.