Vote by Mail Election in Albuquerque, New Mexico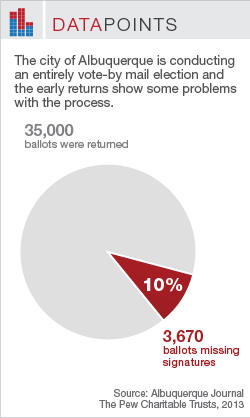 Return to Election Data Dispatches.
The city of Albuquerque is holding a special election to amend the city charter that will be conducted entirely by mail, and the early returns show some problems with the process.
The city began sending out ballots on February 12. As of February 28, 35,000 ballots had been returned. Of these, 3,670—or more than 10 percent—were missing a signature on the return envelope. Ballots missing this signature cannot be counted.
The city won't notify voters if they did not sign their ballot. If, however, voters think they didn't sign their ballot, they can contact the city's clerk office. The office staff will try to find a way for the voter to sign the ballot. Ballots are due back by 7 p.m. on March 11.