St. Lucie County, Florida, Election Costs Double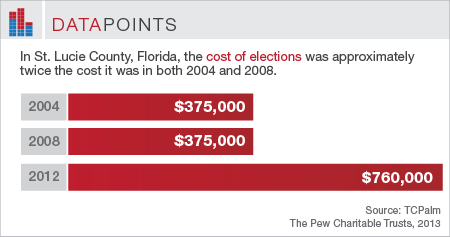 Return to Election Data Dispatches.
St. Lucie County, Florida, which had a number of problems this past Election Day, paid twice as much for elections in 2012—$760,000—as they did in 2004 and 2008—approximately $375,000 per year.
County election supervisor Gertrude Walker cited several factors leading to the increased costs, including producing a longer-than-usual ballot, which doubled printing and postage costs; purchasing new voting equipment, including an electronic voter ID system; updating Election Day reporting software; and conducting post-election recounts.