Colorado and Mobile Voter Registration
Return to Election Data Dispatches.
This past election, Colorado became the first state to optimize access to its online voter registration system via a mobile device.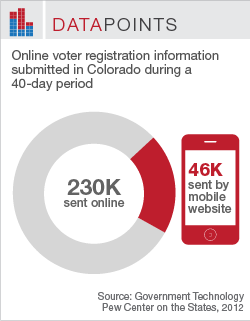 In a 40-day period from late August until early October, there were nearly 230,000 new voter registrations or registration information updates submitted online. Approximately 20 percent of these were sent via the mobile-optimized website.
The mobile site did suffer a few growing pains. For an 11-day period in September some submissions sent from mobile devices were not being added to the statewide voter registration database. The technical issue was eventually addressed, and all submissions did get entered before the registration deadline.