Online Voter Registration in LA County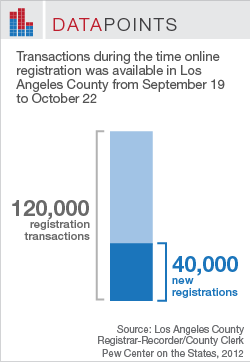 In October, we wrote about preparing for elections in Los Angeles County, including the processing of hundreds of thousands of voter registration applications in the month leading up to Election Day. With the election now upon us, new data show a significant number of voters registered using the state's new online system.
Between September 19, when online registration became available, and the October 22 deadline, the system processed more than 120,000 online voter registration transactions in LA County, including more than 40,000 new registrations. This figure represents more than 40 percent of all registrations in that time period, and nearly half of these online registrations were submitted by 18-29 year olds.