New Voter Registrations Decline in Florida
Return to Election Data Dispatches.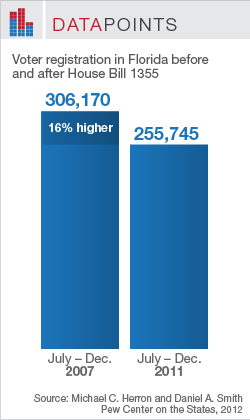 Special notice: For the next month, ahead of the 2012 general election on November 6, Pew's Election Data Dispatches will be posting three times a weekTuesdays, Wednesdays, and Thursdays—to keep our readers up to date on all the happenings in elections research and policy. Look for our bonus Wednesday posts now through November 7, and thanks for reading the Data Dispatches.
Recent research finds that Florida's House Bill 1355, which placed new restrictions on organizations conducting voter registration activities in the battleground state, was a factor in a decrease in new voter registrations. The law, which went into effect on July 1, 2011, requires groups to submit voter registration forms within 48 hours after they are completed and to follow new reporting requirements.
Michael Herron and Daniel Smith's analysis of voter registration data found that, in the six months of 2011 immediately after House Bill 1355 took effect, registrations in Florida were 16 percent lower than during the comparable part of 2007.
Although Herron and Smith are careful to point out that their analysis cannot account for all events affecting voter registration patterns, recent reports suggest that, in response to the law, groups in Florida reduced the number and frequency of traditional, in-person voter registration drives. Some of these groups have shifted their efforts to contacting potential new registrants via direct mail or the Internet and then relying on these people to submit their own applications.