Kermadecs Islands: New Zealand's Remote Ocean Wilderness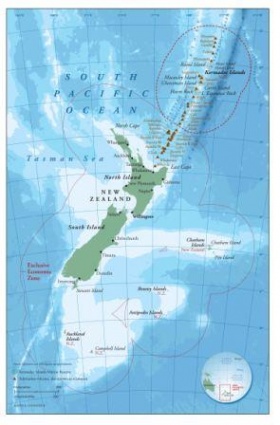 "You can't escape the geology in New Zealand," said Helen Bostock, a marine geologist on the voyage. "It's in your face whether you like it or not."
It's true. As we left Auckland this morning we were sailing away from two erupting volcanoes: Tongariro, in the middle of the Taupo Volcanic Zone, had just erupted for the first time in more than 100 years, depositing ash around the central North Island. White Island, a busy little volcano in the middle of the Bay of Plenty, was erupting ash from its Crater Lake.
So where are we heading? We're sailing north along a chain of underwater volcanoes to another active volcano, Raoul Island, about two days sailing from Auckland. Raoul Island – the top 516 meters of a submerged volcano whose slopes extend for thousands of meters beneath the ocean – last erupted in 2006 and we hope it will stay quiet for our visit.
Raoul Island is a pest-free nature reserve, its steep cliffs home to more than six million breeding seabirds. Like all the Kermadec Islands, the waters up to 12 nautical miles around the island are a no-take marine reserve, part of a stunning and pristine marine environment with a unique mix of tropical, sub-tropical and temperate species of fish. This is a rare ecosystem, where large predators rule, untroubled by fishing lines or nets.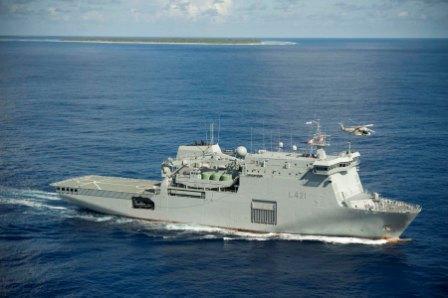 The HMNZS Canterbury, our ride for the next 11 days. Image courtesy NZ Defence Force.
On the island, New Zealand's northernmost scientific field base is managed by a small group of Department of Conservation staff and volunteers, and that's partly what this voyage is about.
In any given year, the Island would typically receive about 20 visitors, but this year is a bit special. As well as the annual Department of Conservation staff changeover and resupply, the HMNZS Canterbury – a big, grey beast of a ship that looks as much like a windowless building as an ocean-going vessel – is taking meteorologists, geologists, marine biologists and a large group of students on a Sir Peter Blake Trust Expedition. We'll spend about six days anchored beside the island. The crew and marine specialists will remain on the ship, but 50 of us will go ashore.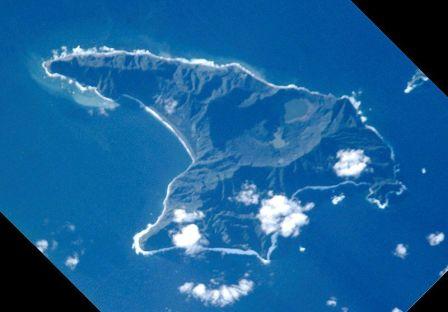 Raoul Island
Rough seas are forecast. The best thing to avoid seasickness, I'm told, is a lemon and ginger tea and some fresh air. So I'm going up on deck to breath some salty air and keep a lookout for migrating whales.
I'll let you know what we see.
This article is repurposed from the Scientific American -original post.
About the Author: Dr Rebecca Priestley is travelling on the HMNZS Canterbury as part of a Sir Peter Blake Trust voyage to the Kermadecs. With degrees in earth sciences and the history and philosophy of science, Rebecca is part of a team of experts selected by Pew Environment Group to join the voyage to this remarkable and remote ocean wilderness two-days sailing northeast of New Zealand's North Island. Pew is encouraging the New Zealand Government to protect the Kermadec region and the rich biodiversity there by creating one of the world's largest ocean sanctuaries. Rebecca will working closely with the voyage's scientists – marine biologists, volcanologists and conservation workers – and will report on the team's daily adventures and discoveries. While Rebecca has written about the Kermadecs before – you can read her essay about the region's history and wildlife here – this will be her first visit to the region, and her first long sea voyage. Rebecca's academic specialty is New Zealand's nuclear history, but she writes widely about science and science history, including a regular science column for the New Zealand Listener and a personal blog at rebeccapriestley.com, where she wrote about her 2011 trip to Antarctica. She tweets @RKPriestley‬‬‬. Rebecca lives by the ocean in Wellington, New Zealand. Follow on Twitter@RKPriestley.