Pew Marine Fellow Scott Baker Studies Dolphins in Gauguin's Paradise
'A Pattern of Dolphins (aPOD)' Joins Expedition Marquesas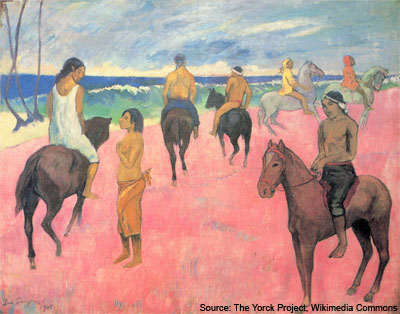 The Marquesas Islands of French Polynesia are among the most isolated inhabited islands in the world. Best known as the setting for Herman Melville's first novel, "Typee", and as the "paradise" that inspired French painter Paul Gauguin, the Marquesas are also a hot spot for dolphin diversity.
Scott Baker is investigating genetic diversity of dolphins around the South Pacific as part of his Pew Marine Fellowship project, "A Pattern of Dolphins." Baker, a 2011 fellowship recipient and a professor and associate director at the Marine Mammal Institute at Oregon State University, and his Ph.D. student, Renee Albertson, recently participated in a survey of the islands' waters. They joined Expedition Marquesas leader, Michael Poole, and Baker's former Ph.D. student, Marc Oremus, both of the South Pacific Whale Research Consortium, in collecting genetic samples and photographs of small cetaceans (dolphins and small toothed whales) around the Marquesas.
With funding from the Ministry of the Environment of French Polynesia, the team spent more than three weeks exploring the coastal waters around the islands of Hiva Oa, Tahuata, Mohotani, Ua Huka, Ua Pou, and Nuku Hiva. The abundance and diversity of cetaceans was striking, with daily sightings of up to six species from the dolphin family Delphinidae, including spinner dolphins, bottlenose dolphins, spotted dolphins, Risso's dolphins, melon-headed whales, and short-finned pilot whales.

The results of the surveys will contribute to a long-term, collaborative study documenting the distribution and genetic relatedness of dolphin communities around islands in French Polynesia and other regions of the South Pacific. This information will contribute to Baker's Pew Fellowship project, which will map the genetic relatedness of dolphins using models of the types of habitats the dolphins prefer. Baker's research will provide a scientific basis to inform the design of marine protected areas intended to conserve dolphins and other top predators.
A daily log of sightings and more photographs from Expedition Marquesas are available at http://blogs.oregonstate.edu/marquesas/