Artists Bring Kermadecs to Tonga
Nuku'alofa, Tonga
An art exhibition featuring the work of some of New Zealand's best known contemporary artists inspired by a voyage to the Kermadecs, opened in Nuku'alofa today and will run until June 1 at the New Zealand High Commission on Hala Taufa'ahau.
The nine artists include New Zealand's foremost visual artist Dame Robin White, a Wellington based poet and painter Gregory O'Brien, Niuean born John Pule, a Wellington based sculptor Elizabeth Thomson, a leading Australian contemporary artist Fiona Hall, a photographer Jason O'Hara from Palmerston North, a Wellington based photographer Bruce Foster, as well as Phil Dadson a sound and media artist from Napier and Auckland born painter John Reynolds. The artists first visited Tonga in May 2011, after completing the voyage aimed at documenting the unique natural wildlife and raise public awareness of the Kermadecs.
The exhibition has been to Tauranga and Auckland in New Zealand, and has now arrived in Nuku'alofa. Four of the artists, including Robin, John, Elizabeth and Gregory, are in the capital to host the special event and to meet school children who will visit their exhibition daily. The New Zealand High Commission expects more than 1000 primary school student to visit the exhibition. and around 20 young students from 'Atele Primary School were at the exhibition this morning listening to stories of the artists' work. Niuean born John, explained his two eye-catching canvas paintings called Tafa Tafa and Falu kehe 2012.
John told the students that his work showed the ocean and the relationships between flowers, plants and birds in his native Niue. He explained that when he paints he does it spontaneously. Robin showcased a Tongan tapa cloth, as she spent the latter half of last year working with women tapa making in Nuku'alofa. One of her tapa designs explored material connections between New Zealand and the Tongan people, and one notable feature which is a favorite food for Tonga, was a PALM corned beef drawing, on the tapa.
The New Zealand High Commissioner HE Dr Jonathan Austin, said it was a privilege for the New Zealand High Commission to host such a high calibre exhibition. "I am honored to share this unique gift with the people of Tonga and the many school children who will visit the exhibition," he said.
Wildlife
The Kermadec Initiative of the Pew Environment Group invited the artists to join them on the navy ship HMNZS Otago to voyage from New Zealand through Kermadec regions and to Tonga. The Kermadec Islands is a sub-tropical arc in the South Pacific Ocean around 1,000 km northeast of New Zealand's North Island and part of its Exclusive Economic Zone.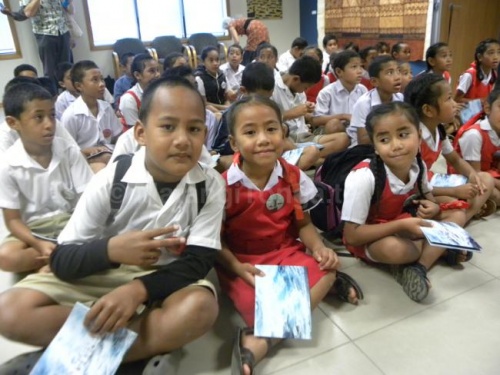 'Atele Primary School students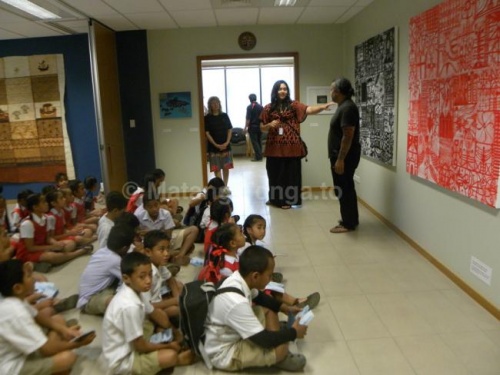 John Pule presenting to school students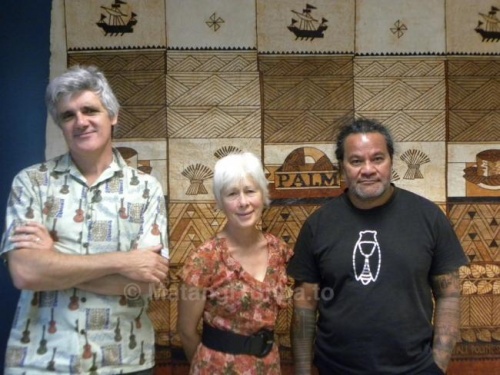 Gregory O'Brien, Robin White and John Pule.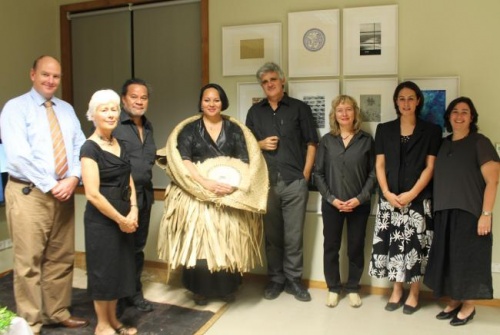 Left to right, HE Jonathan Austin, Dame Robin White, John Pule, Princess Angelika Latufuipeka, Gregory O'Brien, Elizabeth Thomson, Leilani Tamu and Bronwen Golder, director of the Pew Environment Group who sponsored the exhibition.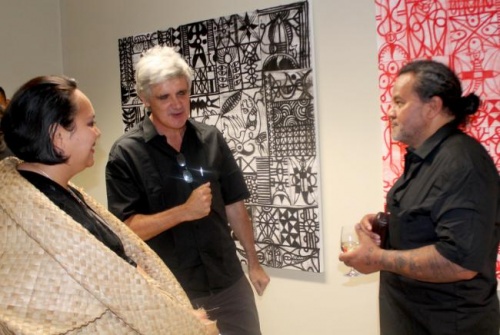 Princess Angelika with Gregory O'Brien and John Pule.

Princess Angelika in front of Robin White's tapa.