2012 Absentee Voting Rates in Mississippi Vary by County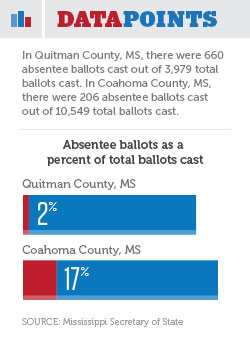 Return to Election Data Dispatches.
A 2012 post-election report by the Mississippi secretary of state's office shows that statewide, 1,285,584 ballots were cast in last year's presidential election. Of those ballots, 106,722, or 8.3 percent, were absentee. Looking across the state's 82 counties, however, the report found significant variation in the rate of absentee voting.
For example, absentee ballots accounted for nearly 17 percent of all votes cast in Quitman County but were just 2 percent in neighboring Coahoma County. In fact, Quitman County, with less than half as many ballots cast as in Coahoma County, recorded more than three times as many absentee ballots.
Mississippi is one of 21 states that require voters to provide a reason to cast an absentee ballot.